A Partnership to Build Communities
Graduates of the Outreach and Leadership Academy receive their certificates in Beirut.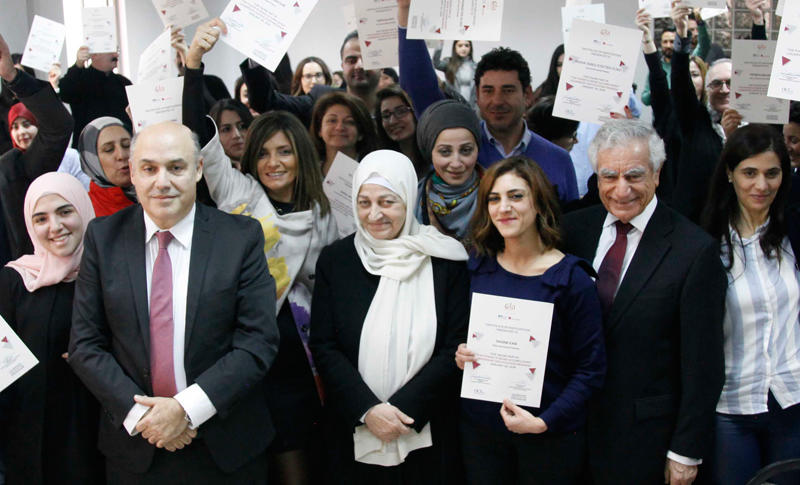 More than two dozen representatives of NGOs from across Lebanon gathered at the LAU Executive Center @ Solidere for the concluding ceremony of the "ACCOMPLISHED" Leadership Certification Program. The event, which took place on Tuesday, January 30, marked their achievement as the first cohort of the Outreach and Leadership Academy (OLA) to be held at LAU Solidere.
Acting as Master of Ceremony, LAU's Assistant Vice President for Outreach and Civic Engagement Elie Samia pointed out that OLA's expansion to Beirut is the result of a successful partnership between the university and the Hariri Foundation for Sustainable Development. "Together, we launched OLA in Sidon, and now in Beirut," said Samia.
"A while back, LAU and the Hariri Foundation had a dream," proclaimed LAU President Joseph G. Jabbra, addressing the audience. "And that dream was to examine how we can effectively build communities, ultimately building the mosaic of our beloved Lebanon."
In that spirit, the certification program focused on building communities through the civil-society sector. The curriculum consisted of intense workshops on various aspects of leadership related to civil society and the public sector. To qualify for certification, participants had to attend 10 of the 12 workshops.
"We took the word 'accomplished,' and devised 12 workshops around it, given by nine scholars and practitioners over a four-month period," explained Samia. "Participants came from all over Lebanon, from NGOs specializing in health, environment, citizenship and education."
Noting that the NGO-focused leadership certification program was the first of its kind in Lebanon, President of the Hariri Foundation for Sustainable Development MP Bahia Hariri congratulated the graduates, saying that she hoped "they would use the skills they have learned to move Lebanese NGOs toward higher levels of professionalism."
Hariri went on to express her pride in the strategic partnership between the Foundation and LAU and their joint initiatives to advance NGOs, before joining Jabbra in distributing the certificates to each graduate, 67 in all from 32 NGOs.
The ceremony was followed by a reception, during which the elated OLA-Solidere graduates mingled with LAU administration and staff before settling down to attend the last of the certification program's 12 workshops, on "The Power of Charisma." Throughout, the participants' overall level of satisfaction with the program was palpable.
"I had attended leadership workshops before, but this was the first one I saw that was focused specifically on leadership issues as they relate to NGOs," said Roy Avakian, a resettlement assistant with the United Nations High Commissioner for Refugees (UNHCR). "I took valuable lessons away from all the workshops I attended. You can't memorize everything, of course, but I have definitely gained a lot and will apply it in my day-to-day work at UNHCR."
For Nadine Nasr, administrative and financial coordinator at the NGO Cénacle De La Lumière (CDLL), which is based in Halat and specializes in drug and alcohol rehabilitation, the workshops also provided significant added value. "They taught me how to deal better with my team, to identify and resolve their weaknesses, how to solve problems and achieve better decision-making," Nasr enthused.