A Vision Shared
Handing the reins to Dr. George E. Nasr, outgoing Provost George K. Najjar foresees a smooth transition.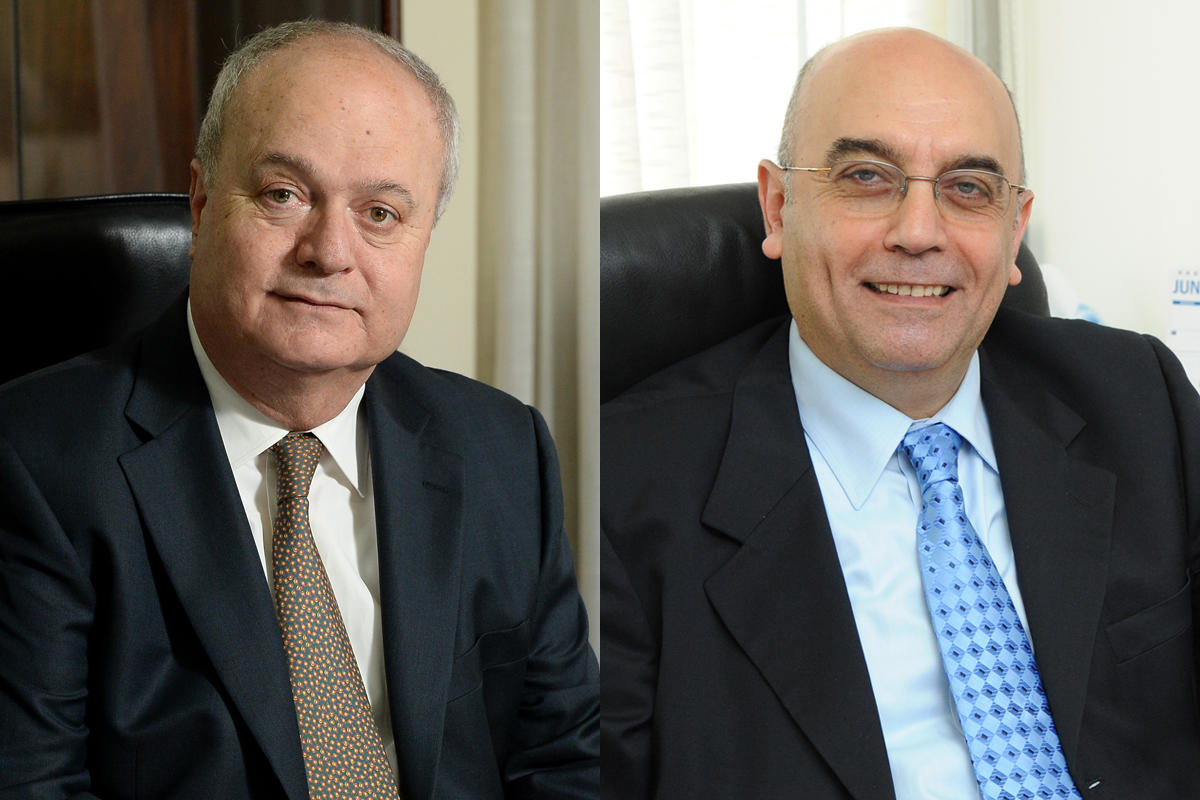 On September 1, Dr. George K. Najjar will be handing over the provostship to Dean of the School of Engineering (SOE) Dr. George E. Nasr in order to assume the role of vice president for Advancement at LAU. Since taking up his position as provost in 2012, Najjar has worked with the Council of Deans to strengthen the academic division of the university, implemented LAU's Strategic Plan II (SPII) and, with the help of the Steering Committee, initiated SPIII.
In addition, Najjar has doubled the number of graduate programs, increased the number of graduate students by 50 to 60 percent, almost quadrupled the research output of the university, and instituted interschool programs like Actuarial Science.
He also takes pride in having created with the President's Cabinet and his colleagues "a culture where we are very mindful of the importance of strategic positioning, competitive profiling, and the fact that LAU is not only about a proud past but is also about a challenging future that we must be prepared to deal with."
Najjar looks forward to a smooth transition, knowing that he will be handing over his post to "someone who is a distinguished academic, a loyal citizen of LAU who has served in multiple capacities over many years and knows the ins and outs of the Dean's Office as a profile as well as the Provost's Office."
Indeed, since joining LAU in 1993, Nasr has served the university in multiple capacities, rising through the ranks of academia to head the School of Engineering in 2009. He played a major role in securing LAU accreditation from the New England Association of Schools and Colleges (NEASC) as well as accreditation for the SOE's undergraduate programs by the Accreditation Board of Engineering and Technology (ABET) in 2011, which was successfully renewed in 2017.
"I am privileged and honored to be assuming this position at a time when change has become the language of the day," Nasr says of his new appointment. Recognizing the support he will be receiving from the deans, faculty, President's Council and President Joseph G. Jabbra, he adds, "We have started with our Third Strategic Plan guided by Provost Najjar, which will make my job simpler. We have a clear plan, and what remains to be done is its efficient implementation."
Commenting on a future compounded by economic, social and political uncertainties in the region, Nasr notes that the university will continue to invest in its intellectual and physical capital.
Since its inception, he points out, the institution has continuously shown resilience in the face of adversity, sustaining a level of excellence for more than a century.
Taking into account the university's history, its current status and strategic planning process, Nasr's vision encompasses three main areas: teaching and a liberal arts education; faculty recruitment, retention, promotion and renewal; and research.
His chief aim is to capitalize on LAU's strength as a liberal arts university and "build a global liberal arts-based education to enhance universal citizenship," by increasing the number of courses, establishing an effective administrative structure for the liberal arts curriculum and integrating it with the major course requirements.
Furthermore, "emphasis on learning, constituency engagement, faculty participation and continuous improvement," he explains, "will encourage institutional cultural change and help faculty respond with greater accountability and productivity, and strengthen faculty participation in the university's shared governance process."
Research, he insists, is not an option, but an integral part of faculty's duties. To ensure better visibility and ranking for the university, research needs to be boosted and faculty encouraged to publish and apply for grants.
Of vital importance to both Najjar and Nasr is the student centeredness that sets LAU apart. "There will be no zero-sum game," says Najjar, "no research breakthrough at the expense of good teaching, no good teaching at the expense of student centeredness."
LAU's mission, they stress, is not only educating the whole person but also safeguarding the sustainability that has distinguished the university for generations in an ever-changing world.
"Our raison d'être is simple, it is all about making the world a better place through education, research, and outreach," says Nasr. "We have a strategy, and what will differentiate us from other universities is how well we implement it, how we benefit students and ensure the sustainability of what they take away from the experience."
In that, he adds, "the liberal arts education breeds a person committed to his country and to his family. Such a person will have the perseverance and determination to change things for the better."
On the new appointments, President Jabbra said, "We are very excited to welcome Dr. Nasr to the Provost's Office. It is a challenging role, but we are certain he will continue the tradition of excellence and innovation that Dr. Najjar has pursued so strongly."