A Year of Major Achievements for LAU
President Jabbra briefs faculty and staff on the Board of Trustees meeting.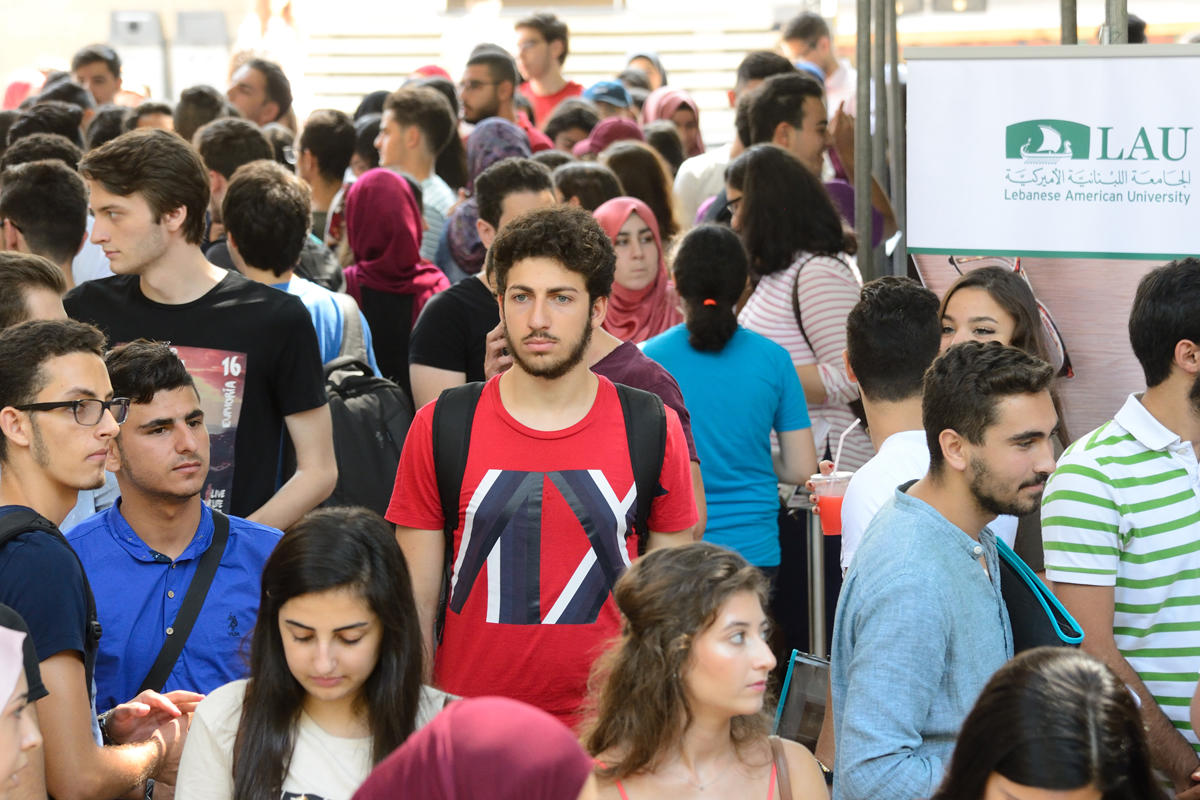 High on the agenda of LAU's Board of Trustees (BOT) last September was the future vision and direction of the university in light of an upcoming presidential search and of an ambitious strategy for the coming years, reported President Joseph G. Jabbra in his biannual address to faculty and staff late last month.
Dr. Jabbra told the crowd that after the September 2016 BOT meeting in New York he informed then-Chairman of the Board Philip Stoltzfus that he would complete his current term on September 30, 2018 and that he would not accept another four-year term due to family obligations. Stoltzfus accepted Dr. Jabbra's position and began thinking about a succession process.
However, said Dr. Jabbra, when the Board of Trustees met in Lebanon in March 2017, the chairman and the members decided that the university was not yet ready for the transition and asked Dr. Jabbra if he would continue as president for two more years in the hope that by then the university would be ready to search for a new head. Dr. Jabbra said that he agreed he would continue as president until September 30, 2020, with the understanding that the board would hold a retreat in the immediate future to decide on the strategic directions the university should pursue after the Jabbra era, and that a presidential search committee would be established to begin searching for a new president to succeed Dr. Jabbra.
During the board's retreat in London in January 2018, trustees established the strategic framework for the future direction of the university with a focus on its mission, academic strength and reputation, innovation, and being a university without borders. This would be done while bringing down the walls of separation between schools, establishing inter-school and interdisciplinary academic and research programs, as well as joint appointments, and ensuring long-term financial sustainability.
Dr. Jabbra continued that the new strategic directions were formally approved by the board in March 2018, and that the administration was asked to bring to the September 2018 BOT meeting specific strategic recommendations within the established framework for consideration and approval. Dr. Jabbra was again asked to reconsider his retirement, though he further declined, citing the commitment he's already made to his family.
During the September 2018 board meeting in New York, Dr. Jabbra and the trustees approved the strategic recommendations submitted by the administration and established a presidential search committee. The search for a new president began in earnest.
"We are all working to ensure the most effective leadership transition," he said. "Succession planning is essential to a university, one of the unique institutions that defies time. As we constantly train our graduates in the best practices of good governance, this is another demonstration of my continued endeavors to strengthen the institutionalization of LAU."
Dr. Jabbra proceeded to announce that author and Chairman of the Lynx Investment Advisory Board Peter Tanous was unanimously elected chair of the board at the September meeting, succeeding Stoltzfus, whose second consecutive three-year term has ended. President and CEO of CGM Advisory Group Dr. Cherilyn Murer and Chairman and President of Federal White Cement George Doumet were appointed vice chair and secretary, respectively.
Dr. Jabbra then mentioned notable achievements from the past year that align with the university's Third Strategic Plan (known on campus as "SPIII"), the main goals of which are to build up intellectual capital, to deploy a program of pedagogical innovation, and to move in the direction of extending LAU's reach beyond its campuses and beyond Lebanon.
On the first pillar, Dr. Jabbra spoke about LAU's progress in scholarship. "Compared to five years ago, our research output has improved by 50 percent," he said, adding that LAU's faculty published around 325 articles in refereed journals over the past two years, 132 contributions to conference proceedings and 62 book chapters. In addition, he said, 21 applications for research projects were granted by the National Council for Scientific Research, one research project was granted by Partnerships for Enhanced Engagement in Research, and another by the National Institutes of Health, the primary agency of the United States government responsible for biomedical and public-health research.
When it comes to innovation, LAU is beginning to introduce in its curriculum courses about artificial intelligence, robotics, data analytics, machine learning, and "all the new technology that will guide us through the fourth industrial revolution," Dr. Jabbra said. But innovation means more than just new equipment. "We don't talk just about teaching anymore. We talk about a learning process that involves the faculty as a mentor and the students as active members in the process of learning."
In addition, "We must establish a culture of innovation," he noted, and referred to the Fouad Makhzoumi Innovation Center, which is under construction on the Beirut campus and will act as a hub for ideas and a startup incubator for inventions that will transform society.
He also mentioned the decision to move forward with the creation of the School of Economics and Public Policy.
On the final pillar – a university without borders – Dr. Jabbra spoke of partnerships LAU has concluded, in Lebanon with Notre Dame University and USEK, and abroad, such as that made with the New York Institute of Technology, among other outreach initiatives. He added that currently negotiations are taking place between LAU and the University of Arizona regarding the offering of joint programs in New York.
He spoke of the need to "eliminate silos and reduce separations by discipline" in order to boost collaboration and increase interdisciplinary work. Of note is the Integrated Strategic Plan between the Gilbert and Rose-Marie Chagoury School of Medicine and the LAU Medical Center-Rizk Hospital, which calls for significant investments in infrastructure, facilities, clinical practice and more. He mentioned that already, collaboration is taking place between the the School of Engineering and the Gilbert and Rose-Marie Chagoury School of Medicine.
Dr. Jabbra also debriefed the community on the continued efforts to support students in financial need with assistance during these particularly challenging economic times. Over $35 million was given out in the last academic year, he said, as he projected increasing financial aid pressure. "Everything extra we have goes to financial aid. We cannot afford to leave our students in the lurch. We made a promise that LAU would be there for them."
In conclusion, Dr. Jabbra offered his sincerest appreciation for the hard work of the faculty and staff, and told the audience that he is always open to dialogue with them in order to ensure LAU continues supporting and empowering members of the university family, "as we are all God's gift to each other."