Alumna Wins Film Award
Line Itani's "Brine" wins best short film at the 24th European Film Festival.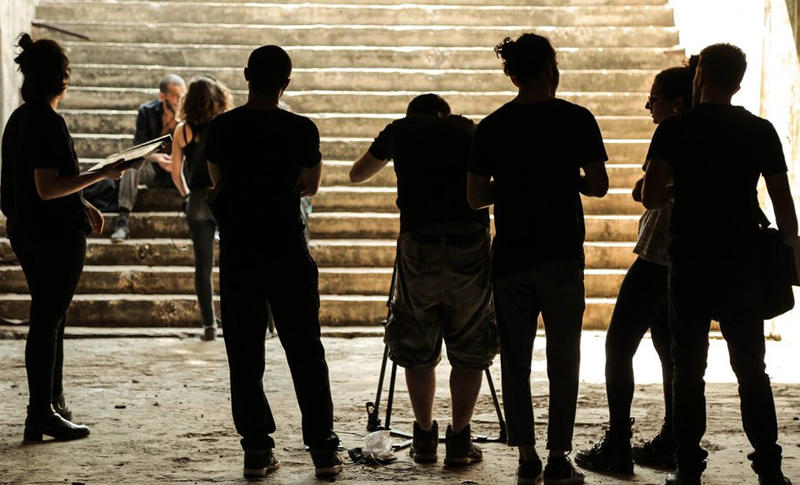 The Department of Communication Arts has scored another victory this month with one of its alumnae, Line Itani, winning the prize for best short film at the 24th European Film Festival.
The winning film, called Brine, will also be screened at the International Oberhausen Festival for Short Films at the Goethe-Institut in Lebanon.
Brine is set in a cement city plagued by drought, where residents survive by consuming substitutes for food and water – tears being the only alternative to the latter. The film follows lead characters Aktham and Sirab as they struggle to make a decent living. Aktham resorts to self-harm in order to provoke tears, while Sirab, who is financially well off, finds herself unwilling and unable to cry. The pair set out on a journey toward emotional deliverance and, ultimately, tears.
Itani, who graduated in 2017 with a BA in Television and Film, found inspiration in the daily struggle to make ends meet. "We end up forgetting our emotions, the people around us, our needs and desires," she said. She likened this amnesia to a state of "emotional drought," which she says she has often experienced. "I thought of dramatizing this phenomenon and portraying it in a film."
The film also evokes the dangers of climate change. "I hope that beyond this metaphorical drought I'm exploring, the film's viewers might think of the real, physical drought we will soon face in the world," she said.
On Brine's use of imagery and metaphor to convey its message, Itani explained, "I can exaggerate reality, or create my own. I like to think that it also gives me the chance to offer the viewer a certain experience or new thought."
Speaking of her time at LAU, Itani says that the most important thing she learned to set herself up for success was how to work as part of a team, both as member and leader. "The Communication Arts Department has a very strong community of people willing to work together and develop one another's work, which is lovely."
As an example, she cites the Play Production class she took with Associate Professor of Theater Mona Knio. "The class teaches you how to produce a project as a team and get your directorial concept across through a production. This, of course, is not limited to theater," she noted.
Supervising production of Brine was Assistant Professor of Film Sarah Kaskas, herself an award-winning director who, according to Itani, "broke down the process of making a short film for students by guiding us through every step of pre-production, production, and post-production."
Fresh off her win, Itani has a full plate. She is currently working with art-promotion NGO APEAL and has received a grant from Zoukak Theater Company, with whom she is preparing a theater performance.
Her advice to current students in the arts is to avoid the assumption that artistic growth ends with graduation. "Most of all, we should remember that we are constantly learning."
For more about Communication Arts at LAU: http://comm.lau.edu.lb
#ReinventCommunication