Alumni Return Home
From Beirut to Byblos, homecoming week reunites nearly a thousand LAUers.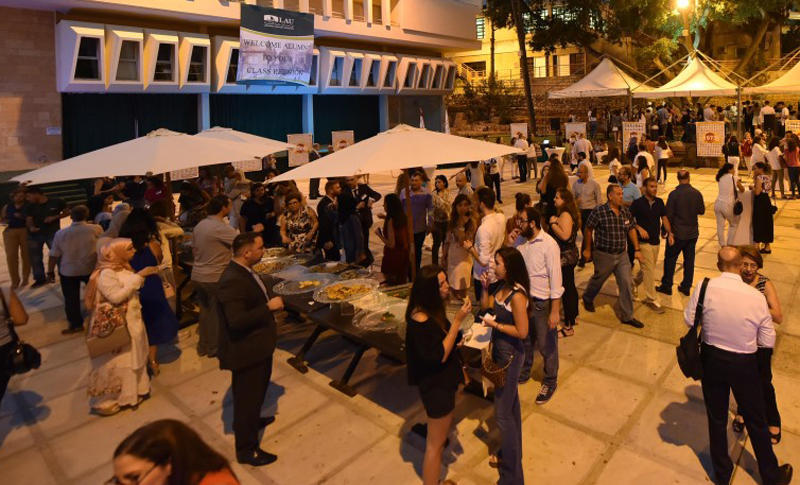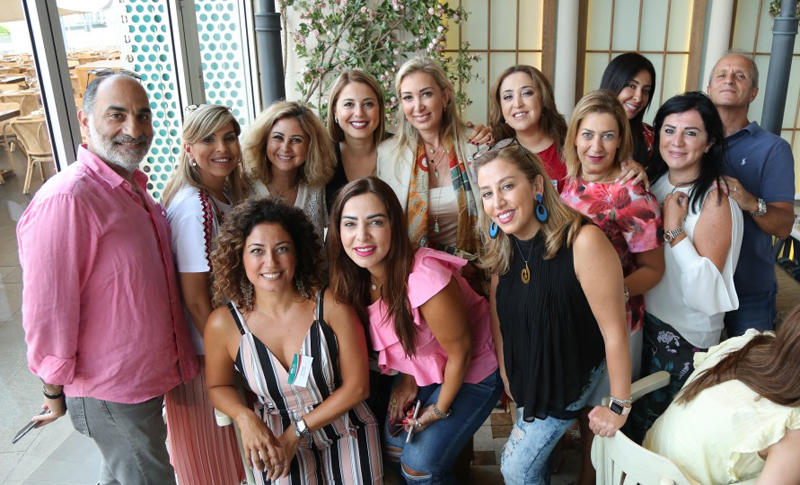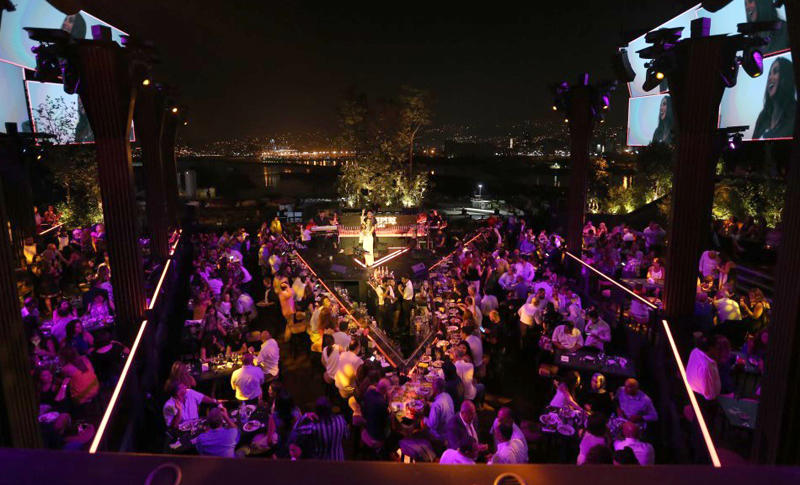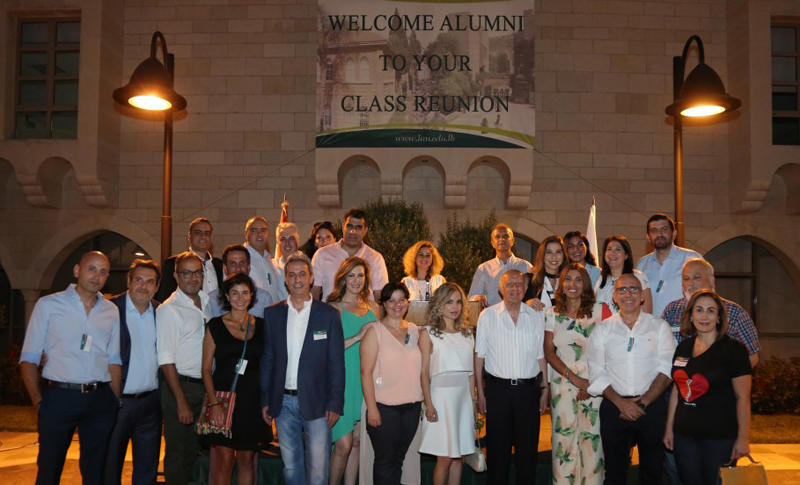 "I'm coming back home" was an announcement made by nearly every one of the LAU alumni who reunited across a number of events lined up by the Alumni Relations Office last week. The gathering featured reminiscing, special tributes, two marriage proposals and countless selfies.
Homecoming week began on a high note with the annual Alumni Dinner at Beirut's Skybar rooftop club, bringing together more than 450 graduates, friends of LAU, faculty and staff. That evening, the 11th Annual Alumni Award winners were announced, paying tribute to two prominent alumnae: artist, singer and songwriter Tania Saleh (BA '90), who was awarded the Alumni Achievement Award for her decades of contributions to independent Lebanese music and the advertising industry, and Doha El Zein Halawi (BA '81), who took home the Alumni Recognition Award.
Both Saleh and El Zein Halawi expressed gratitude for their awards. "LAU has been my second family for more than 40 years," said El Zein Halawi. She stayed closely connected to LAU through the Alumni Association's Beirut and Dubai chapters, as a member of the Board of International Advisors, and also as the proud parent of three LAUers: Wafaa (BA '03), Ali (BA '06) and Zeina (BS '10).
Later the same week, the Byblos Class Reunion was a casual affair, with guests enjoying the sunset from the terrace in front of the Frem Civic Center. A guitar player serenaded alumni from all the classes since Byblos graduated its first cohort in the 1990s. Alumni went home with commemorative pins and copies of A 10-Day Photograph Journey Across Lebanon in 1965, a compilation of pictures by Charles Cushman, which was produced by LAU's Center for Lebanese Heritage.
Present was HR consultant Lamitta Rmeily (MBA '02), who says she was happy with the way LAU has grown since she graduated. "Byblos campus has become so beautiful. I'm proud of LAU. It helped me get where I am today."
About midway through the reunion, the guests witnessed a special event when Marwan Mezher (BS '08) proposed to his girlfriend Sarah Harb. (She said yes!) He took to the podium and thanked the alumni for being there for his special moment and said he chose the reunion to propose, "Because LAU is home."
The next evening, another proposal took place at Beirut's Class Reunion, when Rime Attar (BS '13) said yes to Mohamad Chehab, who chose Rime's five-year graduation anniversary to propose, he said, because he knows how much LAU means to her.
Nearby, older alumnae reminisced over their days on Beirut campus when it was still known as Beirut College for Women (BCW) and Beirut University College (BUC). "I remember when Nicol Hall used to be a dormitory and when we used to go to Irwin Hall Auditorium for assembly," said Ghada Daniel Boulos, who celebrated her 50-year graduation anniversary. She has stayed connected to LAU through the Alumni Association and her husband, Zuhair Boulos, who sits on the Board of International Advisors.
Back on campus for the first time since graduation was Mazen Abu Hamzeh (BS '98), who works for a leading construction company. He said he's not only happy to be back but is proud that his son will be starting in LAU's computer science program in the fall. "I feel that my BS from LAU prepared me very well for my career, and my 20 years of work in the field prove it," he said, adding that he pushed for his son's choice of university.
In his address, LAU President Dr. Joseph G. Jabbra welcomed the alumni back to campus, reminding them that, "With your efforts, LAU has grown more powerful and fearless." He gave brief updates about the university's progress and encouraged the graduates to "raise LAU's banner up high wherever you go."
"A university without its alumni has no value, because at the end of the day, they are the ones who have a genuine, permanent interest in the university," said Assistant Vice President for Alumni Relations Abdallah Al Khal, pointing out how the 42 alumni chapters that are spread across the globe have had a vital role to play – not just in supporting each other, but also by fundraising for their alma mater. Indeed, he noted that they raised over a million dollars last year alone, most of which went to the financial aid program.
Homecoming week closed with the Annual President's Forum Brunch, which brought over 100 attendees together for networking, discussing the university's latest progress and enjoying the views from Beirut's Ahwet Zeituna on Zaitunay Bay. In attendance were two members from the Board of Trustees, Chairman Philip Stoltzfus and Dr. Cherilyn G. Murer. A few days later, the Alumni Association convened for its annual board meeting, which gathered presidents or representatives from the alumni chapters to share updates of the past year's activities and discuss alumni matters.
Echoing what attendees repeatedly said, Al Khal added: "Come back to campus and enjoy it – it's your home."