Anghami Sets the Beat
Alumnus and Anghami co-founder Elie Habib shares invaluable expertise with students on entrepreneurship.
By Hanan Nasser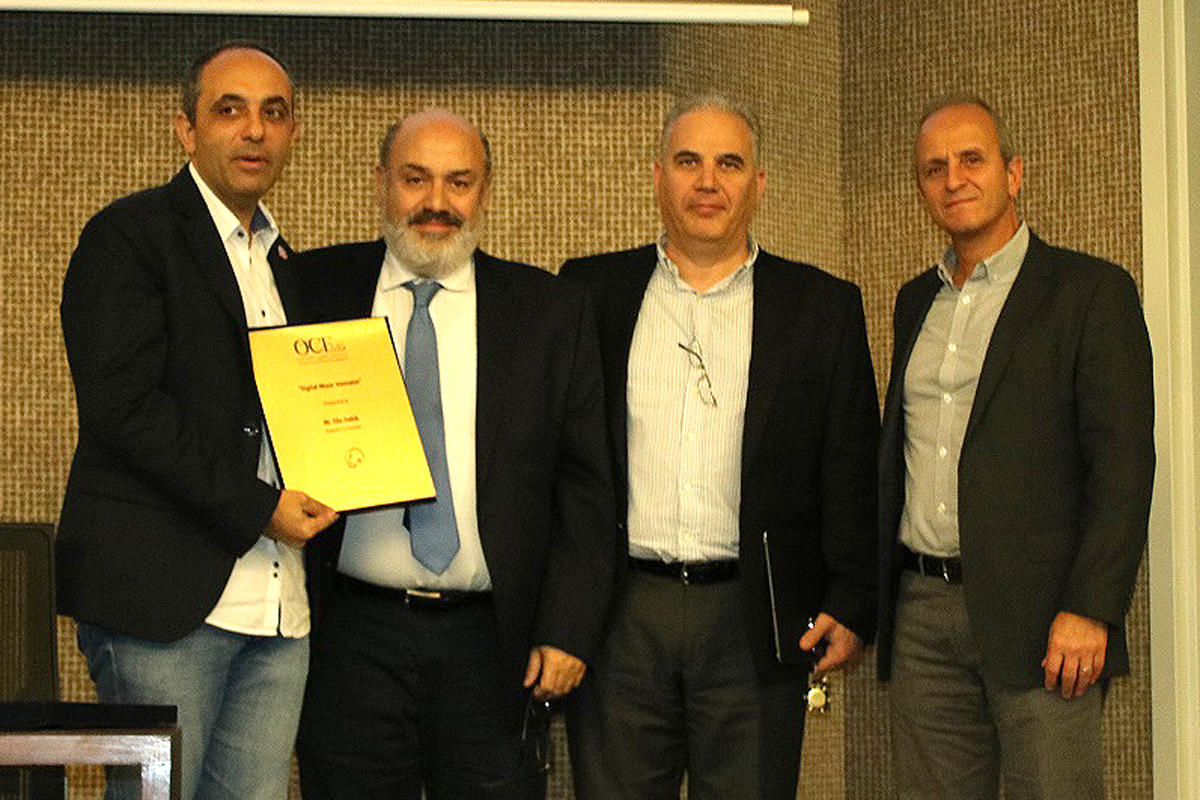 Through a series of Soft Skills Workshops, LAU's Outreach & Civic Engagement (OCE) Unit has sought to complement students' hard or academic skills with the qualities that would give them an added edge in the workplace. A recent talk by Anghami co-founder and LAU alumnus Elie Habib (BS '94) went to illustrate the importance of such skills in getting an idea off the ground and making it work.
Habib was honored as a Creative Person from My Homeland during OCE's 24th Soft Skills workshop titled Anghami, a Tale of Passion, Persistence and Lots of Sweat.
In a string of successes, Habib has been named Lebanon Top Innovator in 2018 by Forbes, Endeavor High-Impact Entrepreneur in 2013, and Lebanon Top Entrepreneur in 2012 and 2013.
Present at the workshop were OCE Assistant Vice President Elie Samia, Assistant Vice President for Alumni Relations Abdallah Al Khal, and School of Arts and Sciences Assistant Dean for Planning and Research Haidar Harmanani – one of Habib's professors.
"We want to hear from our famous entrepreneur about what it takes to come up with an idea, and maintain the persistence, resourcefulness and resilience to make this idea flourish amid harsh competition," Samia said, presenting Habib.
Anghami is the largest music streaming service in the Middle East and North Africa, boasting a catalog of 30 million Arabic and international tracks, for more than 70 million users.
"I am happy to be at my alma mater," Habib said. "This is a place that means a lot to me, and I wanted to give back."
Habib, who graduated with a BS in Computer Science in 1994, spoke about the importance of iteration when starting a new company, saying that Anghami did not reach its current status overnight.
The idea for the venture was born in 2010 when co-founder Eddy Maroun was relaying to Habib his frustration during a ski trip in Faraya over the lack of platforms to downloading new music on his iPod.
"iTunes was not yet available in the region," Habib recalled.
It so happened that, at the time, he was also eager to create something new and the discussion got him "thinking that it would be great if we could actually store all the music somewhere, and people could actually get to listen to it." He and Maroun started the long process of testing the validity of their idea, finally seizing the untapped opportunity.
While perfection is important, Habib told the students, the pursuit of perfection is significant in itself. "It is more important that you start low and you grow. We launch, we validate and then if it works, we iterate and we do better, and become perfect eventually with time," he explained.
Habib underlined the importance of Machine Learning (ML) to validate new ideas. ML allows software applications to become more accurate in predicting outcomes without being explicitly programmed.
"If some of you are around that field, focus on it, spend time on it, learn from it," he said.
Anghami, he added, was willing to "extend anything to the Engineering Department on Machine Learning. We can extend also a billion data set that can help build models on Machine Learning,"
Addressing a particular concern for new graduates and students, Habib said that Anghami is always looking to invest in young men and women with a "fresh mindset" and perspective. "What we end up doing is getting fresh smart people, because we prefer to hire for mindset and teach skills. It's that simple."
At the end of the event, Samia, Al Khal and Dr. Harmanani presented Habib with a shield in recognition of his innovative ideas.