ARCSON Faculty Recognized for Work on Breast Cancer
Dr. Myrna Doumit received an award from the International Society of Nurses in Cancer Care.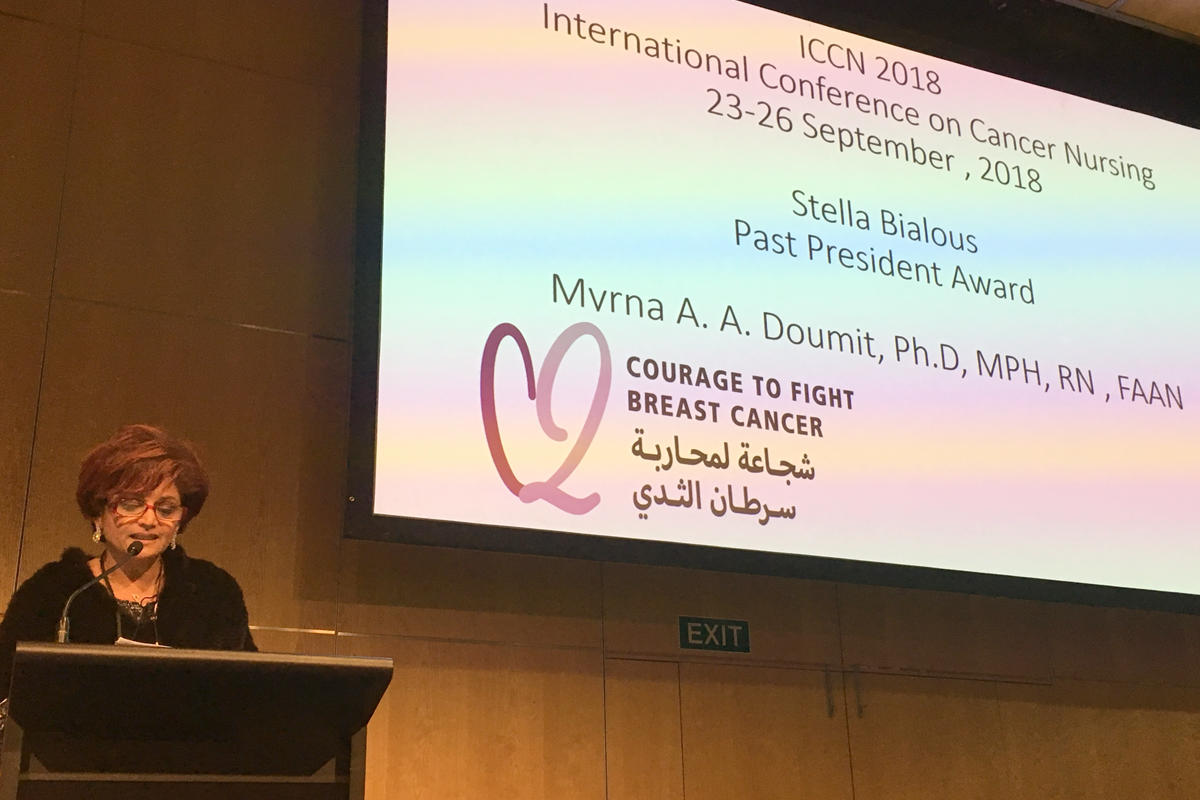 The International Society of Nurses in Cancer Care recognized Associate Professor and Assistant Dean of the Alice Ramez Chagoury School of Nursing (ARCSON) Dr. Myrna Doumit with the Past President's Award, showcasing how ARCSON is advancing the profession of nursing in Lebanon and beyond. Dr. Doumit received the award at the society's 2018 International Conference on Cancer Nursing (ICCN) in Auckland, New Zealand on September 26.
The ICCN is the longest-running international conference for the nursing profession and offers distinguished nurses from around the world the opportunity to meet with their peers in cancer nursing. This year's ICCN theme was "Global Actions: Working Towards Unity and Excellence in Cancer Care."
Every year, the Past President's Award is given to a nurse from a middle or low-resource country who works on a cancer program that has the potential for duplication and scaling beyond the country's borders. Dr. Doumit was given the award this year for her work on breast cancer, specifically the Courage to Fight Breast Cancer (C2) initiative at LAU.
The C2 campaign started when US-based LAU alumna Hiba Yazbeck (BS '97), who was diagnosed with breast cancer at the age of 38, teamed up with Dr. Doumit, already a well-known cancer researcher. They initially focused on raising awareness of the disease across the country, using donations from Yazbeck along with additional support from ARCSON and funds raised from the public.
The campaign is a natural extension of Dr. Doumit's work as a qualitative researcher focused on oncology, quality of life and quality of care. She is the author of the first qualitative research studies describing the experience of Lebanese cancer patients and is a member of the Breast Cancer Awareness and Palliative Care and Pain committees under the Ministry of Health.
"I know that breast cancer is something that can be detected early," Dr. Doumit said in a previous interview on her work, "and with early detection we have better prognosis."
The C2 campaign gives hour-long sessions to rural women on self-care measures and early detection. "We first want to encourage the women to openly discuss breast cancer and remove the fear and stigma that surrounds it," Dr. Doumit said.
C2 later launched a "train-the-trainer" initiative in which Dr. Doumit and her team train healthcare workers to carry out the information sessions and act as sources of support for the communities they work with.