Are Robots Coming for Our Jobs?
Alumnus Ali Rebaie gives a lecture on artificial intelligence's impact on society.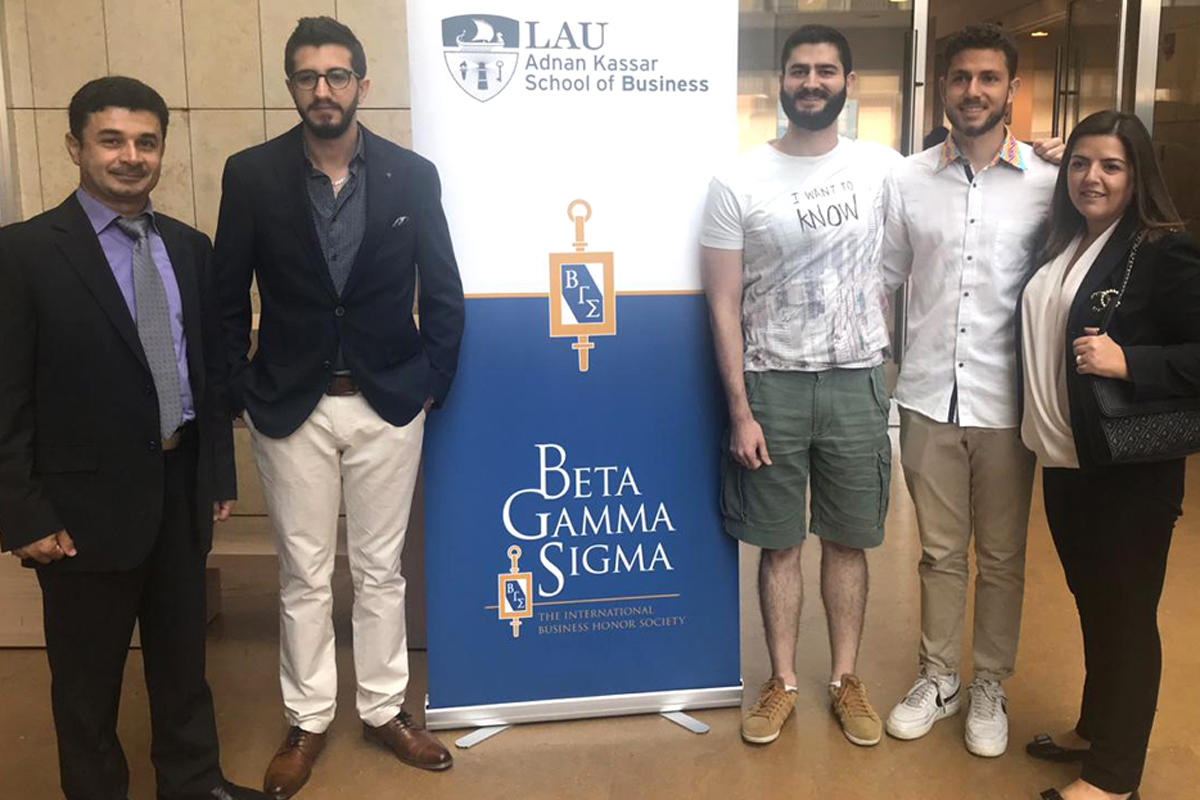 A sensor that detects levels of waste in a recycling bin, a pesticide sprayer that works according to each plant's needs – even clothes that change color according to the wearer's mood. These are all examples of technologies that are made possible by artificial intelligence (AI). On Tuesday October 9, the Beta Gamma Sigma honor society of the Adnan Kassar School of Business (AKSOB) hosted a talk by LAU alumnus Ali Rebaie (BS '11) on the future of AI and its potential impact on jobs, society and culture.
"AI will contribute €12.8 million [over $14 million] to the global economy by 2030, while 29 percent of tasks across 12 industries will be handled by machines," said Rebaie, who is a data science anthropologist and founder of Rebaie Analytics Group. He is also an international keynote speaker, recognized as one of the Top 50 Big Data Influencers worldwide, and is the author of several publications.
Rebaie noted that the number of academic papers published on AI is increasing rapidly, while governments around the world are competing to become the leaders in the field.
For AI to take hold in an industry, a number of disruptions must take place, one of which is in communication, he explained. After noting how communication evolved from the time of the Silk Road to today's mobile Internet and machine-to-machine communications, he said, "We are now heading to the era of Tactile Internet, or 5G connection, through which a doctor can perform an operation on a patient while being in a different country," adding, "Things we didn't accept in the past are becoming the norm."
Rebaie believes that businesses must keep up with these advances if they are to survive. "Industries are shifting toward personalized production, and this is where robots are most needed," he said.
In terms of its potential as a career prospect for today's students, Rebaie assured the crowd that AI is not restricted to one area. "There is no area that is not affected by AI." Indeed, the technology is used in agriculture, autism detection, policy-making, prevention of natural disasters, travel experience, language generation, lipreading, cars, fashion, and waste management.
In order to tap this emerging field, Rebaie encouraged students to enter data science, a job in high demand. "AI researchers and data analysts have the most highly paid jobs across all industries," he said. "As a data scientist, you should have an analytical mind and the curiosity to solve problems."
On the relatively common fear that most jobs in the future will be taken by robots, Rebaie said that machines could never replace humans.
"Every time you introduce a new technology, there is fear of change," he said.
"Robots are only a tool that helps us live in a better way," added Assistant Professor of Information Technology Abbas Tarhini, who organized the lecture. "The main difference between humans and robots is that we can dream, and dreaming is what takes us to where robots can't go."