Better Healthcare Through Safe Practice
Twenty-two medical professionals graduate at 3rd Clinical Simulation Diploma Ceremony.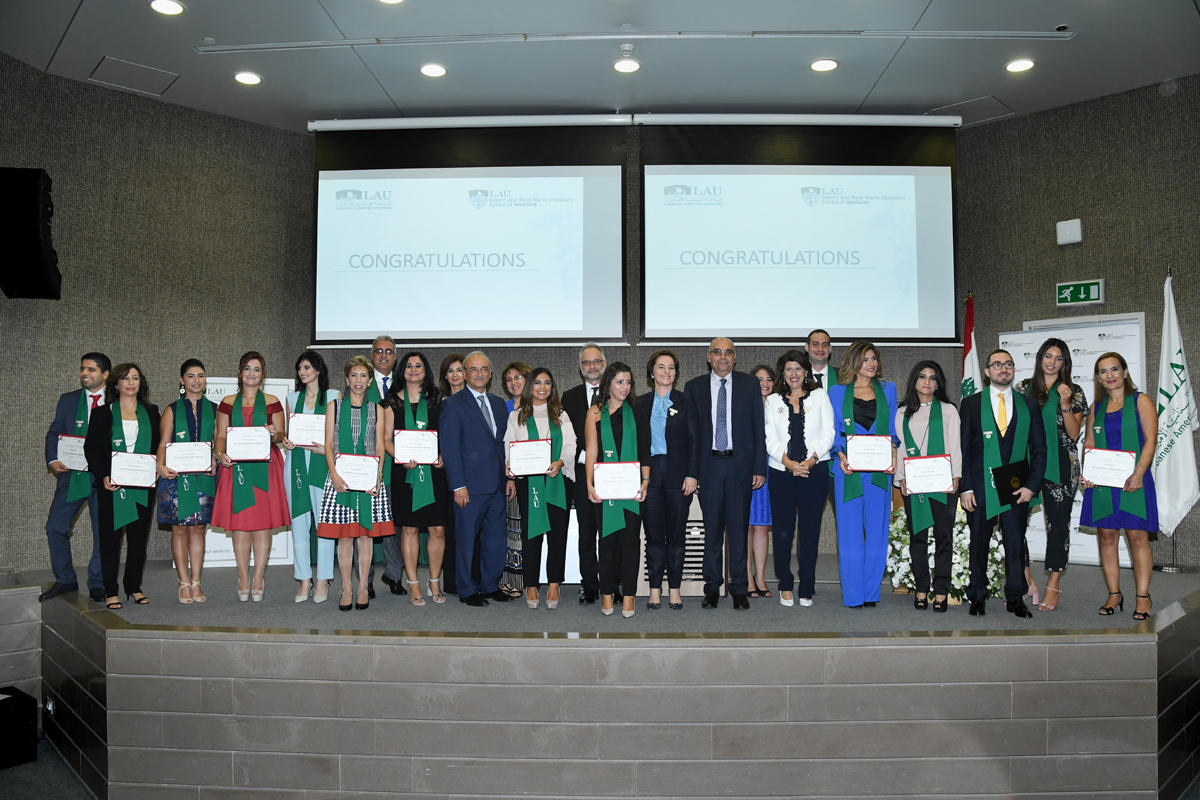 Clinical simulation is an integral part of medical training and practice, and LAU's Clinical Simulation Center (CSC) offers the facilities and teaching that students and medical professionals need to keep their skills sharp.
On September 29, 22 such professionals who undertook training at the CSC were honored at the 3rd Clinical Simulation Diploma Ceremony, held at the center's seat on Byblos campus.
"Today's graduation ceremony is our most important achievement and our pride," said Clinical Professor of Anesthesiology Vanda Abi Raad, who is the CSC director and assistant dean for Continuing Medical Education at the Gilbert and Rose-Marie Chagoury School of Medicine.
Dr. Abi Raad noted that this year's CSC graduates, who are nurses and medical doctors from LAU Medical Center-Rizk Hospital and other Lebanese and regional hospitals, are now part of a larger group of 66 previous diploma recipients. "I am sure that these 66 educators will have a direct impact on patient care and increase the safety and quality of healthcare," she told the crowd gathered.
Extending over 900 square meters, the CSC is one of a kind in the region, offering state-of-the-art simulation training in a safe and controlled environment that imitates real-life situations. The CSC also acts as a hub for interprofessional education between LAU's schools of pharmacy, nursing, and medicine.
Through simulation, educators are able to assess and evaluate the clinical skills of their students, while healthcare practitioners – such as pharmacists, nurses, and medical residents – are able to practice without causing harm to patients.
Dean of the Gilbert and Rose-Marie Chagoury School of Medicine Michel Mawad underlined the importance of the simulation-based education offered by the CSC. "The graduates receiving this diploma are a prime example of the utility of medical simulation and its value in preparing healthcare providers to deal with various medical situations in a safe and efficient manner," he said.
Dr. Mawad highlighted the CSC's recent achievements, including acquiring the only vascular simulations replicator outside the US through a partnership between LAU and Medtronic, as well as receiving international accreditation by the Royal College of Physicians and Surgeons in Canada.
All of this stems from a strong belief in and advocacy for the use of simulation in education, training, and practice, he said, adding, "We are firmly convinced that medical simulation helps reduce medical errors."
One of several international faculty involved in the program, Vice President for Research and Data Resources at the Educational Commission for Foreign Medical Graduates John Boulet, shared his expertise with the students throughout their training. "You should be proud of yourselves because you're going to use those skills to help other individuals provide better patient care," Dr. Boulet told the graduates.
Diploma recipients Dr. Jessy Abou Nader and Suzy El Najjar gave a presentation introducing the diverse CSC team members and highlighting the bond between them. The presentation featured a message from CSC graduate Dr. Rodrigue Chemaly of the Middle East Institute of Health. "Seeing the diversity of this group – the different age ranges, experiences, fields, and skills – I was able to conclude that even the most different entities can work beautifully together to achieve great results."
Before the graduates were presented with their diplomas, Radiology Resident Rita Chahinian showed a video retracing her journey as a medical student and showcasing the history of the CSC from its inception to its present success. One of LAU's first School of Medicine graduates, Chahinian spoke of the center's significant impact on her professional development over the past nine years. "My love for simulation grew as I discovered its importance in the medical field and its critical role in providing an environment for safe practice," she said. "In simulation, mistakes are allowed because they help us improve our skills."