Birds of September: A Delicate Weave of Tragedy
Lina Abyad's major fall production promises a contemporary interpretation of Emily Nasrallah's classic.
By Hanan Nasser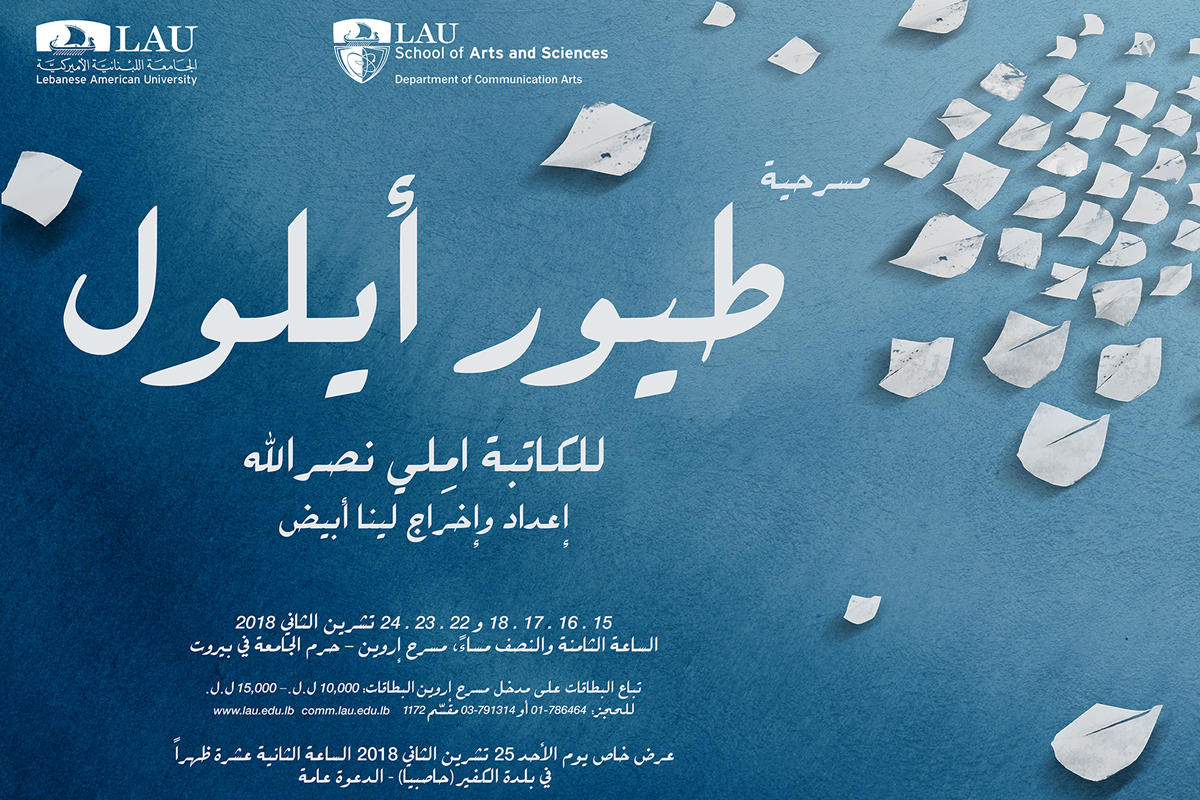 A theater adaptation of Emily Nasrallah's classic Birds of September – a story about migration and tragic young love – premieres on November 15 at LAU Beirut. Its director is Associate Professor of Theater Lina Abyad.
The idea to revive Nasrallah's first novel on stage had long been on the mind of Dr. Abyad, who met the beloved Lebanese author shortly before the latter's death in March 2018.
"It was really a lovely morning spent with her. We talked about her life, her husband, about the war," Abyad recalled.
The classic novel deals with two themes familiar to many in Lebanon: emigration and social expectations, especially in relation to women and marriage.
The text itself seems very light at first – reflective of Nasrallah's subtle style – but also reveals her fierceness in tackling crucial social issues. For Abyad, it is her prerogative as a director to bring forth her own reading of the novel, while preserving the familiarity of the original text.
As a result, Abyad said the audience will "be shocked by this interpretation that we are going to put on. I think nobody has seen that this text is actually violent."
The play features a number of tragic love stories and the difficult choices – or lack thereof – the young female characters are left with. One of the stories shows a boy killing his lover after her father rejects their marriage due to the boy's lower social status. Another deals with a girl who accepts marrying a man she doesn't love to please her family.
The relatability of the novel, set in rural Lebanon sometime in the mid-20th century, was all the more striking as the actors found resonance in the stories, especially when it came to the religious and social barriers to inter-sect marriage that persist today.
Abyad also related to the plot on a personal level, as she herself had to fight fiercely to be with the man she loves, whom she eventually married. "I made a choice. But all those women [in the play] did not choose."
According to Abyad, Nasrallah's power in her book was not merely in speaking about Lebanese society "but that she makes us speak about ourselves."
As they worked on the script, for example, the actors, one by one, started sharing their own stories and those of their parents. The candid conversations that took place were incorporated into the script.
Another powerful theme in the novel is emigration, which remains as relevant in Lebanese society today as it was decades ago.
Abyad took an emotional section from the novel in which people gathered in the village square to bid farewell to a young man emigrating to America, and modernized it by comparing it to stories of present-day families at the airport seeing off their sons and daughters.
"These are the migration stories of their parents, but this time the subjects are not traveling to America but to the Emirates," she said, adding that there isn't "a single home in Lebanon that does not have someone who is a migrant."
"I don't understand this land that is incapable of holding onto its sons and daughters," she added.
Go to http://eventscal.lau.edu.lb/event.php?evt=20181115_fall-major-theatre-production-bi for details on performance dates and more.