"Bridging" Theory and Practice
LAU students represent the Department of Civil Engineering in the annual ASCE Inter-Universities Popsicle Stick Bridge Competition.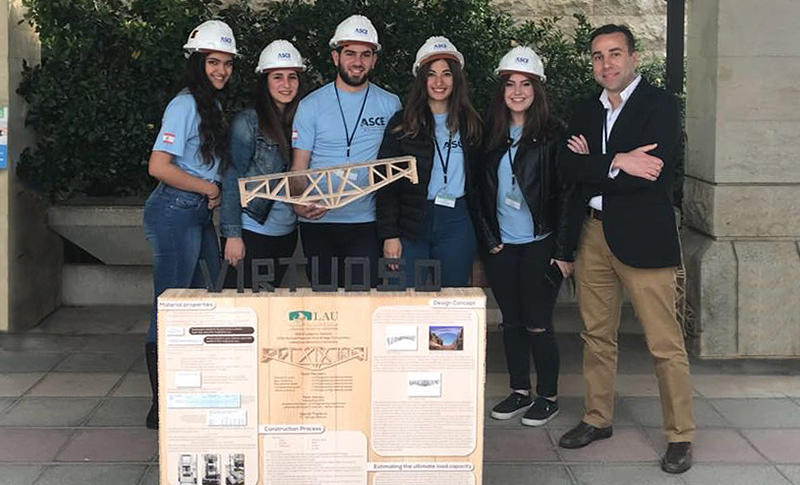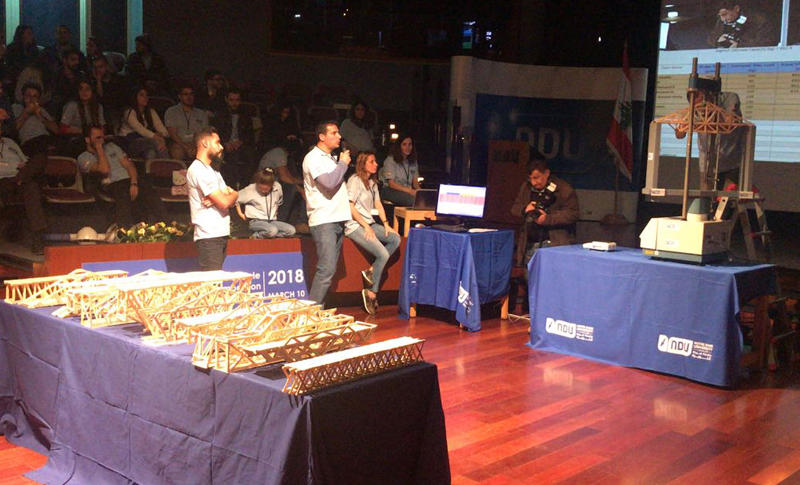 Construction is often referred to as "bricks and sticks," and a group of LAU civil engineering students are taking the "sticks" part literally – popsicle sticks, that is.
On March 10, students from the Department of Civil Engineering participated in the American Society of Civil Engineers' (ASCE) Inter-Universities Popsicle Stick Bridge Competition, held annually and hosted this year by Notre Dame University. LAU's three student teams proudly represented their department, with Team Virtuoso taking home second place out of 32 teams from 11 participating universities.
The event was sponsored by top engineering and construction firms in Lebanon, major Lebanese banks, and the Order of Engineers and Architects, who acted as advisors, sponsors, jury members and organizers.
The thirty-two student teams were commissioned to design and construct a bridge made entirely out of popsicle sticks, while adhering to strict competition criteria. The bridges were then load-tested to failure at the event to measure the strongest structure.
LAU's winning team, supervised by Assistant Professor Gabriel Bazi, saw the theory they studied in their courses brought to life. Their near-perfect bridge that weighed less than 450 grams was able to carry a maximum load of 300 kg at mid-span. Team members Vanessa Khoury, Christelle Moussaed, Nour Al Nahas, Maria El Mendelek and Faysal Al Ladan expressed how the event enriched their understanding of civil engineering principles.
"Through this experience, we were able to project all the information and knowledge we acquired so far from our civil engineering courses, and this helped us understand more what the field is about," said Khoury.
"Technically, [the competition] combined what we learned and let us practice it alone; mentally, it enhanced our innovative thinking," said Al Ladan. "We learned software last semester, which helped us analyze our design and optimize it."
The annual competition aims at developing participants' engineering and team-working skills, and compelling them to find creative solutions to problems – critical abilities required in the engineering and construction fields. "This experience taught me how to work in a group and how to manage time," said Moussaed.
John El-Khoury, associate professor of civil engineering, vice president of the ASCE Lebanon Section, and advisor of LAU's ASCE Student Chapter, echoed the importance of "bridging the gap" between students' theoretical coursework and practical application. "These events are critical to building upon the theoretical knowledge our students gain in the classroom. The real value is realized when they are asked to apply that knowledge."
Vanessa Khoury – no relation to Professor Khoury – said it was "mainly the structural analysis and mechanics courses that helped our team succeed."
"It was nice to see how the building components really function and how the important information and formulas acquired in these courses are reflected in real-life situations," she added.
"Competitions [like this] are the best way to know if you understood what you have learned," concluded Moussaed. "This is when you feel that you are a real engineer."