Clinical and Soft Skills Give SOP Graduates an Essential Edge
Co-curriculum helps students to gain skills, values and attitudes to become holistic practitioners.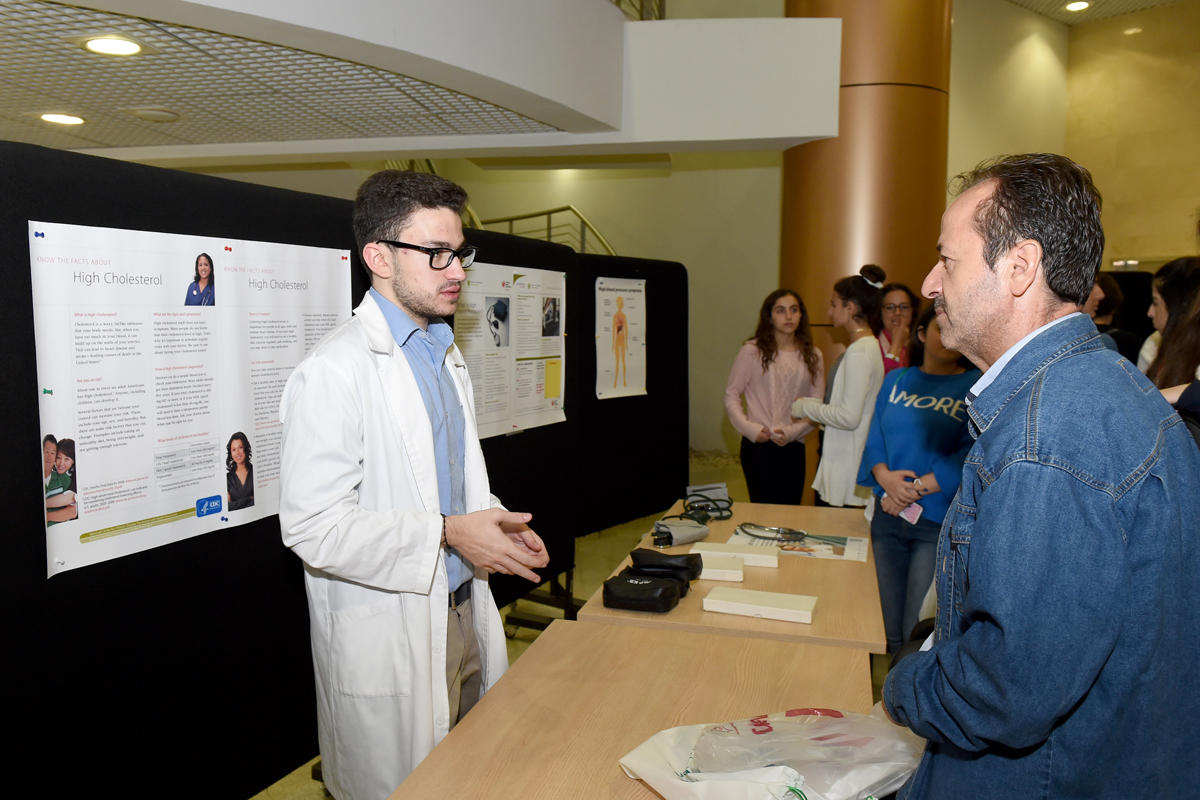 The School of Pharmacy (SOP) has launched a co-curriculum that doubly focuses on the personal and professional development of pharmacy students, with the support of the university's Outreach and Civic Engagement Office (OCE).
"The co-curriculum comes in response to the increasing recognition of the role of humanities in medical education to develop in graduates deeper connections with the self and patients," said Clinical Associate Professor and Co-Curriculum Coordinator Ghada El Khoury.
The aim of the program extends beyond traditional biomedical education methods, which focus mainly on clinical training. "The co-curricular program enhances students' soft skills and helps them grow personally to better fulfill their career ambitions and improve their overall performance," said Roy Kanbar, associate professor and associate dean for academic affairs at the SOP.
The new program entails a series of intentional, student-centered required and optional co-curricular activities (CCAs), such as workshops, self-reflections, discussions and community service projects to complement and advance the didactic and experiential core curriculum. These aim at providing pharmacy students with numerous opportunities to enhance their knowledge, skills and abilities to be future team- and practice-ready pharmacists.
These courses are sequentially weaved into the four professional years of the Pharmacy Program with a focus on a single theme each year: self-awareness and personal development, cultural sensitivity and advocacy, interprofessional collaboration and communication, and leadership and innovation. Skills such as innovation, entrepreneurship and professionalism are also taught. Activities are conducted outside the classroom, and students' progress is measured through a dedicated online portfolio, rather than a grading system.
"The program aims at shaping more humanistic and virtuous future pharmacy practitioners," stressed El Khoury.
The Outreach and Civic Engagement Office has played a vital role in the formation and implementation of this program, facilitating interactive workshops and offering guidance on civic engagement opportunities. "The OCE is a central pillar of the pharmacy co-curricular program, guiding students during their self-discovery journey and connecting them with NGOs," said Kanbar.
El Khoury also praised this collaboration, which she says sets an excellent example of interprofessional education, adding, "Emphasizing science without acknowledging the importance of the humanities undermines the essential attribute of any good healthcare provider."
For her part, Clinical Assistant Professor Hanine Mansour, who helped develop the program, highlighted its impact on developing professionalism in future pharmacists. "A school of pharmacy that offers CCAs along with its curriculum will graduate pharmacists who are leaders in their field, multitaskers, and critical thinkers with excellent communication skills," she said.
The program targets new standards set by the Accreditation Council for Pharmacy Education (ACPE), which emphasize the importance of co-curricular activities in medical education to improve patient care. LAU's School of Pharmacy has the only Doctor of Pharmacy program outside the United States that is ACPE accredited.
"ACPE pays particular attention to training students on developing competencies such as problem solving, interprofessional communication and collaboration, cultural sensitivity, self-awareness, and leadership, all of which are at the core of our co-curriculum," concluded El Khoury.