Communication Arts Alumni Honor Rima Maktabi
LAU alumna and star journalist celebrated at Festival Next's closing ceremony.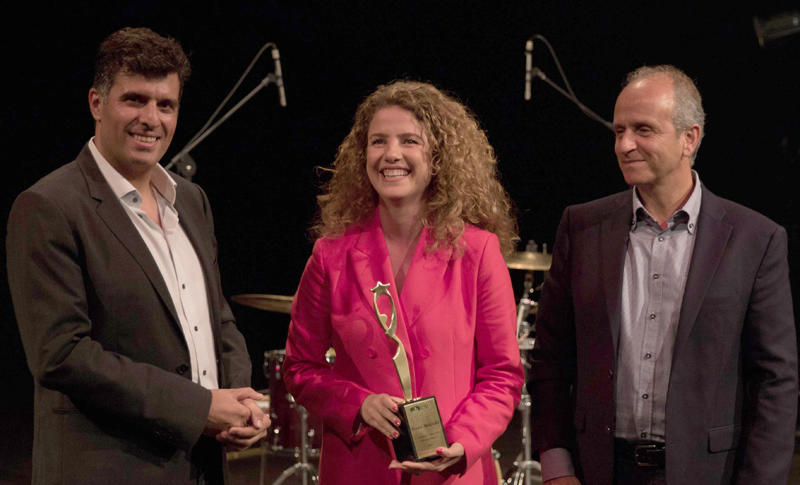 Topping off a colorful week of workshops, performances, screenings, competitions and much more, the closing ceremony of Festival Next brought into the spotlight a renowned journalist, public figure and LAU alumna Rima Maktabi (BA '00, MA '03) last Friday at Gulbenkian Theatre.
Maktabi won the inaugural 2018 Communication Arts Alumni Award, in line with selection criteria that gave weight to innovation and women's empowerment, according to Chairperson of the Communication Arts Department Jad Melki.
"Rima is a brave journalist – not just at the frontlines of the numerous wars she has reported on, but also across the table from the world leaders she has interviewed," said Assistant Professor Claudia Kozman, who was also the MC at the event.
"I am proud to belong to this university and its student body," said Maktabi, who shared valuable advice during her address to students, especially to aspiring female journalists. "Do not be fooled by sparkling images of women on screen – women in journalism face a long, bumpy road," she declared, pointing out that despite the massive spread of social media, the same journalistic guiding principles apply: "accuracy, knowledge and truth are at the core; everything else is just an addition."
Abdallah Al Khal, assistant vice president for alumni relations, joined Melki in presenting the award to Maktabi. Following the honoring, the closing ceremony featured a spectacular performance by musical group Fere'et Aa Nota.