Dance for Hope and Change
LAU's 8th International Dance Day Festival supports human rights through pop-up and gala performances.
By Hanan Nasser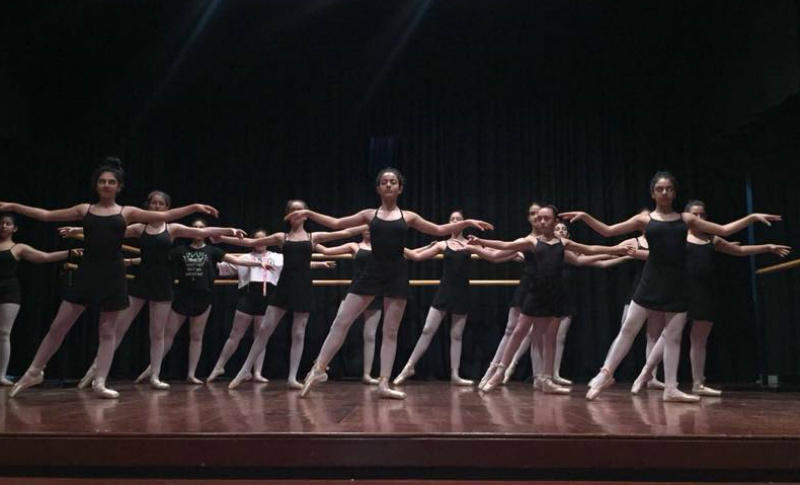 LAU is celebrating its 8th Annual International Dance Day Festival in Lebanon (IDDFL) from April 13 to 21 with a special and timely theme – human rights – as citizens across the world try to make sense of the news around them and protect the most precious right of all: Hope.
"Why human rights? Honestly speaking, because I felt we are at a very crucial point in our lifetime worldwide, and not just in Lebanon or the Middle East," said principal organizer Assistant Professor of Dance and Associate Chair of the Department of Communication Arts Nadra Assaf.
Performers at the event are university students from LAU and middle- and high schoolers from across Lebanon. The guest choreographers were invited from the US.
"This year it just happens that all our guests are from the United States; they are also very unhappy with their rights and their laws," she added. "So, I thought this would be a good platform to speak. We like to think of dancing as a way to communicate; it's not just about dancing for fun or showing off."
For this year, the IDDFL choreographers selected 26 dancers out of the 76 who auditioned. The dancers, aged 12 and above, are from schools and dance schools across Lebanon. Over the course of one week, they attended an array of intensive rehearsals and workshops, both practical and theoretical, with the latter restricted to dance teachers and LAU Performing Arts students.
Over the years it has been tradition for the festival to end in two major performances: One at the public garden in Byblos and a gala performance on the Beirut campus. This year, however, Assaf has something else in store for the city of Byblos.
Residents and visitors will be treated to surprise pop-up performances in seven locations around the city on April 20.
"In order to keep the theme consistent, we chose human rights – peace, equality, play and rest, justice, freedom, public assembly, and the right to hope," Assaf said. The performances will start with peace and end with hope. "It's like a story," she added.
The pop-ups, which will last for an hour and 20 minutes, will be announced on social media with an approximate timeline.
"If [audience members] miss us at one location, they can find us at another. It should take us approximately one hour and 20 minutes to finish," she said.
The on-site dances will be mainly improvised, and not all will have music accompaniments.
"For the peace and the hope there won't be music, because that would kill the ambiance. It has to be only the sound of the dance movements."
For the gala, in the Gulbenkian Theater on Saturday April 21, the evening will open with a dance by the LAU Dance Club followed by a short speech on why IDDFL chose human rights as a theme. The dancers will then perform all the numbers created under that theme.
Christy McNeil Chand, assistant professor of dance at Cal Poly University in California, choreographed a piece for the gala performance that reflects what she thinks the world needs now: fun and happiness. Chand, who teaches jazz primarily and also participated at LAU's IDDFL last year, based the routine on 1920s and 1930s dance styles, such as the Charleston and the Lindy Hop.
"I think there is a lot of sadness and a lot of confusion and a lot of anger, and there's a lot of us who could use a bit of fun and happiness right now," she said.
Assistant Professor of Dance at the Texas Women's University Mathew Henley has been part of IDDFL for three years. This year, he said, is particularly different in terms of the level of professionalism exhibited by the dancers. "People are coming to understand what the festival is about. There is also a sense of commitment to dance, not only while they're here but people making effort throughout the year to be ready for the festival," he added.
Christel Farah, who is a teacher and choreographer at Al-Sarab Dance Company, said she waits for the festival all year, and is especially excited to perform within the theme of human rights. "The theme is important to discuss even if in dance. This is the first time I personally try to talk about this subject."
The IDDFL is part of UNESCO's designated International Dance Day, which falls on April 29.