EMBA Graduates Credit the Degree for Their Success
Dozens of EMBA alumni gather for their all-class reunion.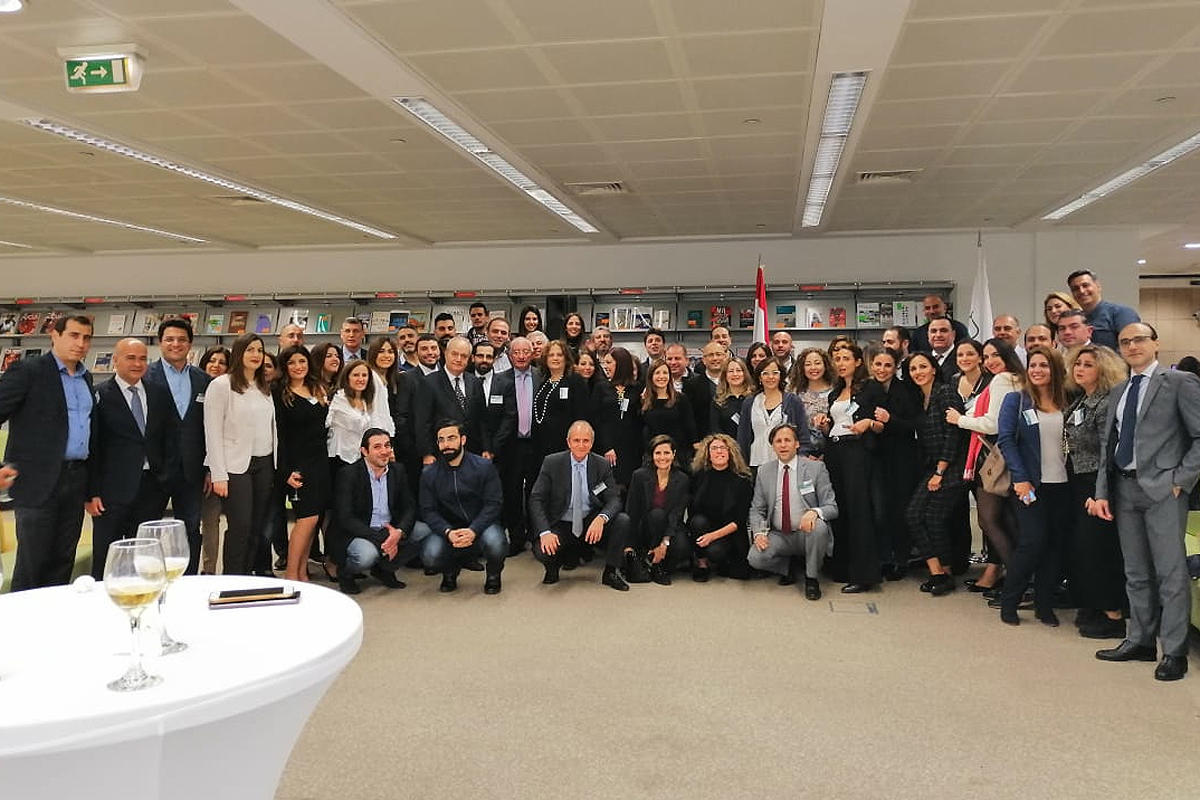 Dozens of graduates of the Adnan Kassar School of Business'(AKSOB) Executive Master of Business Administration returned to Beirut campus for their all-class reunion Friday evening.
LAU blazed a trail when it launched its EMBA in 2000, the first university in Lebanon and the Middle East to offer such a degree. Since then, its 260 graduates have gone on to rise in corporate, public and non-profit organizations.
The program's students have come from all walks of life, including law, science, pharmaceutical and business backgrounds. Classes are given at LAU's Executive Center@Solidere in Beirut's scenic downtown and are offered on evenings and weekends for those who are holding down jobs during their studies.
Earning their EMBA has helped alumni advance in their careers, and shift to completely new industries.
After Rachid Moubarak completed the degree in 2006, he rose within his company to become vice president, and also co-founded a separate firm. "When you are a professional, you don't see the whole picture. The EMBA helps you see the social, marketing and commercial aspects of business," he said.
Meanwhile, Dalia Timani went from working in financial services to logistics and shipping after she graduated in 2017. "The classes were very informative, and I learned a lot about strategy," she said. "It gave me what I needed to make the change."
Alumni also spoke of the networking opportunities afforded by the program. Hiba Farhat, for example, credits her degree, which she completed in 2014, with getting her "the exposure, the skillset and the connections I needed."
Dina Nasser, class of 2009, agrees. The head of accounts at a leading construction company in the Middle East said, "I had such a good experience. It even helped me on a personal level, to gain exposure to other professionals and industries."
For Roger Tanious, his EMBA not only helped him rise in his career but also start a new profession on the side. After earning his degree, Tanious advanced to the role of general counsel at his industrial firm. But he also introduced Aychak Man, a character he makes sculptures of. He has done 93 international exhibitions and credits his EMBA with helping him turn his hobby into an exciting art career.
Many of the alumni present were taught by Dr. Wassim Shahin, now the interim dean of AKSOB, who welcomed them back to campus. "We are so proud of what you have become," he told the crowd.
The program is directed by Dr. Jalal Armache, who took to the microphone to thank graduates and faculty for its success. "This evening belongs to you," he told the crowd. "And LAU is where you belong."
"Dr. Jabbra calls you the backbone of the university," said Assistant Vice President of Alumni Relations Abdallah Al Khal of LAU's president, Dr. Joseph G. Jabbra. "You are also the heart. This program is what you brought to it."
When Vice President for Advancement George Najjar took the stand to thank alumni, he reminded them of their role in Lebanese society. "The EMBA program epitomizes the drive to create leaders," he said. "The world has enough followers. What we need are leaders, and you are right here, right now."