Excellence and Originality Win Alumus Film Award
Rakan Mayasi is honored at the Küstendorf International Film and Music Festival for his film "Bonboné."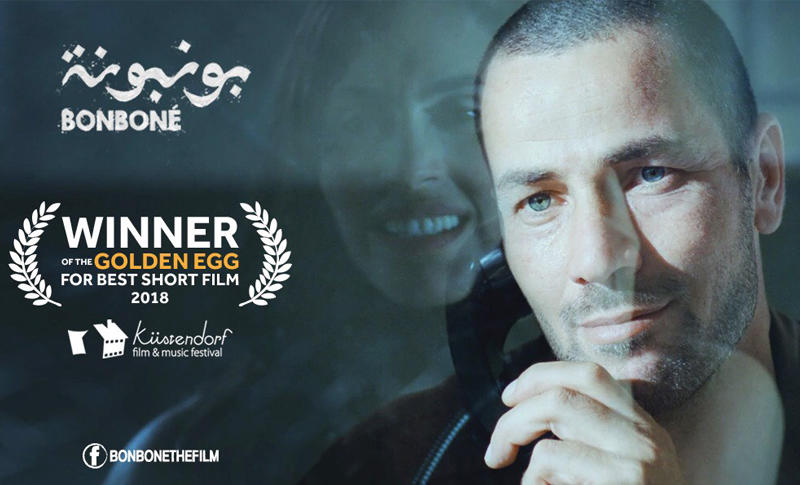 At the 11th annual Küstendorf International Film and Music Festival, LAU alumnus Rakan Mayasi (BA '07) took home the Golden Egg for his short film Bonboné, about a Palestinian couple who tries to conceive a baby while the husband is detained in an Israeli jail.
How was your experience as a student at LAU?
My experience at LAU was very intense, and it helped shape my artistic character. When I moved to Beirut, a city I love tremendously, that shifted my life. I remember how the years changed me and how the Communication Arts Department was my home.
How did your education at LAU shape you as a filmmaker?
I learned how to be a director in Lebanon, studying at LAU. The university offered me the chance to experiment, in both film and theater. Instructors at LAU always encouraged me and gave me space and trust to explore.
The topic of Bonboné is very original. How did you come up with the idea?
The film tackles the phenomenon of Palestinian sperm smuggling out of Israeli jails to conceive. When I read an article about this subject, I was automatically attracted – what a creative way to defy occupation! And what incredible power there is to sustain lineage. I thought I could write a good love story and tackle a new subject as it has not been talked about before.
You also wrote and directed the short films Roubama and Sea Sonata. How do you choose the topics for your films in general?
When I did an intense filmmaking workshop in South Korea, master filmmaker Abbas Kiarostami told us that in order for one to be universal, one must go back to one's roots. And I believe so. I am Palestinian, and the cause defines my identity. I like to look at it differently, try to deconstruct stereotypes and break taboos. I find it my duty as an artist to push the limits and try to go beyond borders of what is known and what is cliché.
How long did you work on Bonboné?
Research and scriptwriting took seven months. A few months after that, we began pre-production. We filmed for six days in South Lebanon after we constructed our set, and then it took some time to edit and finalize the film in the post-production period.
What were the challenges that you faced before and during filming?
I wanted to work with actors who were based in Palestine, and getting them visas was difficult – the main actor received his visa one day before the shoot. I decided to run a crowdfunding campaign after the shoot because we needed to pay for equipment rental and didn't have the money for that. It took a long time to prepare for that battle, but we did secure 100 percent of our funding and met our objective.
Are there any new projects in the pipeline?
Yes. I am currently writing my first feature film. There is a lot of work to be done on the development of the ideas, but I will be working with three narratives that are interlaced.
What advice do you give film students at LAU?
I would say that the filmmaker's life is not about lights and glamor and pleasure; it's about long hours of hard work, patience, facing challenges and making tough decisions. If one is not passionate enough about making films, I think they should not.
How can today's students make an impression in the industry once they are out in the world?
Having a vision and being consistent about it is very important in making an impression. I do believe there is space out there to break through. It's very difficult, but it's also very possible. One should not be afraid to take risks.
Communication Arts students at LAU express pride in their department's mission to #ReinventCommunication
Watch full video: http://comm.lau.edu.lb