Extraordinary Scientist: Dr. Pierre Karam
LAU alumnus one of World Economic Forum's 50 scientists under the age of 40.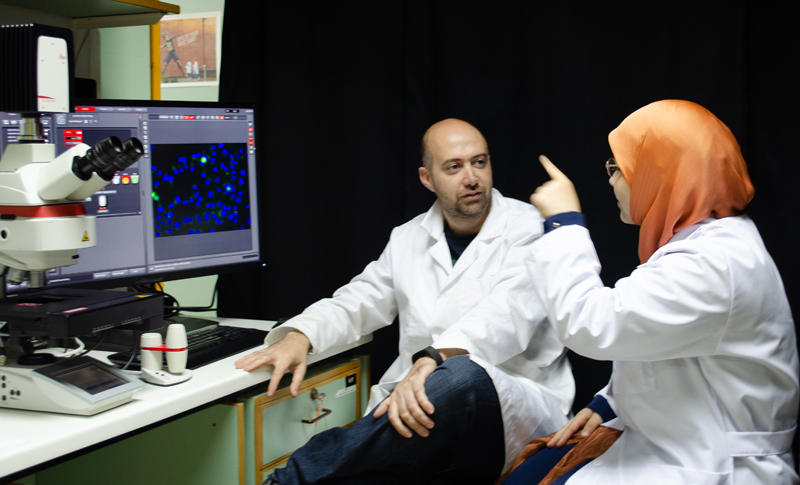 This spring, LAU alumnus Dr. Pierre Karam was selected by the World Economic Forum as one of the 50 extraordinary scientists under the age of 40 for his contributions to advancing the frontiers of science, engineering and technology. Now a member of the Young Scientists community, he will be convening with 2,000 industry leaders, policymakers and businesspeople at the 12th Annual Meeting of the New Champions in Tianjin, China, in September 2018.
"I couldn't believe I was picked at first, because it's a very prestigious recognition," said the AUB assistant professor of chemistry. "Two major criteria govern the selection: research – including awards – and impact on the community. The objective is to look at world problems and suggesting ways we can solve them together."
Given the many awards he has garnered – a Fulbright, the Georg Forster Research Fellowship for Experienced Researchers from the Humboldt Foundation, the Young Investigator Award, and being named a Distinguished Researcher in the biophysical community – it comes as no surprise that Karam made the list.
His journey to success began at LAU in 2001, where he obtained financial aid and a scholarship, without which, he said, he would not have been able to afford an education. After graduating in 2004 with a BS in chemistry, he obtained his MS from AUB before pursuing his PhD at McGill University and a postdoctoral position at the University of California-Berkeley.
He chose to return to Lebanon after noticing the dire need for bright scientists able to bring about change in the country. "I felt that I needed to give back to my community," he said, reflecting LAU's spirit of serving society. "After I finished my graduate studies, I got many offers from several universities, but I felt that I could have more impact here."
Indeed, Karam has already made a difference through the positive influence he has had on his students and an NGO he recently established with two LAU professors, Dr. Joseph Stephan and Dr. Sama Sleiman, as well as Dr. Ghada Al-Kadamany of AUB, called "3elme 3elmak," which aims to engage LAU and AUB students in research and encourage them to reach out to the public in informal talks. "I train my students to think objectively and critically because this approach to any situation helps them become better citizens. This is our only hope," he stressed.
Collaborating with students and others on a variety of projects, Karam wishes to communicate that science lies at the heart of every discipline and concept, including art. With a view to making science more accessible and showing that it can be fun if simplified, his projects center on "building and spreading a culture of science in order to bridge the gap between scientists and the general public."
As for his research, it is at the interphase between chemistry and biology. "Research is like a lifestyle," he said, "it shapes the way you think and how you approach problems." Despite the obstacles scientists have to contend with in Lebanon – such as shipping instruments from abroad, the lack of funding, and difficulty acquiring certain material – Karam maintains that research is an asset for any student.
LAU chemistry student Sarriah Hassoun believes it's an honor to have collaborated with Karam, who inspired her to pursue her studies and aim for a PhD. "The experience I got from working in Dr. Karam's laboratory is invaluable," she said. "It gave me practical knowledge that went far beyond the theoretical knowledge I gained in class."
As an LAU alumnus, Karam believes in the interdisciplinary approach at the core of the university's research endeavors. "People from completely different disciplines have to come together to get a problem solved," he noted.
This appreciation for collaboration is also due largely to the influence of his professor at LAU, Dr. Ahmad Kabbani – himself a contributor to groundbreaking research – who described Karam as having been "a model young chemist for our students to follow." Kabbani praised Karam's hard work, determination, and love for Lebanon, where he chose to hatch his great research ideas.
"I owe my LAU instructors a lot," Karam said, "and I'm doing the same with my students. This is what teaching is all about."