Festival Next 2018: Own Your Stories
This year's versatile program aims to connect students with their culture and push them to explore new horizons.
By Hanan Nasser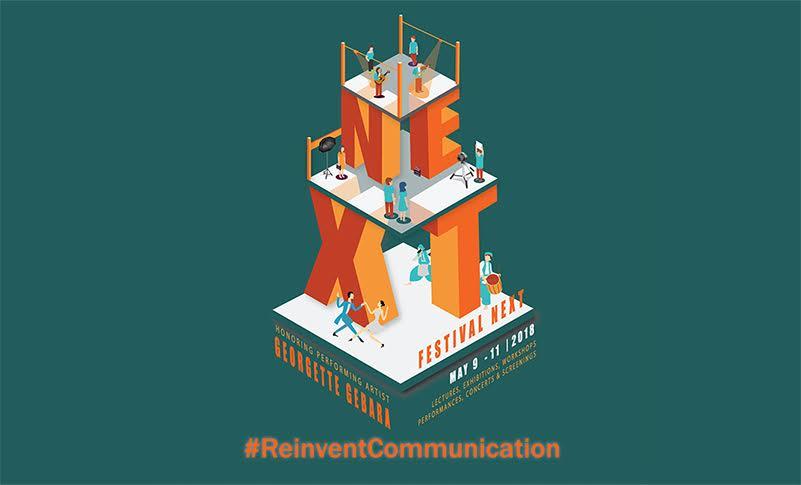 Festival Next 2018 is connecting LAU students with their heritage and pushing them to explore new horizons.
The festival – which will take place on Beirut Campus from May 8 to May 11 – includes a versatile program of workshops and lectures on community building in social media, production design and reporting conflict. There are also a speech competition, media and cinema exhibitions, a band performance, and a play reading, as well as the presentation of the 2018 LAU Communication Arts Alumni Award and the Production Fund Award.
"Festival Next is a reimagining of the theater festival that took place before," coordinator and Film and Television Instructor Omar Moujaes said, referring to LAU's 19-year old International University Theater Festival.
The main objective behind the rebranded festival is to showcase the "best out of each unit" in the Department of Communication Arts. The event will culminate in a Production Fund Award, which binds the four units together in a new and exciting type of medium that's emerging right now" known as Transmedia Project, Moujaes said.
One student from each of the four units – journalism, communication, performing arts and film – will be selected to come up with a project that "tells one story on multiple platforms." These students will, in turn, become the team leaders.
"The project cannot be just about 'go make a film or a play,'" said Moujaes. "They have to come up with a solution, to benefit the community and to involve the community. And that requires a kind of an investigative study. It can be, for example, performing arts mixed with film," he added, stressing the importance of teamwork.
Students will be awarded a fund of up to $3,000 and will work throughout the coming academic year to present their work during Festival Next 2019. In the process, they will be advised by faculty members and have access to the Communication Arts Department's equipment and facilities. "We want our students to venture to these new techniques, especially to use all of the departments," Moujaes said.
The festival also honors those who laid the foundations of Lebanese artistic heritage. One such pillar is composer and musician Wadih El Safi, whose best-known pieces will be celebrated on May 9 in a concert conducted by LAU Senior Instructor of Music Joseph Khalifeh and performed by Lebanese singers Carla Ramia and Jalal Possik.
Festival Next is also an exciting opportunity to expose LAU students in general, and film enthusiasts in particular, to "the rich cinematic experiences that this region has on all levels," said Television and Film Lecturer Nasser Chour.
On May 11, Hedi – written and directed by Tunisian Mohamed Ben Attia – will be screened, followed by a Q&A with its lead actor Majd Mastoura. Hedi won the Golden Bear for Best First Feature at the 66th Berlin International Film Festival in 2016, while Mastoura won the Silver Bear for best actor.
"It is of an urgent need to create a venue to screen and celebrate films that tell stories from the MENA region by successful local and regional filmmakers," Chour said. "The whole idea of owning our stories and being able to have the authorship of our culture and our issues is very important."
The screening of the movie goes hand in hand with efforts to "complement the mission and vision of the department in promoting Arabic-speaking media content," noted Chour, "and in being the leader in the region to educate and empower tomorrow's storytellers."
To download the Festival Next 2018 program, go to http://comm.lau.edu.lb/festival-next-2018.