Fight Back Against Bullying
Lecture by anti-bullying advocate addresses the widespread problem and offers recommendations on tackling it.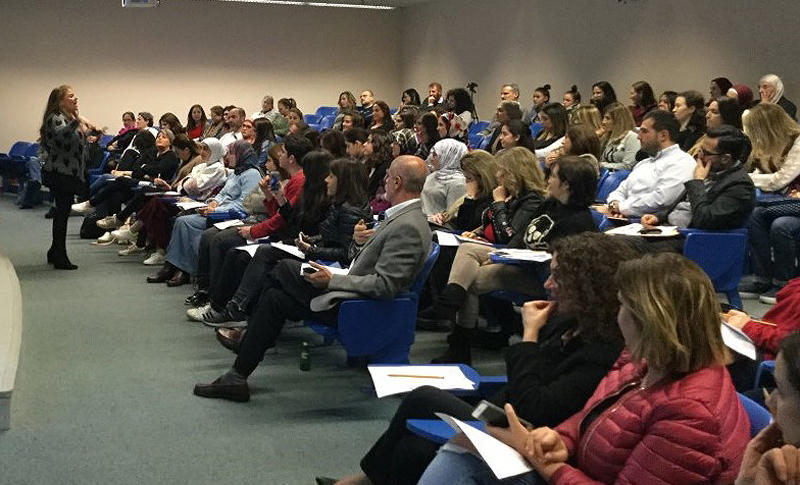 Bullying can happen to anyone, and it's on the rise. It had in fact become "an epidemic," anti-bullying advocate Darine El-Masri told the audience.
El-Masri was speaking Thursday evening at an event called Bullyproof Your Child, part of the Stay Aware alumni lecture series hosted by the Alumni Relations Office. The attendance itself was a sign of how prevalent the problem had become, as the hall at the Adnan Kassar School of Business building teemed with concerned parents, teachers and children.
"Bullying is one of the biggest things on parents' minds," said El-Masri, a Canadian lawyer and president of the MENA branch of Kidproof, an international child-safety organization. "It's not new, but the aggressiveness we're seeing between students is not like what we've seen before. It's increasing, and it's destructive to the emotional and academic development of children."
Aside from the suffering of victims of bullying, entire classes can be disrupted by the actions of one child, as educators are sidetracked when bullying is taking place in the classroom.
Through Kidproof, El-Masri and her colleagues have reached 130 schools and 80,000 students in Lebanon, where bullying is as much of a problem as everywhere else in the world. The difference here, she noted, is that it isn't as openly discussed as it is in the West.
In Lebanon, one quarter of schoolchildren are bullied, with 10 percent experiencing it on a daily basis. Of children surveyed by Kidproof, 30 percent admitted to bullying others, while 60 percent said they had witnessed it. Encouragingly, 41 percent of respondents said they had intervened and put a stop to a bullying situation.
Childhood bullying has existed for as long as anyone can remember, and many consider it an innocent rite of passage. The main difference these days is the prevalence of the Internet, which has made the practice more common and in many cases more brutal, as bullies can reach their victims from a distance and harass them anonymously.
Cyber bullying affects an estimated 42 percent of children worldwide. It includes harassment via text messages and social media, distributing photoshopped images, ID theft, recording an assault to humiliate the victim, physical threats and spreading rumors.
"It follows the child wherever he goes," said El-Masri. "Cyber bullying can happen to anybody."
So what can victims and their parents do to fight back? In cases of cyber bullying, El-Masri suggests taking a screenshot of the offending image or message to share with the school, authorities or parents of the offender. She also advised victims to firmly tell the bully to stop, and in other cases to ignore, or "freeze him or her out," depending on the situation.
In cases where one's own child is the bully, she suggests having the child read out loud what they write online. If they can't, then it's generally a sign they've used inappropriate words.
"If you can't say it out loud, then you shouldn't say it online," said El-Masri, adding, "kids forget they're talking to real people, but they have a real impact. Anonymity allows kids to be much meaner."
"Teach your kids that it is important and good to be unique, and to accept uniqueness in others," El-Masri advised.
The lecture resonated with LAU alumna Rodayna Jammoul. Having spent her high school years trying to fit in, the mother of three young children said, "I will be using some of the suggestions and techniques from the lecture by being more engaged and having an open dialogue with my kids."
For Mirna Abbas, also an alumna, the lecture made her more aware of what her children might be experiencing at school. "We have to learn how to increase children's self-esteem. We have to ask questions and give them the tools to communicate," she said.
"Parents are their children's first line of defense," concluded El-Masri. "It's important that they don't feel powerless when their children come to them with bullying incidents."