From LAU to Forbes: an Interview with Nicolas Zaatar
Three years after graduating from LAU with a degree in Computer Engineering, alumnus Nicolas Zaatar earns a place on the Forbes Arab 30 Under 30 list.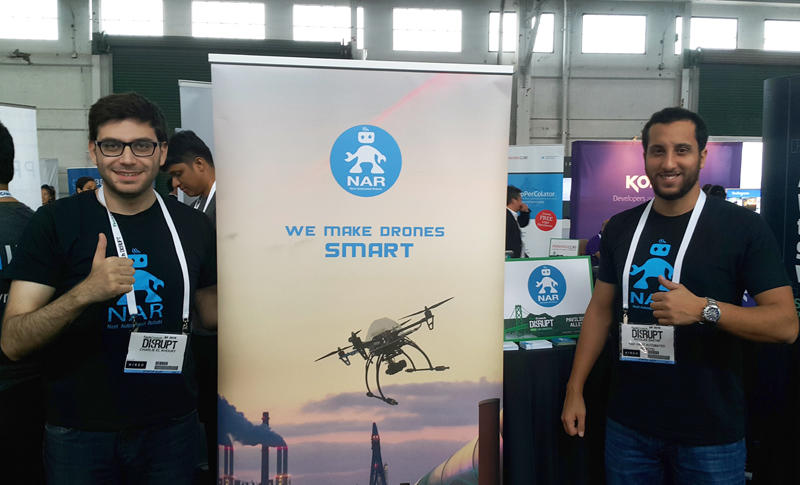 Nicolas Zaatar (BE '15), co-founder and Chief Technology Officer (CTO) of NAR – a Lebanese innovative startup specialized in drone-based solutions – is now one of the 2018 young and brilliant minds to feature on the exclusive Forbes Middle East's Arab 30 Under 30 list. Here he speaks about the genesis of Quadrofighter at LAU, as a capstone project with classmate and co-founder of NAR Charlie el-Khoury, and Lebanon's potential to become the hub of AI in the region.
What inspired you and Charlie el-Khoury to build the Quadrofighter?
Back in 2014, a huge fire broke out in the forest next to our homes, and we rushed to assist the firefighters battling the blaze. While in the field, heavy smoke made it hard for us to locate the fire, and helicopters were not available to guide us. Several hours later, everyone left, the fire was extinguished, and 80 percent of the forest got destroyed. After this catastrophe, Charlie and I thought of how we could have made the operation more efficient. That's when we came up with the idea of Quadrofighter: a drone that could be instantly deployed to locate potential hotspots and assist firefighters. We worked on Quadrofighter as part of our LAU Capstone Project, and as soon as we graduated, we launched NAR with the fire-detection drone as the startup's first product.
Tell us about the work of your company NAR.
At NAR, we're developing Raven AI, which is software for aircraft to automate the inspection of infrastructure. Usually, inspections are conducted manually, leading to human error and safety problems. Every day, we work passionately to perfect this technology, which has so far been used to inspect more than 50,000 kilometers of pipeline in both the US and Canada.
Do you have plans to expand into other products or other markets?
We're pursuing different applications, since our technology is adaptable to any infrastructure, not just pipelines.
What do you look for in employees and interns at NAR?
There are two traits we look for in anyone joining NAR. The first one is critical thinking. Engineers need to ask themselves tough questions, consider and reconsider their own views in light of evidence presented, and connect what they know to what they're learning along the way. The second trait is fitting into the culture of the organization. Every member of our team should be humble, honest and – most importantly – passionate about the technology NAR is building. With such a workplace culture, we're aiming to create a positive environment for our team to ensure they stay focused on what they love most: innovating.
Why did you decide to build your company here in Lebanon?
We believe that Lebanon could become a leading AI hub in the region. Lebanese emigrants shine everywhere around the world. We want to provide an opportunity for young talents here so that they can work on cutting-edge technology with an international reach while staying close to their families.
What do you think Lebanon can do to retain more young talent like yourself?
Support the creation of startups. With the startups, more interesting opportunities can be created, the country's economy can improve, and young talents can be encouraged to start their own businesses. In addition, startups are born to solve the types of problems we are struggling with in Lebanon, such as pollution and electricity shortages. So far, NAR has been able to recruit several Lebanese living abroad to come back to the country and further the vision of turning Lebanon into an AI hub.
Was there somebody at LAU who inspired you to take the path you've taken?
My programming instructor believed in my ability to become a good software engineer, coached me to find my inner passion and is still supporting me to this day. Our oral communication instructor always encouraged us to open our own startups and work on something we love rather than landing a mainstream job. We believe each instructor at LAU taught us valuable lessons beyond the course's scope, which helped us throughout our journey.
What advice can you give to LAU students interested in engineering and similar fields to reach the level of success you have achieved?
Follow your passion. When you combine passion with your work, you are setting yourself up to achieve success. It is the fuel you need to reach your goals, overcome any obstacles along the way and keep moving forward despite failures. Success is never about being rich, famous or having social status. It's about doing something you love.