From Sweden to Palestine on Foot
Benjamin Ladraa stops at LAU to raise awareness about the Palestinian cause and share his experiences on this remarkable journey.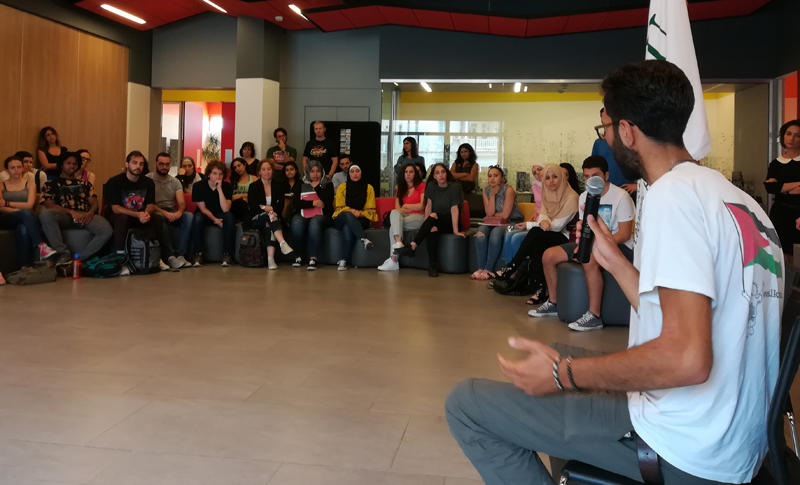 The Palestinian Cultural Club at LAU invited Benjamin Ladraa, a Swedish national of Swedish-Algerian descent to talk about his ongoing trip from Sweden to Palestine on foot. Having left Sweden last August, he has journeyed south through Europe, taking his first means of transport – in the form of a boat – from Silifke in Turkey to Tripoli in North Lebanon, only because safety concerns prevented him from crossing Syria. For the same reason, he will also have to take a flight from Beirut to Amman this week. He does, however, plan to walk to the southern tip of the Lebanese-Israeli border to make a symbolic statement before leaving Lebanon.
"I visited occupied Palestine last year and saw first-hand the human rights violations," said Ladraa, who only learned about the Palestinian cause as an adult, having been born and raised in Sweden. He became curious about it when, during his study-abroad stint in Tokyo an Israeli classmate had voiced her opposition to her country's policies. But, it was not until he met a Palestinian refugee in Sweden that he felt the need to do something meaningful within his limited capacity as a member of the International Red Cross.
At LAU, Ladraa was met with a roomful of attendees including exchange and SINARC students, Vice President for Student Development and Enrollment Management Dr. Elise Salem, Dean of Students Dr. Raed Mohsen, as well as LAU faculty and staff who were eager to hear his story.
"I'm a strong believer in non-violent resistance because weapons will only maintain an endless cycle of even more violence," he said, when asked why he chose this particular way of raising awareness. He advocates all forms of non-violent resistance, he explained, including the Boycott, Divestment and Sanctions (BDS) movement, which works to end international support for Israel's oppression of Palestinians and to pressure Israel into complying with international law.
Students bombarded Ladraa with an array of questions, from his approach to persuasion to the logistics of his journey, and the lessons he's learned along the way.
"I encourage you to educate yourselves as much as possible on the topic, because the media will not always give you the right facts," he said. "You will need to read books and follow reports issued by trustworthy sources, such as Human Rights Watch, Amnesty International and B'Tselem." Ladraa also invited students to join him on his tour of the Palestinian camps in Lebanon for a first-hand experience.
Students gathered around Ladraa for more questions and to exchange contacts, well after the session had ended. He invited everyone to follow him on his journey through "Walk to Palestine" on Facebook and Instagram.