Future Leaders Convene for Model UN Champions' League
Byblos campus hosts the best and brightest MUN student delegates.
By Louisa Ajami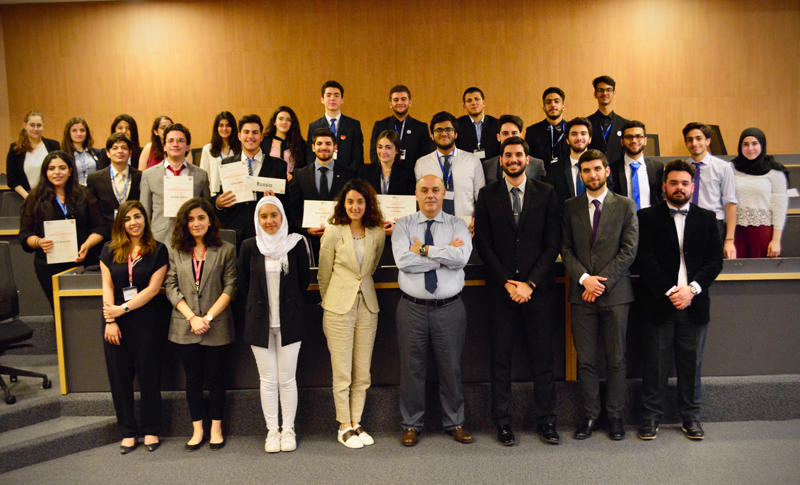 The Model United Nations (MUN) is known to be a breeding ground for future world leaders, and LAU's MUN program is among the top in the region. The MUN helps students learn hands-on lessons about diplomacy, international relations, and the role and history of the United Nations.
On the weekend of April 22 and 23, top MUN students from LAU and high schools across Lebanon convened on Byblos campus for the Model United Nations Champions' League (MUN-CL), an elite program tailored toward youth with unique leadership skills.
The MUN is part of a series of simulation programs at LAU that also includes the Model Arab League and Model European Union. Around 375 LAU students are active members, along with students from a number of Lebanese middle and high schools. While the office of Outreach and Civic Engagement (OCE) has organized the programs over the past 13 years, this is the first Champions' League event.
On the first day of the retreat, participants checked into a local hotel and were trained during two half-day sessions by top experts in the fields of debate, communication and impact. On the second day, they went to LAU's Byblos campus, where they underwent a boot camp and assumed the role of ambassadors of UN member states for simulation exercises.
These young leaders are taking charge in programs that "cultivate diplomatic literacy, life skills, and the attitudes necessary for active citizenship," according to OCE Assistant Vice President Elie Samia.
During the simulation programs, students "accomplish the sophisticated tasks of school relations, training and educational development, public relations, public information, and logistics and operations," Samia added. "And they go beyond the call of duty to achieve the multiple cognitive and reputational objectives of our simulation programs."
"I believe the MUN program at LAU is truly essential for students to take part in, whether as delegates or secretariat members," said ​ Sofiane Timtaoucine, MUN-CL director general and a final-year political science and international affairs major. "The students' knowledge, resilience, cultural awareness, and negotiation skills are all put to the test."
For Frederic Mourad, the MUN-CL secretary general and former student delegate himself, members of the simulation programs also learn skills that they can apply in their education, such as the ability to plan, organize and concentrate. "They develop in many ways because of the challenges presented to them at MUN," said Mourad, who graduated from LAU with a BS in 2012. "They apply themselves and gain a new outlook on the way the world works."
It is a program that has a lasting impact. "Over four years I have spent as part of the MUN, I was able to train hundreds of high-school and middle-school students," said Timtaoucine. "I have run into so many of them who have joined LAU with the intention of serving the same way I did, because they too wanted to leave an impact on others and help improve the community any way they can."