Global Classrooms Model UN Wraps Up Another Successful Term
LAU hands out awards to top student delegates at ceremony.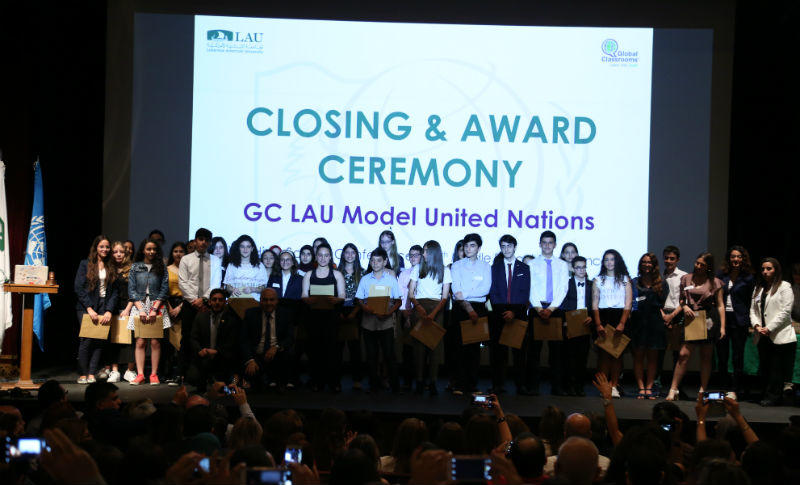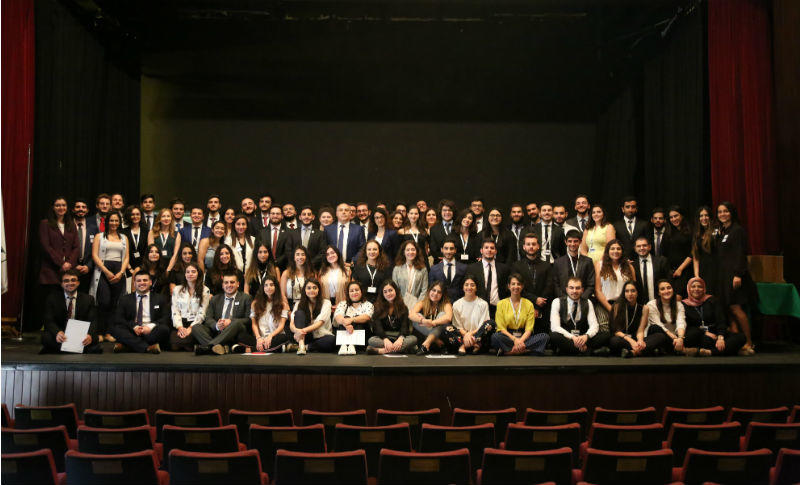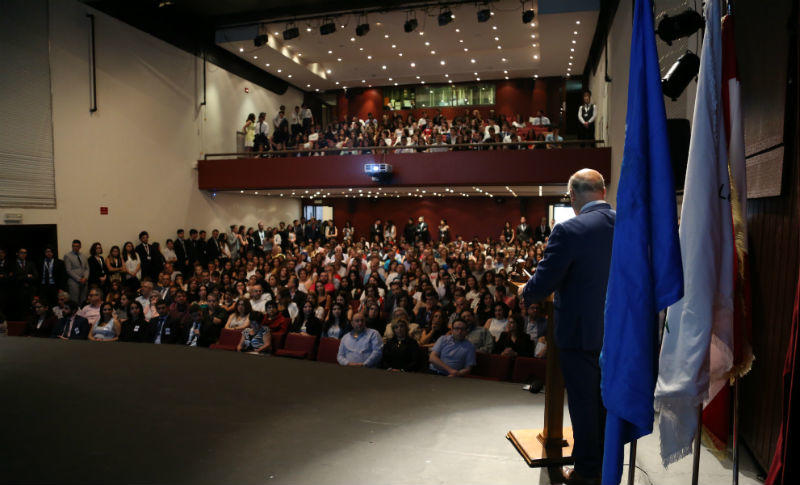 Proud middle- and high-school students marched across the stage at Irwin Hall Auditorium to cheers from their parents, teachers and friends at the Global Classroom Model United Nations Award and Closing Ceremony Saturday. LAU officially announced the end of this year's GCI-MUN program with 263 awards distributed and hundreds of lives changed.
LAU has had a strong and successful Model UN program since 2005, and since 2016, the university has been running the Global Classroom International Model UN, sending middle and high school students from across Lebanon to New York to convene with their peers from around the world. LAU students in the MUN program act as trainers for the young model delegates and help them prepare for their simulation exercises.
"This culture of diplomacy continues unabated, full of vigor and very robust," Assistant Vice President for Outreach and Civic Engagement Elie Samia, whose department runs the program, told the middle- and high-school students on stage.
"You have displayed intellectual density, intelligence and diplomatic prowess in terms of performance, knowledge, research, role-playing and public speaking, and for this, I congratulate you."
After months of training and preparation earlier this spring, 3,200 delegates from 197 Lebanese schools underwent a final conference, in which they were graded according to a transparent and accurate system. The winners of that conference were granted Secretary General, Diplomacy and Position Paper awards at Saturday's ceremony, some of which will be translated into scholarships, allowing the winners to enroll at LAU and join the 203 MUN members who trained them.
On behalf of LAU President Joseph G. Jabbra, Samia congratulated the student leaders for their hard work in the five MUN divisions: school relations, logistics and operations, public information, public relations, and educational development and training. He also thanked the school advisors, without whom, he said, the program would have been impossible.
Standing in front of a picture of LAU's delegation at the UN General Assembly in New York, Samia explained that the university spends six days every year at the most prestigious venue in the world, representing the highest levels of diplomacy. "If we can make it there, we can make it anywhere," he said, quoting a Frank Sinatra song about New York.
The program's secretary general, final-year LAU engineering student Fouad El Kadi, took the stage to commend the delegates' transformation from young students to young diplomats. "You were given the torch, the torch that carries your calling for change, peace, leadership, diversity and diplomacy. So, no matter what path you choose, no matter the hardships thrown at you, do not forget the torch," he said, urging the winning students to continue fulfilling their responsibility toward their community, country and the world.
Finally, the Best Delegation awards for middle and high school were distributed to Saint Joseph School and Jesus & Mary School respectively. The ceremony also featured performances by MUN's Got Talent winners and featured a video showcasing the life-changing experience of joining the prestigious international program.