Harvard Course for MBA and EMBA Students
A course pioneered at the Institute for Strategy and Competitiveness at Harvard Business School to be launched at AKSOB.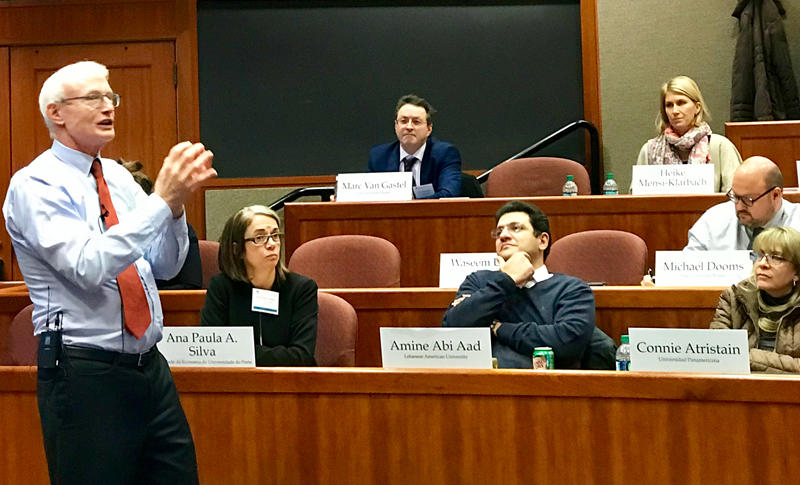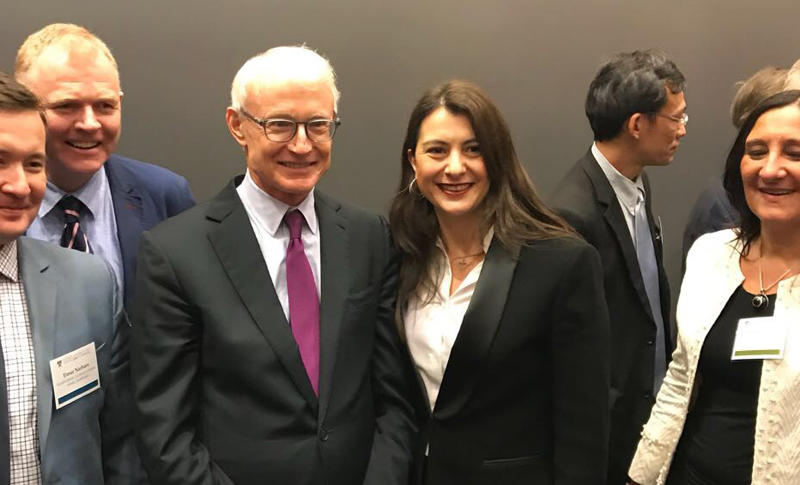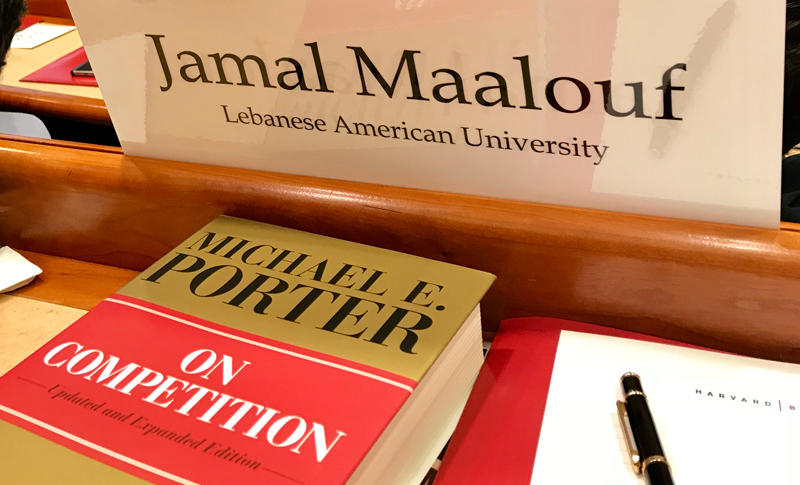 Through an agreement with Harvard Business School, LAU has become one of the first in Lebanon and the region to introduce the Microeconomics of Competitiveness: Firms, Clusters, and Economic Development (MOC) graduate course, at the Adnan Kassar School of Business (AKSOB). Taught at the EMBA level last April, MOC will be launched in September as a one-semester MBA course.
Pioneered by the founder of the modern strategy field and father of the Five Forces of competitiveness, Professor Michael E. Porter, and his colleagues at the Institute for Strategy and Competitiveness, Harvard Business School, the course – according to the MOC prospectus 2018 – "explores the determinants of competitiveness and successful economic development viewed from a bottom-up, microeconomic perspective."
This unique opportunity came up with a fortuitous meeting between assistant professors of management Amine Abi Aad and Jamal Maalouf and a member of the MOC Chapter in Europe. "We had a paper accepted at the Academy of Management in Vienna," says Dr. Maalouf, "and met Professor Pablo Collazzo (Member of the Hall of Fame at MOC Network) of the University of Vienna at the conference."
Impressed with their presentation, ongoing research and credentials – both Abi Aad and Maalouf hold a PhD from the top-flight business school at the University of Alabama – Collazzo invited them to apply for induction to the MOC network.
"The second part to that was AKSOB's accreditation, which is a prerequisite for any affiliate institution," adds Dr. Abi Aad, referring to the prestigious Association to Advance Collegiate Schools of Business accreditation which the school was awarded in April 2016, joining the select 5 percent of accredited business schools worldwide.
Discussions with AKSOB's dean and LAU's leadership followed. With endorsement at the faculty level, and after a stringent year-long application process, a Course Affiliation Agreement was signed between LAU and Harvard, paving the way for Abi Aad's and Maalouf's induction into the network in December 2017. Both AKSOB faculty members were trained by Professor Porter in the MOC curriculum, and by Harvard Business School in preparing and teaching MOC classes and case-based methodology.
The impact and value of the course and this strategic initiative, is "the Course Affiliation Agreement with Harvard, which allows trained and inducted MOC affiliates to teach a Harvard course at LAU, and gain access to all course material including elite international cases developed by the Institute for Strategy and Competitiveness at the Harvard Business School," says Maalouf.
In addition, affiliates across the network that includes faculty from more than 66 countries have the advantage of collaborating on research in all areas of competitiveness.
The interactive course – composed of case studies from the Harvard database and a course project – is designed to teach MBA and EMBA students the determinants of MOC, with a view to disseminating knowledge that would help policy makers create an environment conducive to the survival of "clusters," boost competitiveness and economic growth. Clusters refer to groups of organizations, firms, or businesses in a common field and same geographical area, which, by pooling their resources, increase productivity and competitiveness on a global scale.
"The course's practical impact," explains Abi Aad, "is policy making, as no clusters can come about without the direct and indirect involvement of the government." As each case is extensive, consisting of 20-30 pages, "students need to have a solid background in finance, strategy, and economics and to have acquired business acumen, experience, and a good grasp of politics," he adds. The case analysis technique further requires students to study the cases in depth, and come to the course ready to debate.
EMBA students who attended the course, taught by Abi Aad last April, praised its merits. For marketing and relations manager in an investment company, Rami Adra, it helped shift a rigid marketing strategy for their property development sector to include other industries that can impact its growth such as entertainment, hospitality and others. "We studied those sectors, and saw the cluster between them and how each one can affect the other, and drew a complete plan based on that. We were able to have a more competitive plan which received board approval immediately after presentation."
Regional executive Ismat Abou-Reslan said that it "provided further insight and structure in performing any economic analysis properly, while looking at key economic standards and taking into consideration the microeconomic foundations in place which could transform an economy and facilitate future investments into a region or country."
All the cases are currently drawn from the Harvard database, but the long-term agenda for the strategy professors is to collaborate with MOC affiliates on developing cases, which, on completion, will be assimilated into that same database.
Eventually, Abi Aad also hopes to make the course available to policy makers in both the private and public sectors, through workshops and seminars, which also speaks to LAU's Strategic Plan III.
For course details, go to: http://sb.lau.edu.lb/academics/programs/graduate/mba/moc-course.php