Hats Off to Beirut Graduates
#LAUGrad2018 fever hits Beirut with two consecutive ceremonies.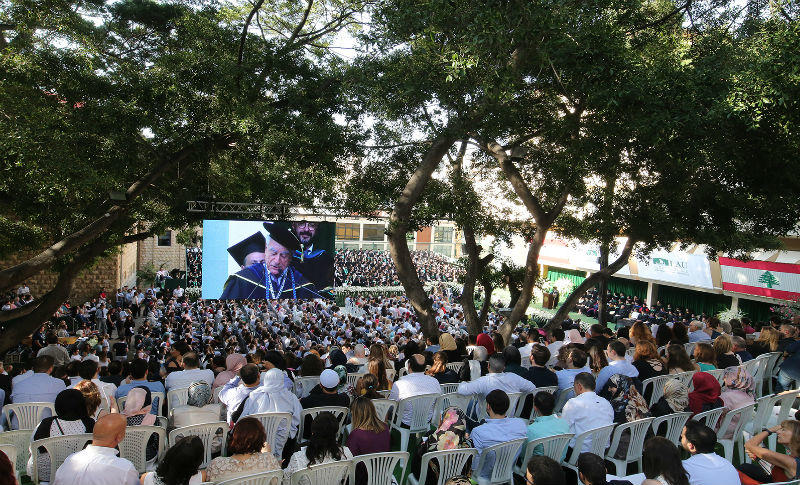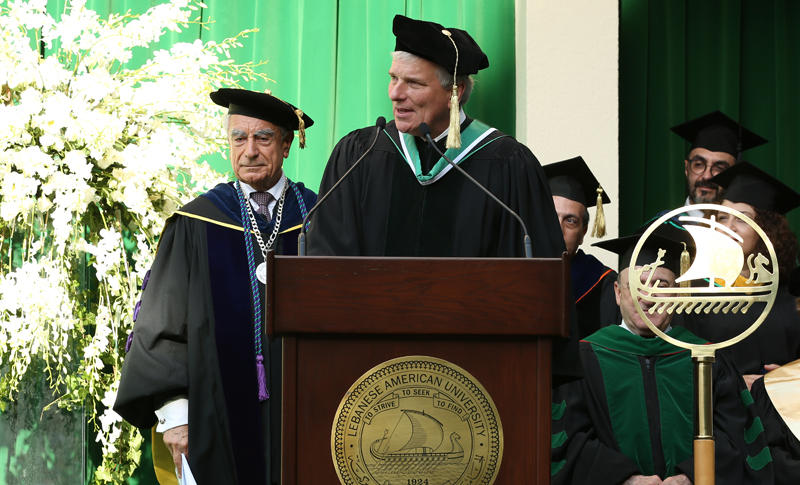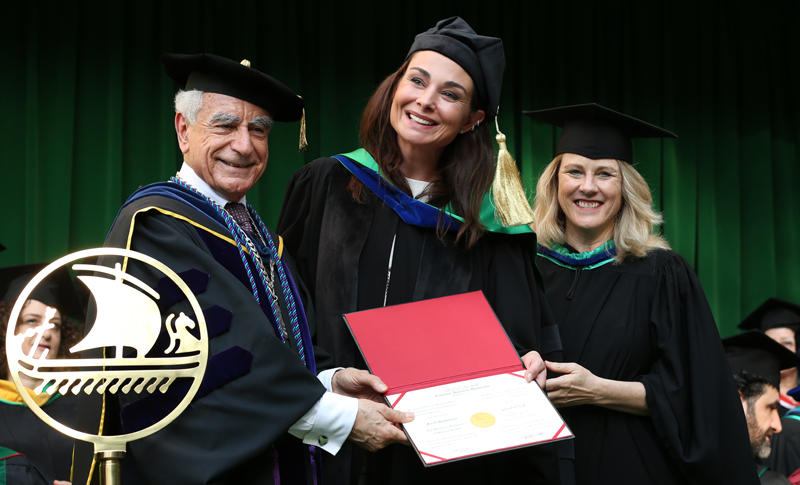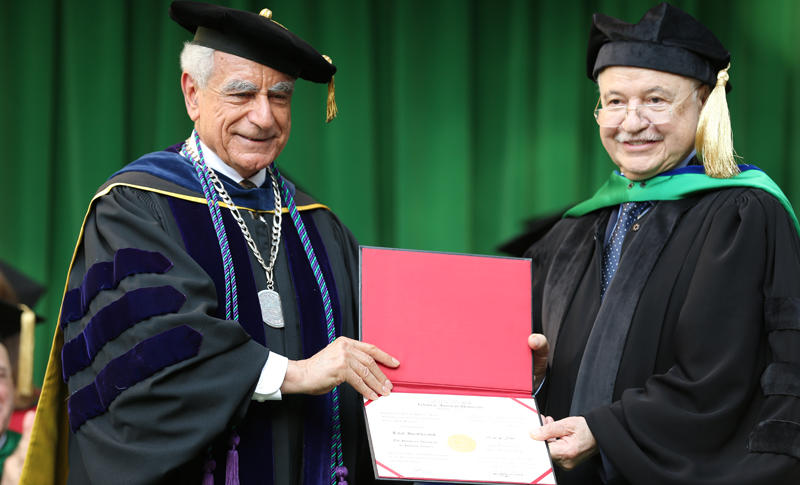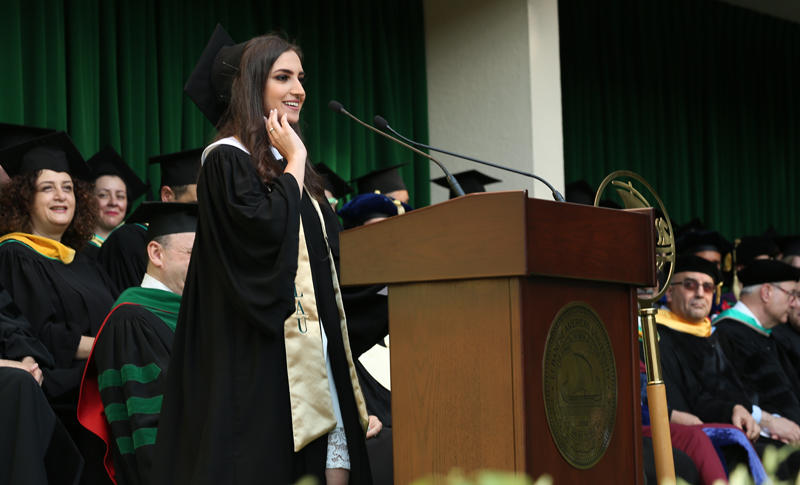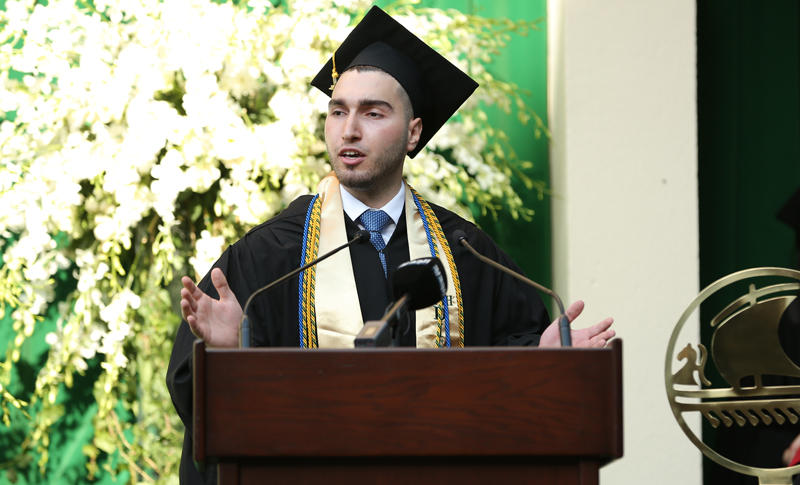 As evening fell on Beirut campus, more than 1,100 graduates walked down from the upper gate area, striding under arches of white flowers that lined the stairs. Proud parents leaned in from the seating areas for one last pat on the back or photo op before their children officially became LAU graduates.
LAU President Joseph G. Jabbra took a seat on stage, alongside faculty, deans and the provost, who marched behind the graduating class of 2018.
The 93rd LAU commencement exercises were split into three ceremonies, one that took place last Tuesday for all seven schools of the Byblos campus, and a second and third on the Beirut campus for graduates of the schools of Arts and Sciences and Architecture and Design, and the Adnan Kassar School of Business (AKSOB).
On stage, Jabbra wished the graduates great success in their future educational and professional endeavors, but also stressed on seeking happiness, comfort and balance in their careers and lives. He reaffirmed the board's commitment to "support the university's Third Strategic Plan, with its three major pillars: strengthening of our intellectual capital, encouragement of pedagogical innovations, and promotion of LAU as an institution without borders."
Jabbra then announced the unexpected attendance of Chairman of the LAU Board of Trustees Philip Stoltzfus, whose grandfather, the late William Stoltzfus, was one of the first presidents of LAU, at that time known as the Beirut College for Women. Stoltzfus expressed pride in the graduating class, "in the knowledge that they will be agents of transformation, who will make our world a better place."
In his speech at the June 9 ceremony, AKSOB valedictorian Majd El Fakih said he regards his university years as part of the cycle of giving and then giving back. "We are here today to celebrate the graduation of the people who will become the backbone of our beloved country," he said. He called on his fellow graduates to give back and be "the stimulus, the soul and the spirit who will revive and give life to the cycle of giving."
For valedictorian and computer science graduate Rana Haidar Mouawi, who spoke at the June 8 ceremony, "the most interesting byproduct of university is that it leaves its graduates with a sense of unfinished business." Her words rang true in light of the common theme of giving back, and she said she hoped that the "next stage inspires us enough to produce yet another bundle of energy that carries us forward."
A very distinctive example of dedication to giving is HE Farah Daghistani, executive director of the Jordanian Hashemite Fund for Human Development (JOHUD), who received LAU's honorary doctorate on June 8 in the presence of Lebanon's Ambassador to Jordan HE Tracy Chamoun.
Having worked to promote sustainable, rights-based human development initiatives in Jordan for the past 20 years, Daghistani had plenty of learning to share with the graduates and attendees. She pointed out that the "solutions to the many challenges we face regionally are not going to be found externally," and that they will need to come through "a strong and dynamic platform, where civil society flourishes, and academic institutions and young people speak up and speak out, for inclusion, for injustice and for change." With this said, she noted that LAU has a "crucial role to play" and thanked its leadership for their recognition of her work, which only goes to "reinforce the efforts being made on the ground and disproved the criticism that academia has become removed from the realities of the Arab world."
Another profound example of giving is Talal Abu-Ghazaleh, honorary doctorate recipient and founder and chair of the organization that bears his name, who has made numerous contributions to art and scholarship in the Arab world. Abu-Ghazeleh listed his practical advice to the graduating class in the form of the ten "prescriptions for success" before turning to the LAU leadership to announce his offer to link the university to the Arab States Research and Education Network (ASREN) and the European network GÉANT. He also invited LAU computer engineers to ASREN.
With a striking number of award recipients among this graduating class, LAU and Lebanon at large can certainly dream big. Biology graduate Riwa Samir Ibrahim, who will be joining the Gilbert and Rose-Marie Chagoury School of Medicine soon, received the Sara Huntington Smith Achievement Award, which is donated by the Wadad and Said Khoury Foundation for Charitable Work. Three graduates received the President's Award, given to students who demonstrate high-caliber leadership traits, while another three received the Torch Award, having shown leadership and service. Political science and international affairs graduate Narin Manoug Atamian received the Rhoda Orme Award, presented to one female student every year on each campus who shows the most dedication and service to others, while biology graduate Majd Zeid Khiami received the Riyad Nassar Award, having proven good academic standards and exemplary leadership skills.
"The merit scholarship and the honors program gave my daughter a dual incentive to maintain her academic excellence throughout her university years," said Hrayr Keshinian, father of Shoushan Keshinian, political science and international affairs graduate who received the President's Award. "The availability of both of these programs at LAU made our immense pride today possible." Her mother pointed to her name in the commencement program accompanied by multiple symbols, noting with emotional pride that "she received every honor she possibly could."