Hats Off to Byblos Graduates
#LAUGrad2018 kicks off with an emotional first ceremony on Byblos campus.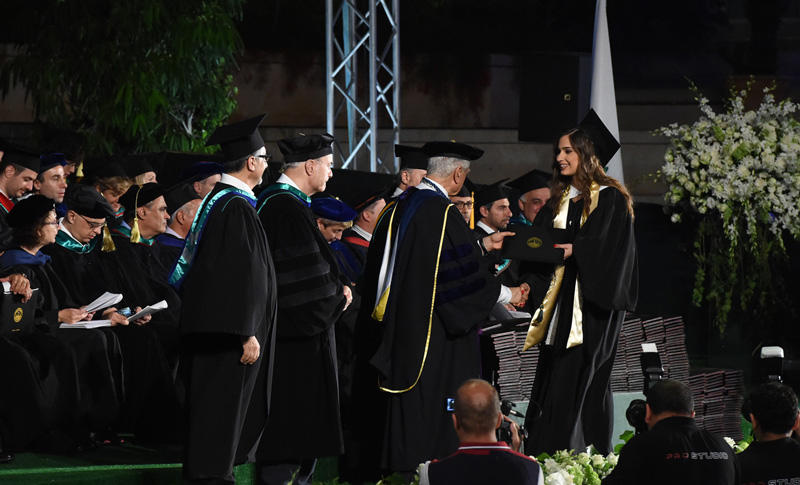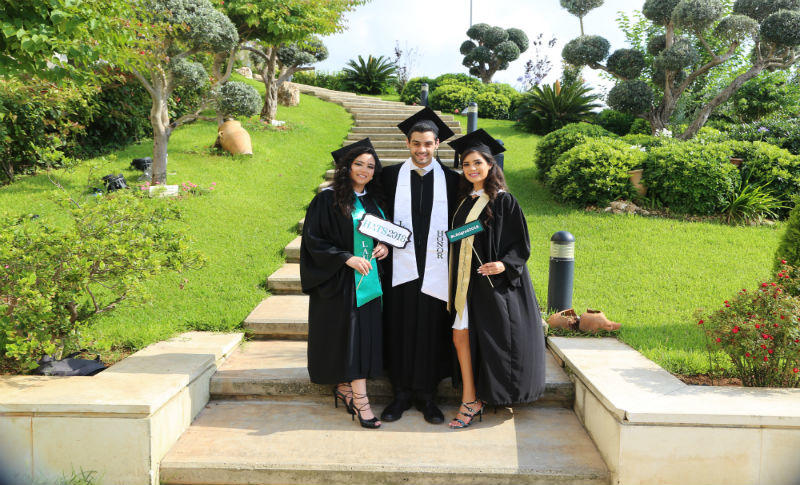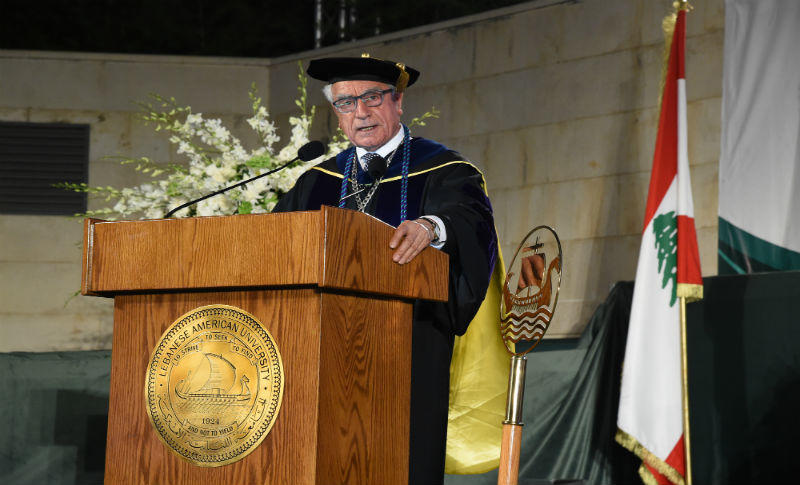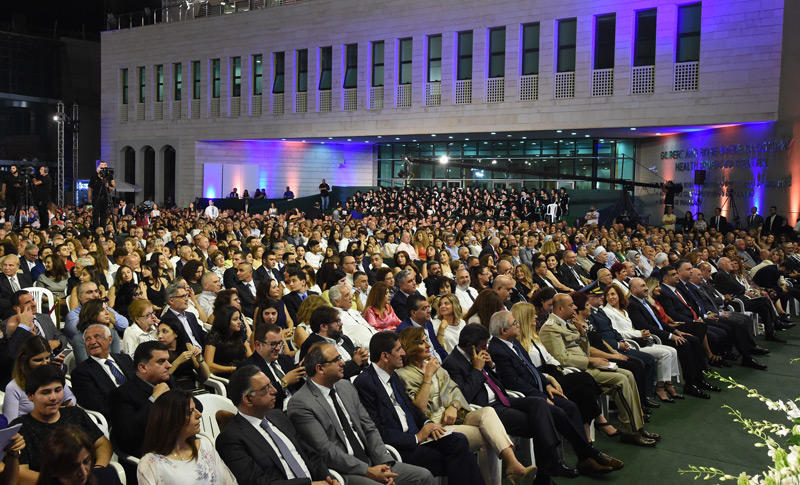 More than 800 graduates enthusiastically marched down the stairs of the Byblos campus, as the evening breeze blew through their tassels, emotional parents waved at them and cameras flashed to capture the end of their journey at LAU.
Dressed in academic regalia, the LAU faculty, deans, vice presidents and President Joseph G. Jabbra marched closely behind the graduating class of 2018. At the very front of the processional were the graduates who have received special awards, carrying a length of ivy in line with a university tradition, which connotes the spreading of knowledge. They carefully placed it on stage, signaling the beginning of LAU's 93rd commencement exercises.
Jabbra announced the event a dual celebration of the "achievements of the LAU family during the past academic year, and to share the joy of our 2018 graduating class." He declared LAU an "academic powerhouse, taking its right place in the constellation of leading institutions of higher education in Lebanon, the MENA region and beyond." Addressing the graduating students and their parents, he referred to LAU students as the "living personification of all that is beautiful about the university's mission: from academic and professional excellence at the highest form of ethical standards, to love and care for others."
A profound example of such academic excellence matched with high ethical standards is valedictorian speaker Hagop Wasken Jamkojian, a computer engineering graduate with a GPA of 4.0. In his speech, Jamkojian identified personal and professional credibility as being founded on "ethical behavior, integrity and honesty," thus owning his well-earned introduction by Provost George Najjar, who described him as a "shining star with special radiance."
Such stars were abundant among the graduating class this year, with six students having received the President's Award, given to students who demonstrate high caliber leadership traits; another six who received the Torch Award, having shown high leadership and service spirit. Nursing graduate Farah Kamal Bou Said received the Rhoda Orme Award, presented to one female student every year on each campus who shows the most dedication and service to others, while international business graduate Alexander Charles Muller received the Riyad Nassar Award, having proven good academic standards and exemplary leadership skills.
The Honorary Doctorate in Humane Letters was bestowed upon the Chairman and CEO of Choueiry Group Pierre Choueiry, who is a distinguished figure within the region's media and advertising industry. With a career that encompasses over 25 years of intensive experience, he led the accelerated growth of his father's media representation company into a topmost regional player in advertising and media.
In his address to the students, Choueiry gave the graduating class valuable and practical advice. "Equipped with your university degrees, you will also need to be creative, forward thinking and accept learning as an ongoing, life-long occupation." He went on to highlight the importance of striking "the right balance between ambition and patience to reach new heights," as even the most ambitious upcoming leaders could often fall into the trap of impatience.
Choueiry thoroughly thanked President Jabbra and the university, not just for bestowing him with an honor that "will serve as an ongoing source of pride and joy," but also for having led the university from one success to the next, "cementing LAU's place as a world-class academic institution for higher learning."
Graduates from the Byblos campus' seven schools then took to the stage, many adorned with stoles of white, green or gold, depending on their level of academic performance. They shook hands with the president, provost and dean of their respective schools before they were received with flowers, balloons and warm hugs from their proud parents and faculty.
Two more ceremonies will follow suit on Beirut campus this week for the graduates of the schools of Arts and Sciences and Architecture and Design on June 8, and the Adnan Kassar School of Business on June 9.