Icon of Dance Georgette Gebara Honored
LAU pays tribute to Lebanon's Prima Ballerina and ambassador of the arts in the region.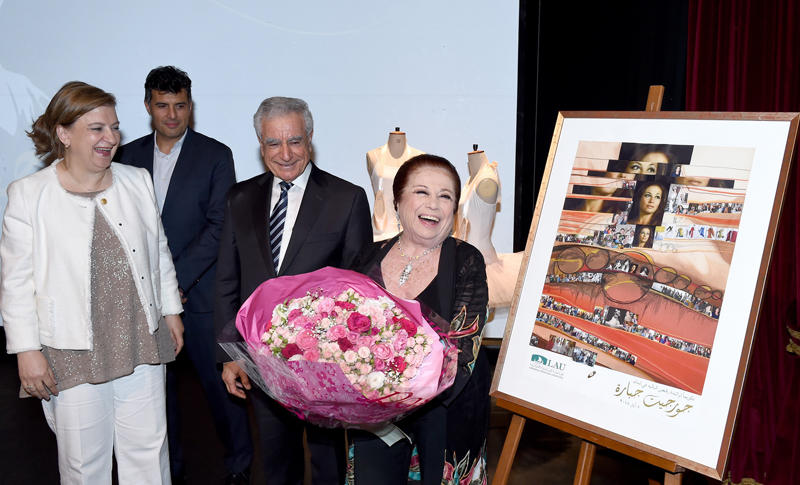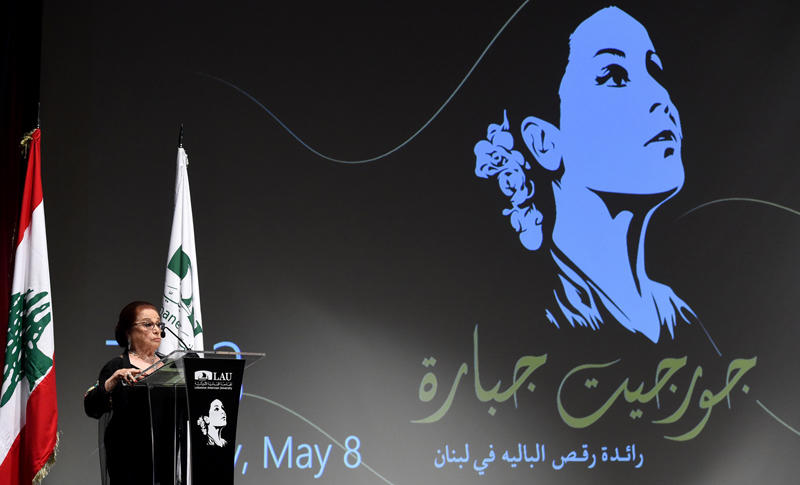 Hard as it may be to "do justice to her pioneering lifetime achievements," in the words of LAU President Joseph G. Jabbra, the university went all out to express its esteem for dancer, choreographer and champion of the arts Georgette Gebara. She was the guest of honor at a celebration of her stellar career on May 8 at Irwin Hall, Beirut campus.
The ceremony was held under the patronage of Minister of Culture Ghattas Al-Khoury, who said that Gebara's "vision was what the country needed today." In attendance were Director General of Cultural Affairs at the Ministry of Culture Dr. Ali Al Samad, Member of LAU's Board of Trustees Sheikh Walid Katibah, Vice President for Student Affairs Elise Salem, friends of Gebara's, and LAU faculty, staff and students.
In his welcoming address, Chairman of the Department of Communication Arts Jad Melki opened the annual Festival Next, which the ceremony was a part of, by dedicating it this year to Georgette Gebara.
Gebara started her career at the German Friedel Nichols School of Dance in Cairo where she was born, alongside Maria Caridhias – best known as Nadia Gamal – and Mahmoud Reda. After returning to her native Lebanon, she founded the Lebanese School of Ballet in Hamra in 1960, followed by two additional schools in Tripoli and Zouk Mosbeh – the latter in 1985 while the Lebanese civil war was raging.
Though she was a master of different styles and danced internationally, Gebara was a champion of the arts within her country. Representing Lebanon, she was a founding member of the Institute for the Preservation of Folkloric and Traditional Art for Twelve Mediterranean Countries, and later of the Syndicate of Artists of the Performing Arts.
In addition to several international awards, she was the first – and so far only – recipient of LAU's International Dance Day Festival (IDDF) Lifetime Achievement Award, taking it home in 2010. Gebara also helped promote the IDDF as its Lebanon representative at UNESCO, noted Associate Professor of Dance and Associate Chair of the Department of Communications Nadra Assaf, who launched the annual festival in the country.
"Georgette Gebara has been nothing less than a fulltime advocate of all the work we do during IDDF and at the Communication Arts Department," Assaf said. "Our admiration for her is beyond expression. It is on the shoulders of Lebanese artists, and legacies like Georgette's, that we are able to stand tall and implement a positive artistic future."
"Your name in itself," Assaf told Gebara during her tribute, "bears weight and speaks of art… You deserve to be honored not only for dance and theater, but for all the arts that use the body." Gebara, Assaf said, was "our ambassador in all Arab regions."
In a befitting homage, dancers performed three pieces, two of which were choreographed by Matthew Henley and Lena Kokarova. The last, choreographed by Assaf herself, was called Like the Dust, a title inspired by a quote from Maya Angelou. The organizers then screened a video honoring Gebara featuring former students and international IDDF participants, such as Henley and Christy McNeil Chand.
After receiving a commemorative shield and a painting tracing her career, Gebara took to the podium to thank LAU and all those present.
"I am overwhelmed," she began. "As for you, Dr. Jabbra, let me say that every institution takes on the color and importance of its leader, and that's why LAU today has such a high standing in the world."
Gebara spoke of her adventures, career triumphs and the ambition that drove her to stage shows during the war. Drawing on an anecdote of a little girl in a pink tutu who aspired to become a dancer, Gebara concluded with a quote from one of her books: "The years go past, times change, war defaces nations, books become tainted with historical lies, but there will always be a girl who dreams of a pink tutu. Thus begins the celebration."