Innovative Approach to the Plight of Syrian Refugees
LAU President Joseph G. Jabbra speaks at the UK launch of the RELIEF Centre.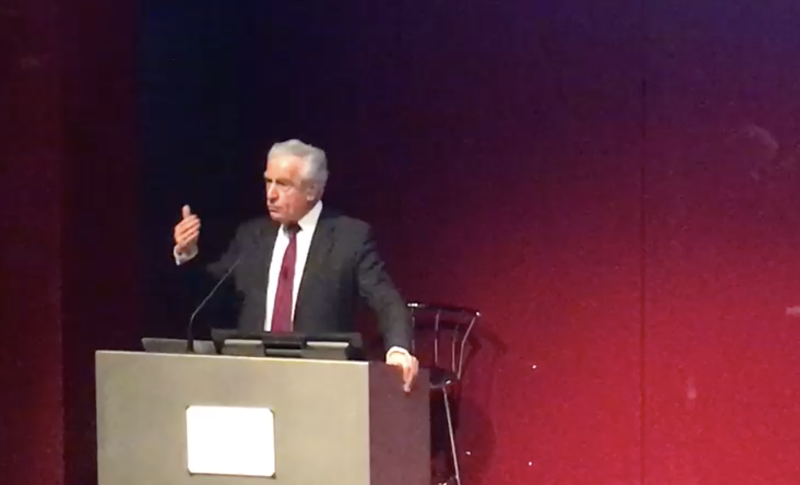 LAU President Joseph G. Jabbra headed for London for the UK launch of the RELIEF Centre, a research collaboration focused on one of the world's most pressing current challenges: how to build a prosperous and inclusive future for communities affected by mass displacement. University College London's (UCL) Institute for Global Prosperity led the event in collaboration with the American University of Beirut (AUB) and LAU's own Centre for Lebanese Studies (CLS).
The launch, which took place on April 24 at the British Museum in London, also featured the president and provost of UCL, the CEO of the Economic and Social Research Council, AUB President Fadlo Khuri, Lebanon's Ambassador to Britain Rami Mortada, along with other prominent guests. Rihab Azar, a London-based Syrian oud player, and Cameron Bray, the poet-in-residence at the Institute for Global Prosperity, performed for the guests.
In his speech, Jabbra touched on some of the darker moments of recent history, especially concerning the modern refugee crisis, before delving into the role played by organizations, and LAU in particular, in ameliorating the situation.
"As we all know," he began, "the movement of population throughout history has been unstoppable. Some of it was voluntary in search of a better life, and some of it forced as a result of violence, discrimination, conflicts and all our wars."
He cited the UN High Commissioner on Refugees' estimate that there are 65 million refugees in the world, 10 million of whom are "in a very serious crisis that threatens their very existence."
Over one million Syrian refugees live in Lebanon in a precarious financial and legal situation, he noted. The crisis, which began in earnest in 2011, has rocked the Lebanese political, social and economic spheres. Close to 60 percent of refugees in Lebanon live in extreme poverty and lack basic necessities like food, decent shelter and medical care. Lebanese schools are trying desperately to accommodate refugee children, though many do not attend or complete their studies. Disturbingly, due to the above factors and others, there are very high rates of under-age marriage, violent discipline from parents, little help for children with disabilities, and women struggling to raise families without assistance.
Jabbra pointed to challenges that Lebanon must overcome to accommodate the refugees and reduce the social strain on them and the Lebanese. Still, he said, "In the sweep of history, there has always been a glimmer of hope in the darkest of moments. And today marks not only a glimmer of hope, but an inspiring innovative approach to the serious and gripping crisis that afflicts Syrian refugees in Lebanon."
He turned to Henrietta Moore, director of UCL's Institute for Global Prosperity, and asked her what the global community can do to create inclusive prosperity in the context of mass displacement, and how people's quality of life in Lebanon can be improved regardless of their status.
Moore responded by proposing a four-part research program that addresses how refugees and communities can work together for a better environment, how institutions can help communities impacted by refugees expand their capabilities to flourish, how to provide educational opportunities for communities and the refugees they host, and finally, how to trigger economic growth and ensure that it includes refugees.
"A great example of this approach is the Kaparelli project in Greece, North of Athens," Moore said. "This project is using Syrian refugees to cultivate abandoned land in Kaparelli. Residents who were at first very skeptical of the project later cooperated with the refugees for the benefit of all concerned."
Jabbra praised the four-pronged approach, but noted that it did not include goals beyond creating prosperity regarding the ultimate fate of Syrian refugees. This is something that is on the top of many Lebanese people's minds: Are the refugees to be repatriated, integrated or resettled? "I know this is a tough question because of its political ramifications," Jabbra said, "but it cannot be ignored."
For his part, Jabbra noted the extensive work done by LAU with Syrian refugees in Lebanon. Jabbra cited the major study produced by the Gilbert and Rose-Marie Chagoury School of Medicine and the LAU Medical Center-Rizk Hospital called The Prevalence of Aggression in Syrian Refugee Children Attending Afternoon Public Schools in Beirut: A Cross-Sectional Study. He also cited the official and unofficial work done by LAU's medical students in hospitals, clinics, and religious institutions and centers across Lebanon.
LAU's Institute of Migration Studies (IMS), established in 2007, before the Syrian war broke out, has engaged in the study of refugees in Lebanon and abroad with collaboration and funding from the French government and Sweden's Gothenburg University. In June of this year, the IMS will host the largest regional conference on Syrian refugees in Lebanon, Jordan and Turkey.
Faculty and students from the School of Arts and Sciences have been studying the politics of reception, the situation of Syrians in refugee camps, and how they respond to governmental initiatives. Faculty members have published several papers in upstanding journals on the topic.
Of course, Jabbra also noted, the Centre for Lebanese Studies is heavily involved in refugee education. Finally, he said, is the "as-yet-unrealized potential for the Adnan Kassar School of Business, which can help Syrian refugees achieve a reasonable standard of living… Implementation would involve, among other things, marketing and management. Faculty could contribute their skills and knowledge, while students would have a major opportunity to learn while helping others."
In conclusion, Jabbra told the crowd, "LAU stands ready to work with you across our departments and disciplines to help contribute significantly to this innovative approach to the Syrian refugee crisis in Lebanon. Not only do we owe it to ourselves, but most importantly, to humanity."