Jawdat Haydar, a Witness of Time
LAU's Department of English and the Friends of Jawdat Haydar honor the Prince of Poetry in an annual recital.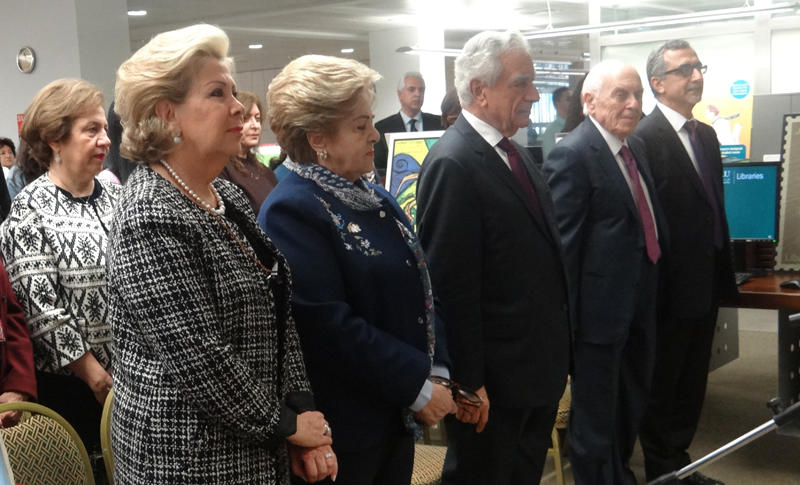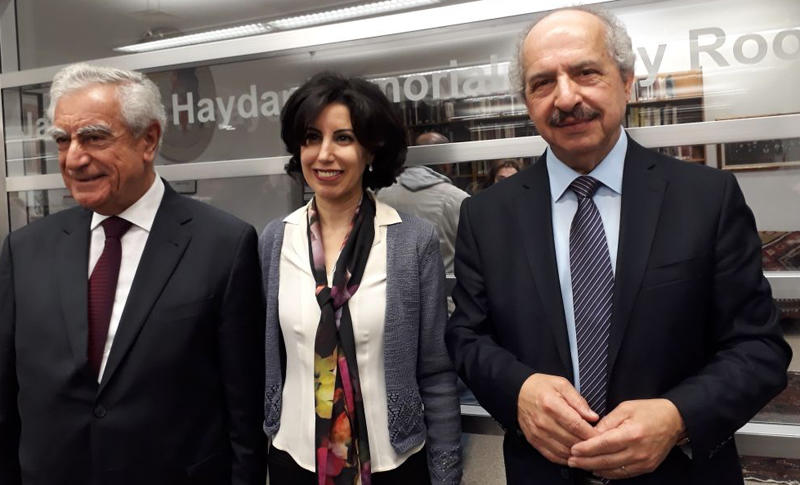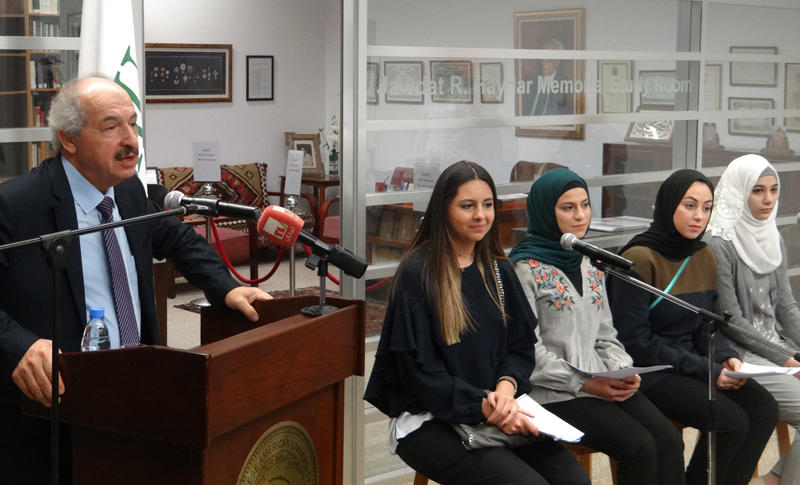 "Should I win my spurs today, I'll cross the frontiers of time to write my name on the walls of tomorrow." Jawdat Haydar's works resonate across generations and encompass the wholeness of the human experience. His legacy was celebrated at the fifth-annual poetry reading – Jawdat Haydar: A Chanting Wordsmith – hosted by the Department of English and the Friends of Jawdat Haydar on February 23.
The event, organized by Lecturer of English and Cultural Studies Ibrahim Hussari, was attended by LAU President Joseph G. Jabbra, the Dean of the School of Arts and Sciences Nashat Mansour, and Department of English Chairperson Rula L. Diab, in addition to members of Haydar's family. Four LAU students recited a number of Haydar poems that they selected themselves.
Haydar was born in Baalbek in 1905. He published numerous works in English, including four anthologies: Voices, Echoes, Shadows and 101 Selected Poems before his death at the age of 101. He studied in France and in the United States, and obtained his BS in Education from North Texas State University. Throughout his life, he received numerous awards, including the Lebanese Order of the Cedars, the Gold Medal of Lebanese Merit, the Croix de Grand Officier of France and the Papal Medal from Pope John XXIII for his humanitarian work. His poem The Temple of Baalbek was incorporated into the Lebanese Baccalaureate curriculum.
"Haydar is a poet – a genius poet – and he [used] his own instrument, which is the word," said Hussari in his introduction to the audience. "I read all of Haydar's poetry and found that he is a wordsmith. He dives for the correct word. However, his line of verse is not sacrificed at all, as he maintains rhyme and rhythm and meter."
Jabbra described Haydar as "a man of the world, yet above the world. He was a man of action, but also a beguiling poet." On Haydar's frequent invocation of the pastoral, Jabbra said the poet "never allowed his daily business to eclipse the beauty of nature that he loved and the attraction of the environment that he so much believed in."
The event took place in the Jawdat R. Haydar Memorial Study Room in the Riyad Nassar Library. The study room was donated in 2011 by Haydar's daughter, Shahina Haydar Osseiran, and houses his old manuscripts, personal library, trophies, photographs, desk and chair.
In her speech, Diab noted that while the poet has been "aptly called a citizen of the world," after becoming more acquainted with his life and work, she saw him as "a responsible citizen of the world." Haydar, she said, "was fully engaged not only in reflecting on life, but on improving it, and maintaining harmony, whether in nature, among individuals or between nations and cultures."
Wafaa el-Zein, a Banking and Finance major who read Haydar poems during the event, said she really began appreciating the poet during a literature class with Hussari. "When Haydar was 99 he wrote a poem, when he was 100 he wrote a poem. I liked the sequence of the poems. He wrote about everything: about love, about Lebanon, about Baalbek, about religion."
Another Banking and Finance major who read during the event, Sara Taha, said she found Haydar's poems "very interesting. They spring from our culture, from our traditions. They are very precise." She said the poems she recited had different themes, "each one has its own story, and its own meaning. They are powerful."