LAU-BMW Workshop: The Fast Track to Robotics Applications
SOE hosts BMW delegation to further collaboration and research opportunities in artificial intelligence, robotics and more.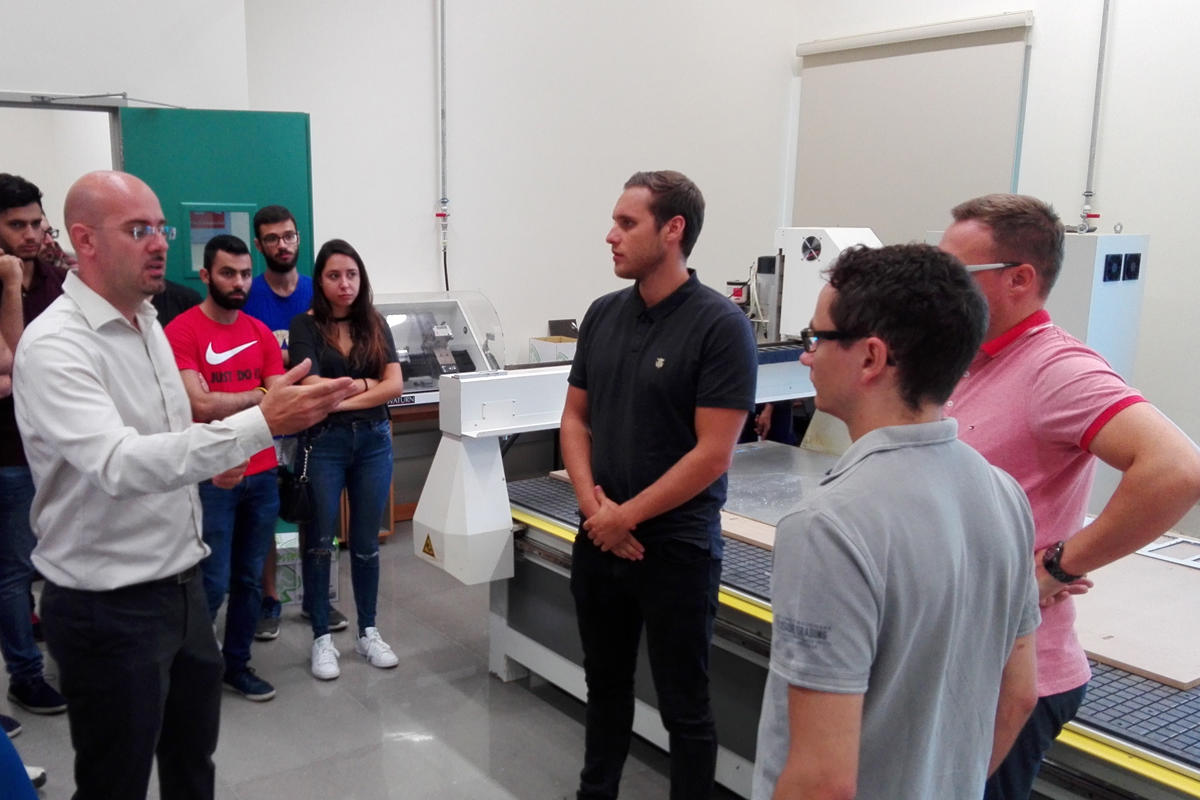 LAU's School of Engineering (SOE) hosted last week a delegation from Germany's BMW Group to increase collaboration between the two entities and identify future areas for research and student opportunities.
LAU has an established relationship with BMW. Since spring, LAU engineering students have been selected for short-term internship opportunities at the company's headquarters in Germany to observe, learn, and contribute to research and development.
On August 27, the BMW delegation made their third visit to LAU's Byblos campus, where they were given a tour of the new 10,000m2 engineering laboratory facilities. Many of these labs had special points of interest that parallel BMW's work, such as the Mechatronics and Internal Combustion Engines Labs. The tour was followed by presentations from BMW, SOE faculty and students.
Participants discussed how industries are moving into augmented reality, and noted that developments in artificial intelligence research must be made to keep up.
BMW recognizes increasing costs related to logistics. For example, since design, assembly and marketing are done in multiple locations worldwide, the company is developing robotic solutions to streamline their production process.
This is where LAU comes in. "The exchange of students [from LAU] is very beneficial; LAU students are very strong technically," said Thomas Irrenhauser, BMW Group team leader for logistics and robotics.
Irrenhauser added that the benefit of the LAU-BMW relationship is bilateral: "Although students' algorithms work well in the lab, production poses problems that are often unpredictable until they are implemented in the field."
Christian Poss, also part of the BMW Logistics and Robotics Team, concurred. "Development of cars is complex, but production [of cars] is even more complex."
BMW's solutions for reducing the complexity of their processes are based on the concept of robots working "hand-in-hand" with humans to get the job done while maintaining the highest level of efficiency.
The company's development of robots that contribute to a wide range of production activities closely aligns with LAU's Industrial and Mechanical Engineering programs. The foundation that students gain at LAU positions them well for the direction that companies like BMW are heading.
"Our goal today is not just to further the collaboration between our two organizations, but also for our students to realize the industry relevance of their degree and pursue future opportunities in robotics with BMW," said Assistant Provost and Associate Professor of Mechanical Engineering Barbar Akle.
The visiting BMW team members emphasized that the typical path for BMW employees starts with an internship, followed by the pursuit of advanced degrees via research within the company. Based on this, LAU SOE students are perfectly poised for future career opportunities at BMW and elsewhere.
And a number of LAU students have risen to the challenge: three from Electrical and Computer Engineering – Farhan El Ghareeb, Guy Abi Hanna and Rayana Jaafar – presented research projects they are working on with SOE faculty. Their presentations not only highlighted their technical skills, but also their research interests and desire to make strides in the realm of artificial intelligence and robotics.
"Today, BMW has identified areas of interest for future collaboration with LAU," said Irrenhauser, and LAU faculty and students look forward to maintaining this partnership.