LAU Faculty Wins Prestigious Film Grant
Sarah Kaskas's documentary Underdown tackles poverty in Beirut.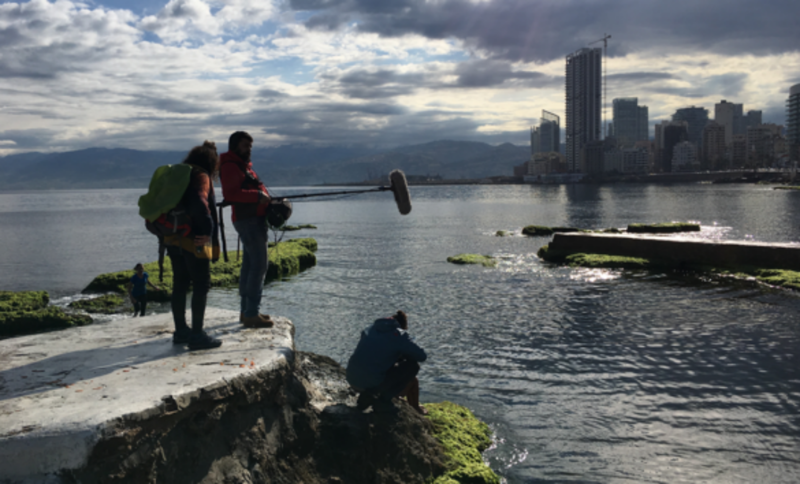 Assistant Professor of Film Sarah Kaskas kicked off 2018 with a grant award from the Doha Film Institute (DFI) for her feature documentary Underdown, which follows the journey of three unrelated characters struggling to live below the poverty line in Beirut.
Underdown, which Kaskas has been working on for two years, was selected from among 380 other films considered for the prestigious prize.
The versatile Kaskas graduated from LAU with a bachelor's in Communication Arts in 2008 before earning an MFA in Film and joining the Department of Communication Arts as a full-time faculty member in fall 2017. She says her story ideas are always rooted in social issues, and her main characters are always outcasts.
"I feel we ignore these types of characters because they tend to push the boundaries of our comfort zones," she said. "As a result, a lot of prejudice surrounds them, and they are rarely given a platform to voice their opinions."
While Underdown – formerly titled A Jar of Flies – had been nominated for the Robert Bosch Stiftung Film Prize 2017, it did not win funding. But a determined Kaskas and her team, which includes local producer Liliane Rahal and German co-producer Ines Meier, spent most of 2017 applying to other film funds. "We were ecstatic when we heard we received the DFI film grant!" Kaskas said.
The DFI provides financial and logistical support for short and feature films during their development, production or post-production. The grant money means Kaskas and her team can finalize filming and apply for post-production funding.
Kaskas, who teaches Documentary Film and Filmmaking Principles and is one of a handful of female Arab experts in sound production and design, previously won Best Short Documentary for her film Bread and Tea at the 10th Iran International Documentary Film Festival in 2016. Her film Wanderland won the Co-Production Forum Award at the 20th Internationales Trickfilm-Festival in Stuttgart in 2013.
An educator as well, Kaskas is keen to engage her students in the filmmaking process. "Students can learn and practice a lot in a classroom, but working on professional sets is where they will develop their skills and work ethic," she said.
Kaskas has two rules for her students: Identify your audience, and make sure the form follows the content. "It is extremely important to figure out how to communicate with your audience," she said, because without that understanding, "a film will go nowhere. It's a delicate balance of communication and collaboration."
As far as her films' subjects, "I think stories choose us instead of the other way around, and it is our responsibility to be open enough to tell it as is, regardless of how difficult it may be," she said.
Communication Arts students at LAU express their pride in the department's mission to #ReinventCommunication
Watch the full video: http://comm.lau.edu.lb