LAU Holds Lebanon's First Autism-Friendly Concert
IMAGINE concert series concludes its third residency with an event geared toward children with autism.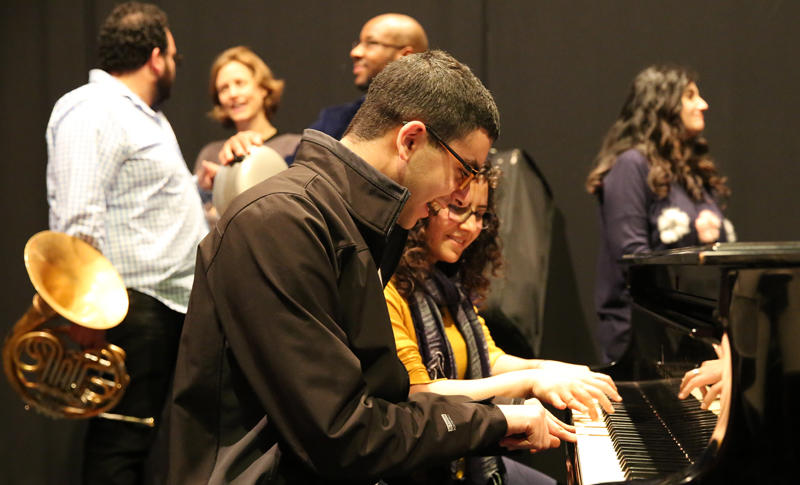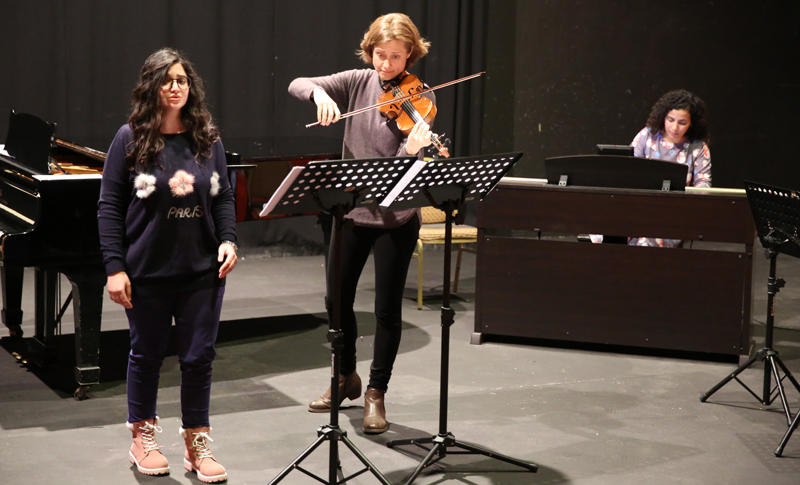 For the first time in Lebanon, a concert held by LAU's Department of Communication Arts took special consideration of audience members with autism-spectrum disorder.
The IMAGINE Workshop and Concert Series (IWCS) concluded its third residency, called Salaam, with the autism-friendly concert, performed by artists-in-residence the Apple Hill String Quartet, LAU faculty and students, and the Lebanese National Conservatory on February 17 in the Gulbenkian Theater on Beirut campus.
Before the performance, IWCS Artistic Director and Adjunct Assistant Professor of Music Seba Ali invited the audience to move closer to the performers, walk around, join the musicians on stage, sing, dance and play the piano. "You can do whatever you feel like doing."
That introduction instantly created a relaxed ambiance and put many parents in the audience at ease.
"The traditional standard in any regular concert is to be entirely silent during the performance," Ali said. "In our autism-friendly concerts, the audience members are free to interact in any way that makes them enjoy the performance and express themselves. It is an opportunity for everyone to celebrate neurodiversity, sharing and acceptance," she added.
The program included music by Haydn, Elgar, Glazunov, Caldara, Rachmaninoff and more. Ali used short stories to introduce the instruments and the performers, and spoke about their personal experiences with music. She then joined the Apple Hill String Quartet on the piano, with Assistant Professor of Music Amr Selim on the French horn.
The performance featured an original piece composed by LAU student and pianist Ryan Saade. Other pieces included songs and chamber music in collaboration with LAU students Lynn Jbeily, Georges Chedid, Natalie and Stephanie Tadros, and conservatory student Sarah Mallah.
Many children in the audience were emboldened enough to go on stage. Six-year old Kian sat next to Ali while she played the piano. Another danced around on stage. For many parents in attendance, this was a chance to let their children act freely with no judgment or constrictions.
"He was very happy," Mireille Kenaan said of her 14-year-old son Peter after the performance. "I want to thank LAU for thinking about organizing such an activity for the children." Kenaan said she felt comfortable at the concert because "no one was looking at the children the wrong way, no one was upset. They were not intruders, they were in harmony and included."
Asked if he enjoyed the music, Peter said "Yes."
Sara Baydoun Hakim brought her 15-year old son to the concert to see how he might behave on similar outings. "I always think I would like to take him to a concert, but I never know how he will react," she said. "This initiative is an example that everyone must follow, and we want to support LAU to keep this going."
But what made the whole experience particularly enjoyable for Hakim was that, as a parent of an autism-spectrum child, she felt relaxed enough to enjoy the music herself. "In such social events, we as parents are always anxious about how the children will behave," she said, adding that the experience encouraged her to take her son to more concerts.
President of the Lebanese Autism Awareness Association Ghada Makhoul, who accompanied her son Anthony, commended LAU for the initiative. "It was a great idea to have something like this for the first time in Lebanon."
"Our next concert for individuals with autism will take place in December," Ali noted. "Not only for, but in collaboration with, many talented individuals. We will be celebrating the season of love, peace and prosperity."
For more about Communication Arts at LAU: http://comm.lau.edu.lb
#ReinventCommunication