LAU Implements Nutrition-Focused Physical Exams in Curriculum
Students now have the skillset to perform full-body clinical exams to identify nutrition-related problems.
By Hanan Nasser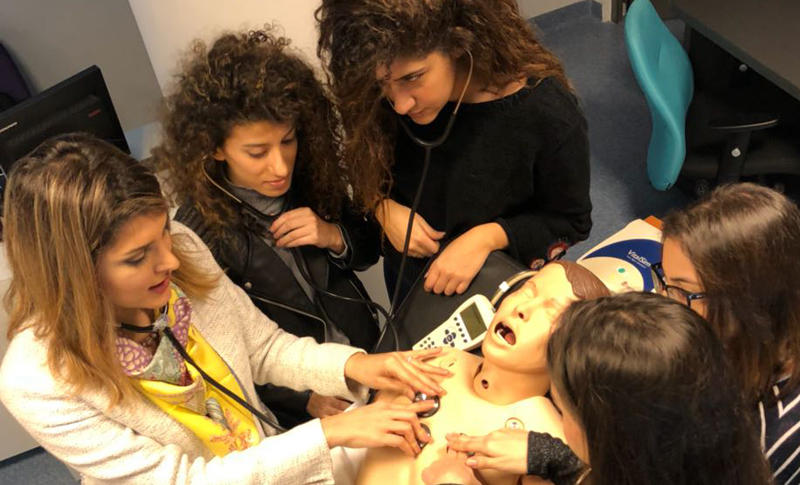 Nutritionists graduating from LAU will now have the skills to perform Nutrition-Focused Physical Exams (NFPE) after a six-module program was incorporated in the curriculum this spring 2018 in a pioneering move in Lebanon and the region.
The NFPE is a head-to-toe clinical examination in which dietitians examine a patient for signs of malnutrition, vitamin deficiencies, and loss of muscle and fat mass. It has become a requirement for accreditation by the Accreditation Council for Education in Nutrition and Dietetics (ACEND).
"For that purpose, we created a six-module course at the LAU Clinical Simulation Center in Byblos for students enrolled in the Nutrition and Dietetics Coordinated Program (CP)," Nutrition Instructor Cosette Fakih El-Khoury said.
The NFPE includes an examination of vital signs, skin, nails, head and hair, eyes and nose, mouth, neck and chest, abdomen and the musculoskeletal system in order to identify nutrition-related problems. The modules were incorporated this semester into the Dietetic Practice Seminar II, and were taught by family physician Dr. Sandra Abi Akl, whom the Clinical Simulation Center hired for that purpose.
"We are fortunate to have the quality education, ideal structure and interprofessional culture at LAU, which allowed us to use the Clinical Simulation Center in close collaboration with the School of Medicine, especially Dr. Nadia Al Asmar, the center's associate director," said Assistant Professor of Nutrition and CP Coordinator Maya Bassil. This opportunity will "not only meet the accreditation competency, but go beyond it and provide to our Nutrition CP graduates an experience that is second to none in the region and probably even in the world," she added.
Upon completion of the course, students are required to take a simulation exam, the Objective Structured Clinical Examination (OSCE) at the center.
For the OSCE, students make rounds at five stations representing different clinical situations and treat volunteer patients. Students have 15 minutes at each station, and a panel of experts reviews their work.
CP senior Rebecca Labaki said the NFPE has already given her an edge over others in the field of dietetics.
"The fact that we as nutritionists are able to examine further and more in-depth gives us more credibility in the eyes of the patients," she said. "We now have a chance to make contact with our patients and get closer to them."
The experience at the Clinical Simulation Center was especially exciting, she said, because students had the opportunity to "examine a patient simulator that made an imitation of bowel or respiratory sounds. We were able to hear what different cases sound like."
"We are lucky enough to be the first year at LAU to be experiencing such a thing and to be doing the OSCE exam. It is something that I will show off," she said.
The modules were designed by Abi Akl, in close collaboration with Khoury and Internship Coordinator at LAU Medical Center-Rizk Hospital Sandra Karnaby, and were recreated "to fit the needs of the nutrition-focused examinations."
Khoury said that Abi Akl had to do "a lot of research to understand what we need, because this is very recent. For example, in my long years of experience in the field, I was never taught how to use a stethoscope."
The need for NFPE in Lebanon is related to high percentages of malnutrition cases in hospitals, which often go unnoticed until they have become too severe, she said.
"The more skilled we are as dietitians in identifying these cases, the earlier we can take aggressive preventive intervention [steps], which will reduce the risk of complications and improve response to treatment," Khoury explained. "The cost is then lower, and the patient's hospital stay is reduced."