LAU Meets the World
Global Day brings 24 embassies, consulates and international institutions to campus, offers students countless opportunities.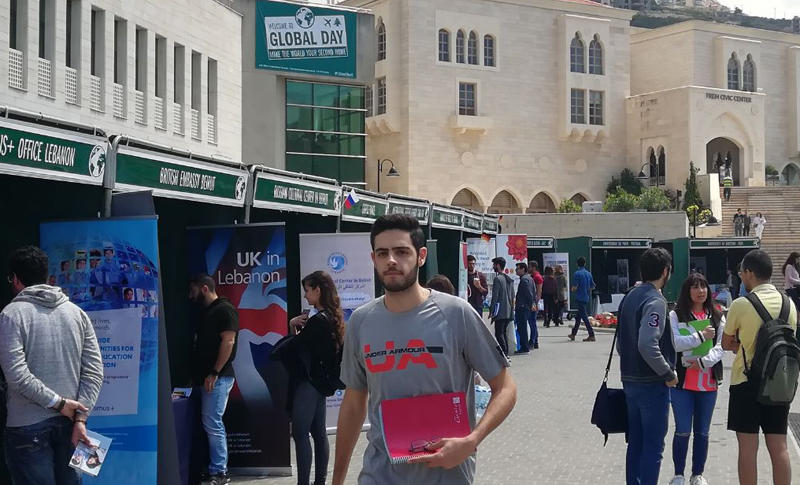 Byblos campus was abuzz with activity, as students mingled with representatives from embassies, consulates and other educational institutions for Global Day, which has become an annual LAU tradition. The event, organized by the Student Development and Enrollment Management's (SDEM) Office of International Services, encourages students, faculty and staff to pursue exchange and study abroad programs.
"We, at LAU, believe that so much learning happens outside classroom walls," said Elise Salem, the VP for Student Development and Enrollment Management.
"This event offers our students the chance to spend one semester abroad, and they often come back with a fresh perspective and a renewed sense of appreciation for what LAU has given them," explained Dina Abdul Rahman of the Office of International Services.
"The benefits of study abroad go both ways," she added, "Since we, at LAU, also get to host international students who in turn enrich our students with experiences of their own." Abdul Rahman also stressed the importance of linking students with potential scholarships offered by embassies and educational institutions.
Among the representatives from local embassies and consulates were dozens of members of the LAU community who have either experienced study abroad or have expressed interest.
"It often felt like I'm my country's ambassador," said political science and international relations major Asma Meskawi, who went to France as an exchange student for a semester. She said the experience taught her so much more about life than she could have learned in the classroom only.
"I got exposed to new cultural and academic experiences," agreed Carol Abdul-Khalek, another political science and international relations student who also studied in France. To her, the experience was not only academically enriching, as she also learned how to live independently and adapt to a different lifestyle.
Global Day also featured some info sessions held at Beirut campus.