LAU Receives Largest Grant in its History
USAID pledges $24 million toward scholarships.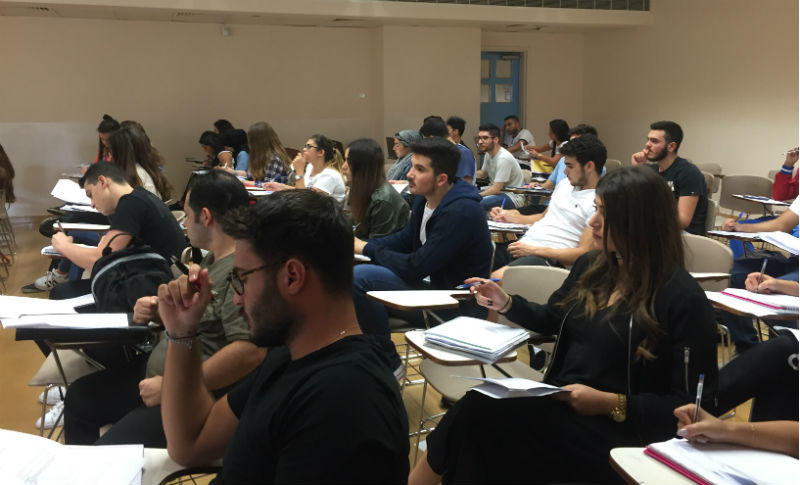 LAU has been awarded the largest grant in its history – nearly $24 million for the Higher Education Scholarships Program (HES).
The major grant was awarded on a competitive basis by USAID, the United States Agency for International Development, an independent branch of the American federal government that works toward international development.
The grant is intended to support four cohorts of Lebanese students from public schools across Lebanon, and also includes a new refugee scholarship component with a bachelor's degree track and a professional certification track that offers learning in a number of areas through LAU's Continuing Education Program (CEP).
LAU President Joseph G. Jabbra congratulated the "formidable team" from Student Development and Enrollment Management (SDEM) and the Department of Finance, who "superbly rose to the challenge of writing a great grant proposal that was stunningly well-articulated in its components and meticulously guided by our passionate commitment to offer a university education to those qualified men and women who may not otherwise have the opportunity to join LAU for financial reasons."
He specifically thanked SDEM Vice President Elise Salem, Assistant Vice President for Outreach and Civic Engagement Elie Samia, Assistant Vice President for Enrollment Management Abdo G. Ghié, Assistant Vice President for Finance-Corporate Affairs Simon Sakr, and Senior Supervisor at the Grants and Contracts Office Elsie Lahad.
"At LAU, we firmly believe that the answer to the ills that afflict society in Lebanon and the Arab world is education, education, and still education," Jabbra said. "This belief goes to the heart of our mission that our founders and predecessors worked so hard to keep aglow in our hearts."
"We are very happy USAID has granted us this large amount of money for our Higher Education Scholarships Program," said Salem. "With this grant, they confirm their belief in LAU's mission to spread education to those from all backgrounds and means."
By earmarking some of the funding for refugees living in Lebanon, the grant also addresses an underserved population, giving them a chance at an education that can help reduce their vulnerability and help them advance socially and economically. "The impact of an LAU education on the refugee population will be enormous," noted Salem.
Already, LAU has some of the most generous financial aid programs of all universities in Lebanon. The USAID grant increases the size of LAU's funding to a great extent, and will allow deserving students an affordable education they might not have otherwise had access to. The grant also showcases USAID's commitment to the university and its mission of providing an education to aspiring scholars regardless of their ability to pay for tuition.
"LAU honors every letter of its mission statement when it bestows academic excellence, civic-mindedness and job readiness on a highly deserving student population coming from the public, private and refugee segments across Lebanon," said Samia after the grant was announced. "This is the spirit of LAU manifesting itself at its best."
As Salem summed up, "Our role is education, and ensuring a fantastic education to all deserving students means that we impact them, their families, and the future of our country."