LAU Signs Major IT Collaboration Agreement
"TechCARE" promises to leverage better purchasing power for the five university partners.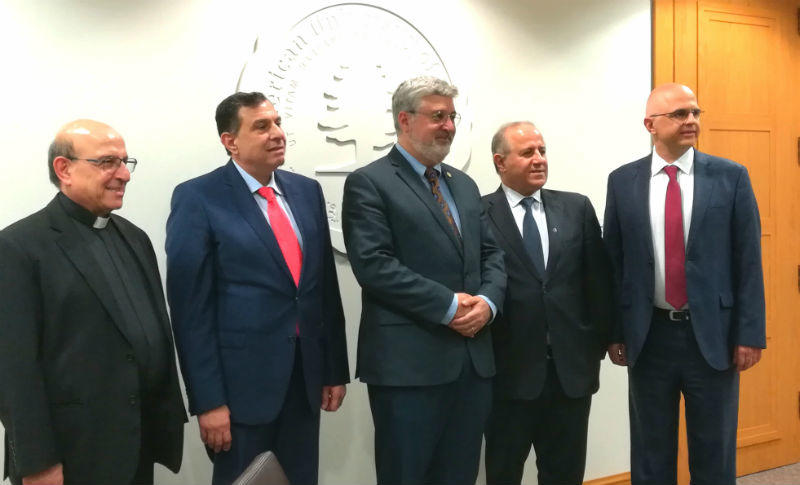 With a continuously growing and innovating institution comes a pressing need for infrastructure that can keep up. This is characteristic of LAU's Information Technology (IT) Department, which joined four other prominent universities in drafting and signing the Technology Collaboration Agreement for Research and Education (TechCARE).
The aim, as stated in the agreement, is "to jointly define, fund, implement, operate and maintain shared IT services that support enhanced collaboration among themselves as well as among other local, regional and global institutions by negotiating and entering into collective third-party agreements and shared IT services." This collaboration will, for instance, leverage the purchasing power of universities when it comes to acquiring technology products and agreements.
The signing ceremony, held at the American University of Beirut (AUB), brought together AUB President Fadlo Khuri, Rector of Saint-Joseph University (USJ) Salim Daccache, President of the Holy Spirit University of Kaslik (USEK) Father Georges W. Hobeika, and the President of the Beirut Arab University (BAU) Amr Galal El-Adawi, as well as LAU Vice President for Human Resources and University Services Roy Majdalani, representing President Joseph G. Jabbra, who regretfully had other engagements abroad. The meeting also included heads of IT departments and staff from the five prominent universities.
TechCARE is the first large-scale inter-university collaboration that has potential to grow into a nationwide network of research and educational institutes, paving the way for a more formal national entity that securely interconnects universities and sources Internet connectivity at more economic prices to enable these institutions to provide faster Internet speeds to their students and faculty. Successful models are already in place across Europe, where each country's network is a member of a larger European entity called GÉANT, and a similar model exists within the Arab world – ­the Arab States Research and Education Network (ASREN). With this agreement, the five signing universities will be part of GÉANT and ASREN.
In a commentary, Jabbra stressed the importance of collaborating with other universities in order to strengthen information technology – the cornerstone of innovation. "We can no longer grow and prosper in isolation," he affirmed, and called for using this partnership to aim for the highest standards of tech-readiness.
Daccache shared the sentiment, adding that collaboration between universities is "not only important but also vital for maintaining high educational standards across all disciplines," while El-Adawi expected it to "pave the way for further cooperation in other fields."
For the Director of IT at USEK Ziad Eid, TechCARE was "a critical and bold cooperation at the largest scale yet, bringing together universities in Lebanon like never before."
"This is further evidence of the spirit of cooperation evident in the not-for-profit private universities in Lebanon," said Khuri, pointing out that TechCare will make life easier for students, faculty and staff, reflecting on the nation as a whole. He expressed his hope that "the day will come when the public university [the Lebanese University] will join the agreement."
Assistant Vice President for IT at LAU Camille Abou-Nasr noted that the university "has long been an advocate of inter-university collaboration, due to its potential for serving teaching, learning and research at large." One such global collaboration project, he added, is Eduroam, a secure, worldwide Internet roaming service accessible to LAU students, faculty and staff visiting any participating institution internationally, and vice versa.