LAU Signs MOU with the Ministry of Finance
Drawing on its expertise and innovations, the university will help boost the ministry's digital operations.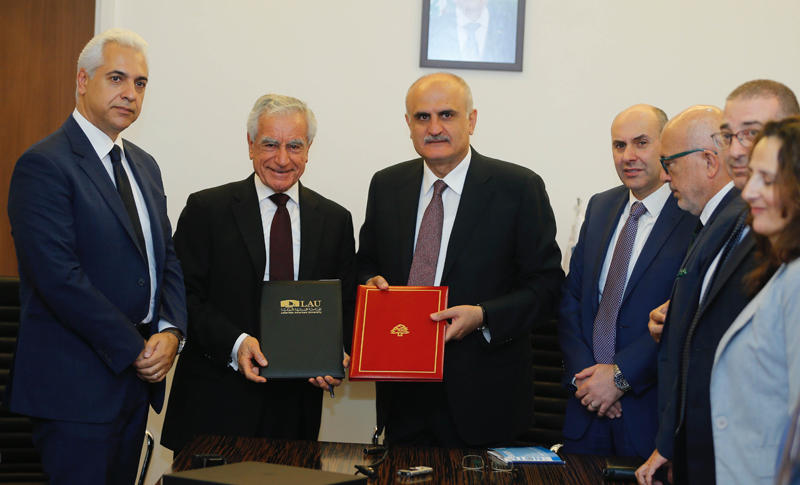 Under the patronage of the Minister of Finance Ali Hassan Al Khalil, LAU signed a memorandum of understanding on June 19 with the General Directorate of Land Register and Cadaster (GDLRC) headed by George Maarawi. The objective, as stated in the agreement, is "to execute joint educational, innovative and exchange programs related to elaborating cooperation in the fields of digital transformation and digital projects in general."
Since adopting an automated system to facilitate the registration and retrieval processes at its Land Registry offices and Cadaster departments, the ministry has required the support of the private sector in implementing its projects. LAU will therefore offer its expertise and innovations, in the form of consultancies or task forces, within its mission to collaborate with the public sector in modernizing the state. The agreement will also provide opportunities for students through internships and hands-on experience.
During the signing, which took place at the ministry, Al Khalil described the event as a "milestone in the relationship between the public sector, represented by the Ministry of Finance, and the private sector, represented by the prestigious Lebanese American University, a leader in higher education in Lebanon that prepares our youth to keep up-to-date with progress worldwide."
Commenting on the need to streamline the functions of the Lebanese administration in this digital age, Al Khalil referred to the ministry's reliance on the expertise and spirit of LAU students in shaping the state's future.
In response, LAU President Dr. Joseph G. Jabbra expressed his delight that the agreement falls within "the university's mission to serve the community and the youth – our only hope for the advancement of Lebanon, not only locally but also internationally." So long as there are leading figures, together with these young and women, he added, "Lebanon will prevail through its youth, and we will spare no effort or expense in educating and encouraging them."
The importance of the MOU, says Senior Advisor to the President for Public Affairs Dr. Christian Oussi, is that it speaks to a common goal of both institutions – the country's welfare. "While LAU strives to promote the youth and preserve the nation through education," he said, "the Ministry of Finance works to achieve the security of the nation by ensuring economic stability and growth."
The MOU follows hot on the heels of an agreement with the Lebanese Army – giving its members access to higher education at LAU – with the university's longstanding support of the public sector dating back to collaborations with State Security and General Security.
"These agreements, activities and initiatives," says Assistant to the President for Special Projects Saad El Zein, "reflect our concern toward the betterment of our social and community engagement, and strive for our country's advancement by integrating our educational expertise with the public sector."