LAU Team Wins Lebanese University Debate Championship
The championship, co-organized by QatarDebate Centre, was the first of its kind in Lebanon.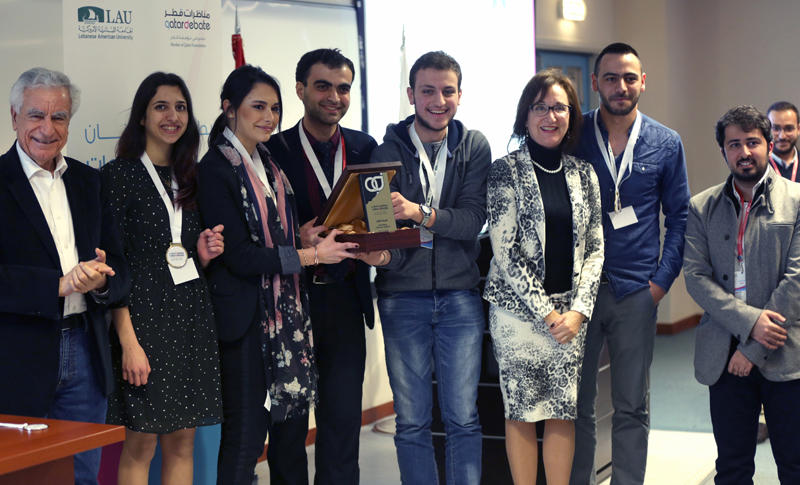 Placing credence in the power of debate in resolving conflicts, LAU hosted the first Lebanese University Debate Championship in cooperation with organization QatarDebate Centre and Wafa Garbout, an LAU political science and international affairs student who has been involved in similar events in Tunisia, Lebanon and Qatar.
LAU's Office of International Services (OIS) facilitated the championship by getting its staff on board, bringing in volunteers, and recruiting teams from other universities, including the Lebanese University, the American University of Beirut (AUB) and Saint Joseph University. LAU faculty members, including Associate Professor of Arabic and Persian Literature Vahid Behmardi and Associate Professor of Arabic Studies Nada Saab, helped prepare the students to conduct their debates in Arabic. The judging committee was made up of debate instructors and university professors from a number of MENA countries, including Lebanon, Oman, Kuwait and Qatar.
After a full day of debates on topics related to Lebanese society, the team representing LAU took home the prize. Aya Barakat, an LAU mechanical engineering major who was on the winning team, said she felt confident in the power of debate to solve the problems the Middle East faces. "I am so delighted that our team won the first university debate championship in Lebanon. It's an amazing experience full of critical thinking and public speaking that one can't get enough of."
Abdulkader Fattouh, a computer engineering student on the winning team, described the experience as life-changing. "Despite the fact that it was my first time debating, my team members and I managed to win first place, and we are looking forward to participating in other debate tournaments," he said. His teammate, mathematics student Mohammad Bzeih, said the event showed him the power of teamwork. "Every member had a role in terms of preparing, writing and refuting. We worked as one team, disregarding personal interests, and we ended up all winning the best team award," Bzeih said.
LAU President Joseph G. Jabbra and Vice President for Student Development and Enrollment Management Elise Salem attended the final debate, in which the LAU team competed with a team from AUB.
"The competition was electric," said Salem. "It was amazing to see so many students from universities across Lebanon convening to prepare, deliver, persuade and respond – all in Arabic. There is no doubt that events such as this can go a long way in drawing in students from all majors to show off their debating and Arabic-language skills. We should ensure debate competitions in Arabic become an annual event at LAU."
Indeed, organizers are looking to do just that. LAU and QatarDebate are forging a long-term partnership to facilitate further championships, which they hope will teach young people about the power of debate and the importance of appreciating different points of view.
In his closing remarks, Abdulrahman Al Subaie, the QatarDebate education projects specialist, thanked LAU for co-organizing and hosting the event, "which reflected the skill of those who work here and the professionalism of the work they have done despite the short period."