LAU's SOP Recognizes Preceptors Who Mentor and Guide Pharmacy Students
The annual preceptors appreciation event also served as a venue for a new continuing education program.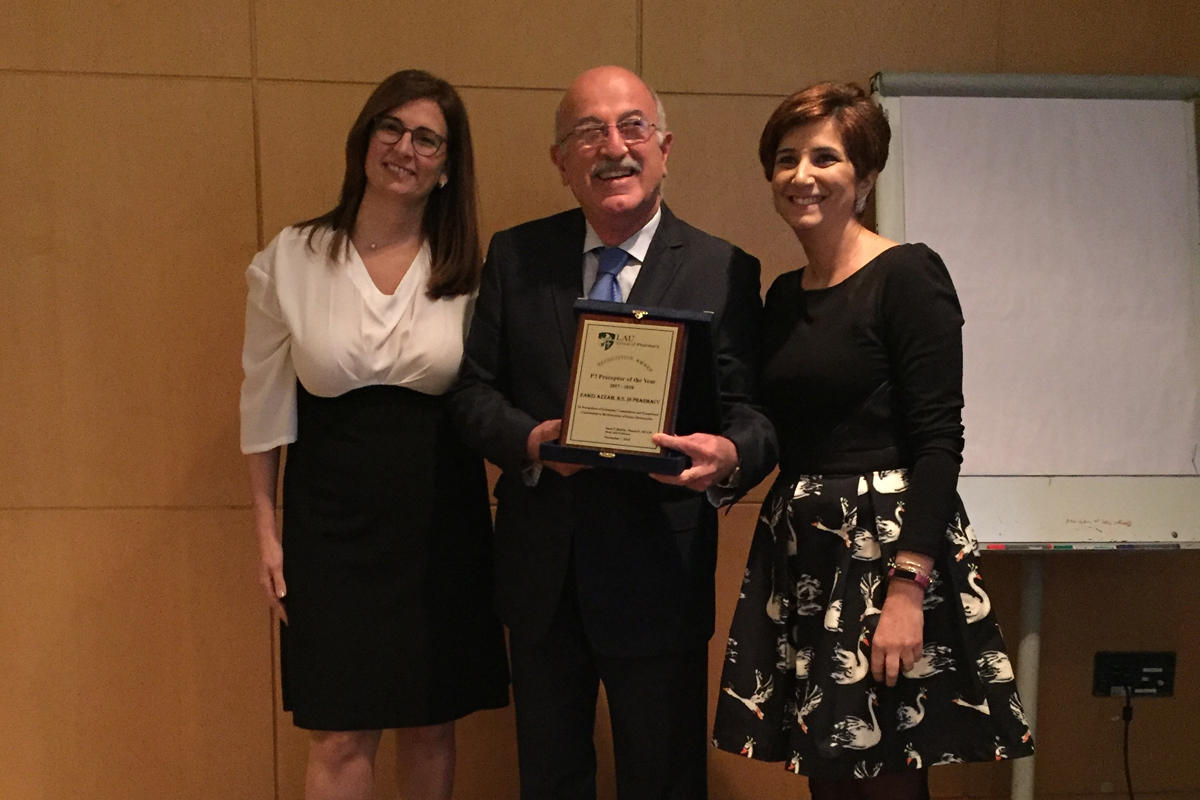 Pharmacy faculty and practitioners gathered at Le Royal Hotel last Wednesday night for the annual Preceptor Appreciation Event in celebration of those who mentor students at LAU's School of Pharmacy (SOP).
Preceptors are licensed pharmacy practitioners who provide education and training to professional pharmacy year three (P3) and four (P4) students on experiential education and help guide their personal and professional development.
The event also served as the launch of the Accreditation Council for Pharmacy Education (ACPE) Continuing Pharmacy Education Program, to be carried out in collaboration with the SOP's long-standing partner, Houston Methodist Hospital in Houston, Texas. The implementation of the program fulfills the SOP's preceptor development plan designed to meet ACPE standards.
Pharmacists participating in the Continuing Pharmacy Education Program can obtain continuing pharmacy education credits in order to maintain an active licensure. Guest speaker Dr. Pei Jen Lin, manager at Froedtert and the Medical College of Wisconsin's Department of Pharmacy, beamed in via videoconference to give a session called Making IT Healthy: Medication Safety and the Rise in Technology.
After the session, Dr. Lamis Karaoui, director of experiential education at the SOP, took the stage to thank the SOP's preceptors. "This academic and social gathering serves as a forum to exchange knowledge and share innovative pharmacy practices," Dr. Karaoui told the crowd, adding, "As we wrap up 2018, we are filled with gratitude for your partnership, for you invest graciously in the education of our pharmacy students."
When SOP Dean Imad Btaiche took the podium, he reflected on the stringency of the school's methods and the resulting successes of its graduates. "The most rewarding part of my job is seeing our graduates excel," he said.
"I hope you share the same feeling as you educate and train our students. Because these are the same people who are going to be impactful on a professional level and who are going to make a difference," Dr. Btaiche said before the awards were handed out.
This year's P3 preceptor of the year is Ramzi Azzam, owner and operator of Plaza Pharmacy in Ras Beirut since 1980. "It is an honor to take in LAU SOP students," he said. "I teach them and guide them, but of course, they teach me too! We both learn from each other." The P4 preceptor of the year award went to Dr. Michael Sirimaturos, critical care specialist and program director of the PGY2 critical care pharmacy residency at Houston Methodist. Students nominated both Azzam and Sirimaturos.
After the awards were received, a surprise guest called in – Azzam's daughter Zeina – a current SOP P4 student who is completing her required rotations at Houston Methodist. "I'm so proud of you, Dad," she told her father over the screen to an eruption of applause from the crowd.