Lebanon's Newest Doctors Celebrated
The Gilbert and Rose-Marie Chagoury School of Medicine performs ceremonial hooding of its graduates and honors resident graduates.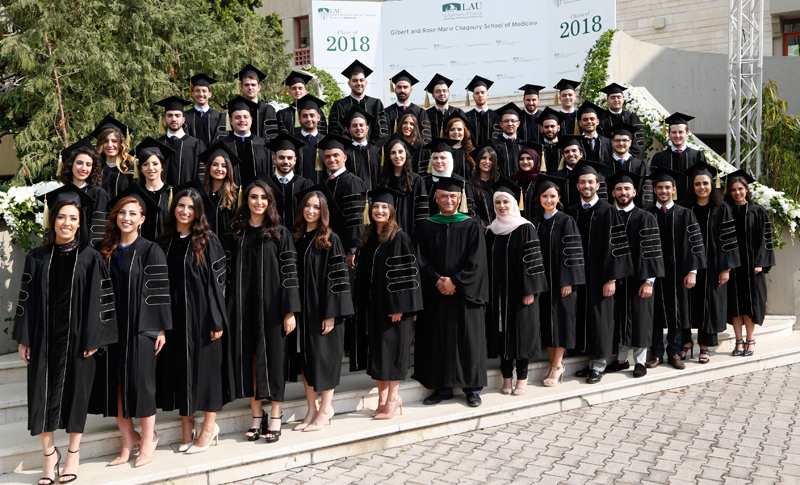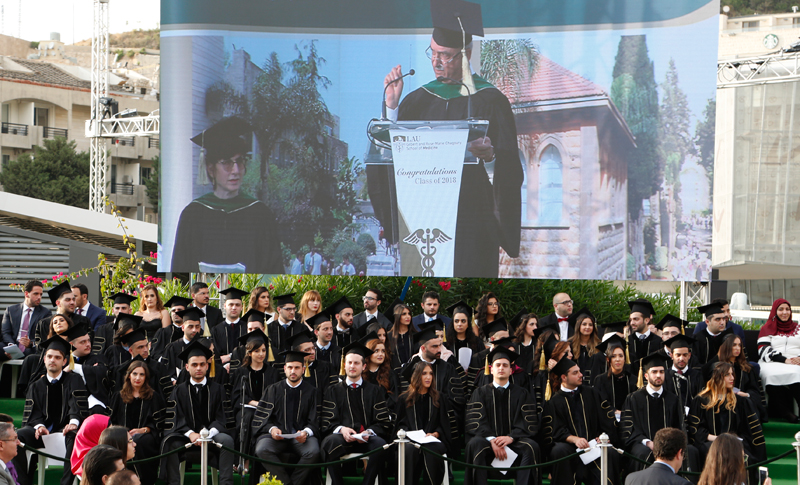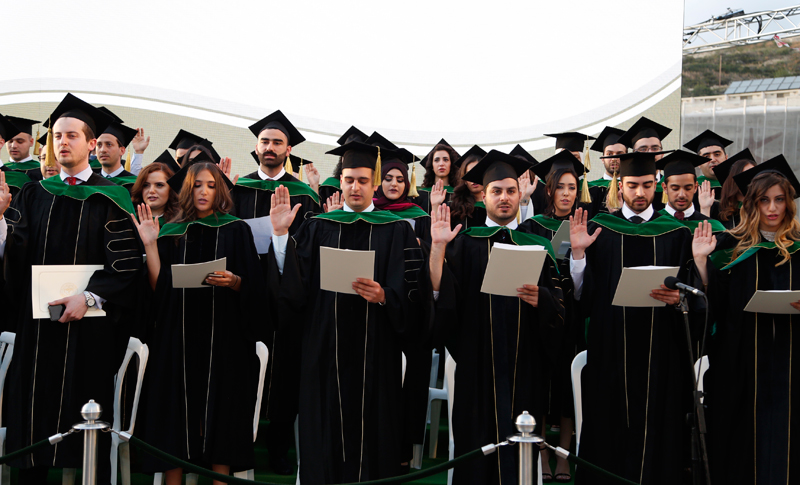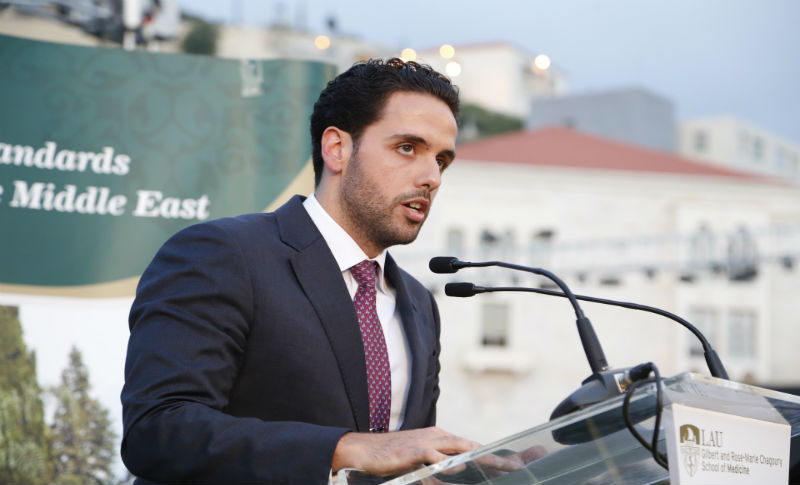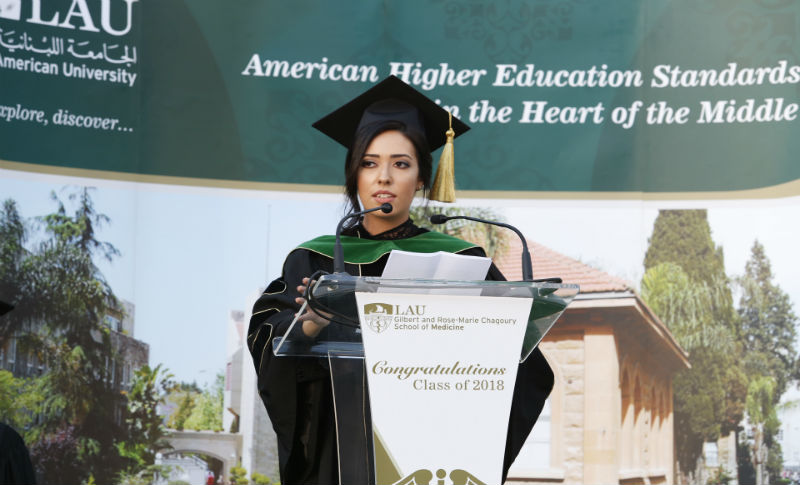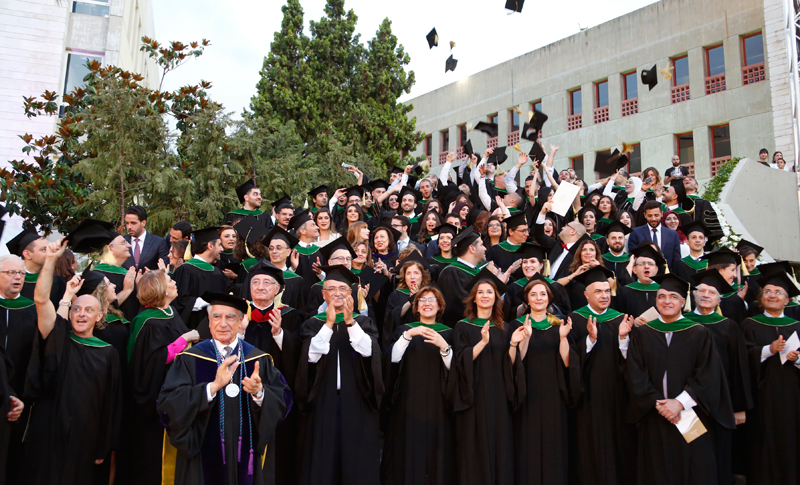 LAU's Gilbert and Rose-Marie Chagoury School of Medicine hosted its prestigious hooding ceremony for its graduating class of 2018, followed by the graduation of its residents, on Saturday, June 2.
During the ceremonies, held around the fountain area on the Byblos campus, both the graduates' families and their School of Medicine faculty were there to offer encouragement and guidance as the new doctors prepared to take their next professional steps.
Master of ceremonies Dr. Nancy Chedid welcomed esteemed faculty and guests. Chedid noted that these ceremonies are sacred and rooted in academic tradition dating back to the Middle Ages, and so represent a rite of passage as students transition into the medical profession.
In his message to the graduates, LAU President Dr. Joseph G. Jabbra recounted how LAU's School of Medicine was created with the mission to graduate a new breed of doctors who would be ready to provide patients with the best possible healthcare – and that night, he proudly congratulated the new doctors for achieving that goal. "[Our graduates] are ready to establish positive relationships with patients' families, professional connections with their peers, and adhere to the highest standards of integrity, expertise and medical ethics."
Dean of the School of Medicine Dr. Michel Mawad encouraged the graduates from his own experience. "You are entering an ever-changing, ever-expanding, dynamic field." As daunting as it may seem, Mawad gave students ways to succeed in their future careers in the medical profession: "Continue to learn, develop your skillset, and explore new technological discoveries – be flexible, embrace it quickly, and adopt it."
Mawad addressed more than the clinical aspect of a doctor's job, stating that, aside from fixing a broken body, a doctor is responsible for caring for the soul and the spirit of the patient. "[You must learn] the art of compassionate listening, to be able to sympathize, to have a gentle demeanor and humbleness when talking to [patients'] families, and to respect human life."
Keynote speaker Reverend Malek Boutanios personalized his message as he told the story of his own battle with illness and his realization of the fragility of human life. "Every person resembles his pain, and this pain can turn into darkness and isolation," he said, "but doctors are the ones who can break the isolation and darkness they face."
Graduates were then presented with their diplomas and hooded by Jabbra, Mawad, and associate and assistant deans of the School of Medicine. Dr. Zeinat Hijazi, associate dean for medical education, led the graduates in reciting the Hippocratic Oath – a declaration of devotion and commitment made by all doctors entering the medical profession.
Awards were presented to graduates who exemplified high achievement in the following areas: academic standing, leadership, communication skills, clinical skills, research and professionalism. Marie Louise Aoun, the 2018 valedictorian, delivered a speech on behalf of her classmates. She acknowledged that every student walked a unique path leading them to this point. "Everyone has a different story, but all are success stories. Today we are closing one success story and writing the chapter of another."
Aoun expressed gratitude to her family, friends and colleagues for their support, as well as her School of Medicine family for their guidance, instruction and invaluable experiences. She said, "LAU invests a lot in its students – we do matter."
In a powerful gesture, graduating residents and all medical doctors present for the evening were invited to stand and renew their Hippocratic Oath. A video of faculty reciting the pledge "on the job" was a visual reminder of the seriousness and responsibility that comes with practicing medicine.
Graduating resident Dr. Shady Saikali spoke on behalf of the residents. He reminded his colleagues that while the job may be demanding and require a multitude of skillsets, they must keep the three pillars of the medical profession in mind: passion, patience and perseverance. But he also noted that this graduation ceremony was simply the beginning, as he quoted another physician: "Residency is the end of learning what can be taught, and the beginning of learning what cannot."