More Knowledge, Better Decisions
"You@LAU" brings 1,300 high school students from 54 schools to both campuses for career orientation.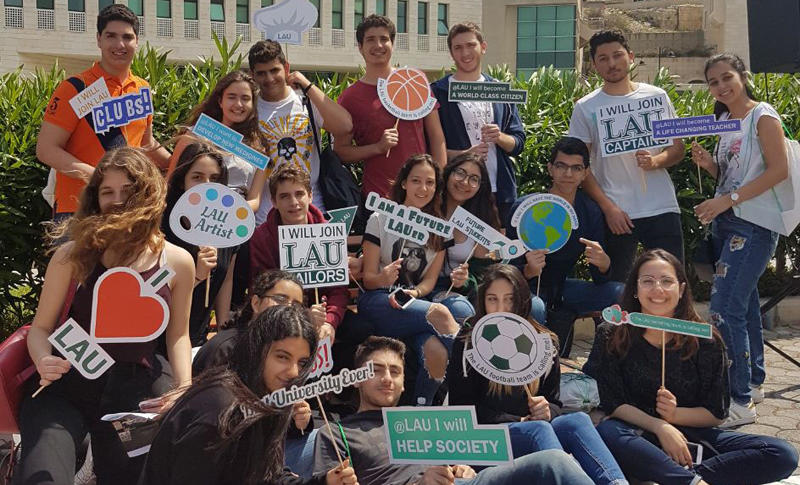 Going through lists of university majors, minors and fields of study can feel like a confusing task for high-school students to tackle.
That is why the Career Exploration Day at LAU, which took place over two days this month, was redesigned this year under the motto More Knowledge for Better Decisions. In this event, LAU invites interested high-school students from across Lebanon to campus to learn more about the university, its programs of study, campus life and more. The students can then make informed choices about the different majors LAU has on offer and get an idea of potential career paths they can pursue after their time at university.
"Not only does this day help students envision future areas of study and work, but they also have the chance to interact with professional leaders in a career-focused environment," said Michel Najjar, LAU's executive director of student recruitment.
The event, organized by the Student Recruitment and the Dean of Students' offices took place in Beirut and Byblos campuses to make sure students from different parts of Lebanon could attend. Each student got to attend four out of more than 20 career-exploration sessions given by 50 faculty members, who walked them through LAU's academic programs, as well as potential internship and career opportunities. The students were able to match the type of Lebanese Baccalaureate they are currently enrolled in to its recommended majors to help guide them further.
"My go-to option was business school, but I've always had an interest in law," said Bassem Abdul Jawad, a grade 11 student. "Today I learned that LAU offers a minor in legal studies that would go very well in line with my business degree," he added, relieved that he finally found a solution to accommodate both of his passions, and that he didn't have to pursue another degree outside of LAU.
To really spend the day like an LAUer, the students got a little fun after the intensive sessions. Presented with a giant blackboard placed next to the Safadi Fine Arts Building on Beirut campus, they were invited to write their answer to the question "If I were to join LAU, I would… ." Students visiting both campuses made statements with photo props relating to different majors and student activities as they posed for pictures. They also enjoyed the boisterous atmosphere, replete with a game of tug of war and free LAU spirit gear handed out by organizers.
After a day of learning and fun, many young students went home with more insight about their future, knowing that LAU can help them get there.