Music Composers Face Off with Alumnus-Designed AI
LAU alumni, students and faculty put AI to the test in creating emotional music.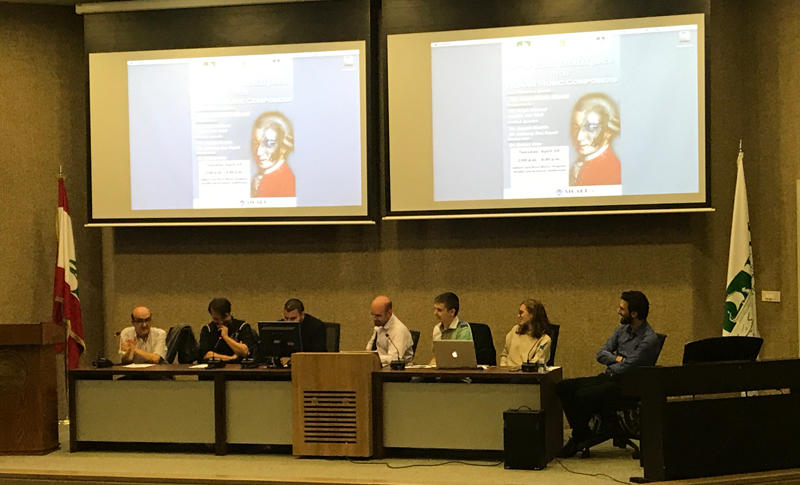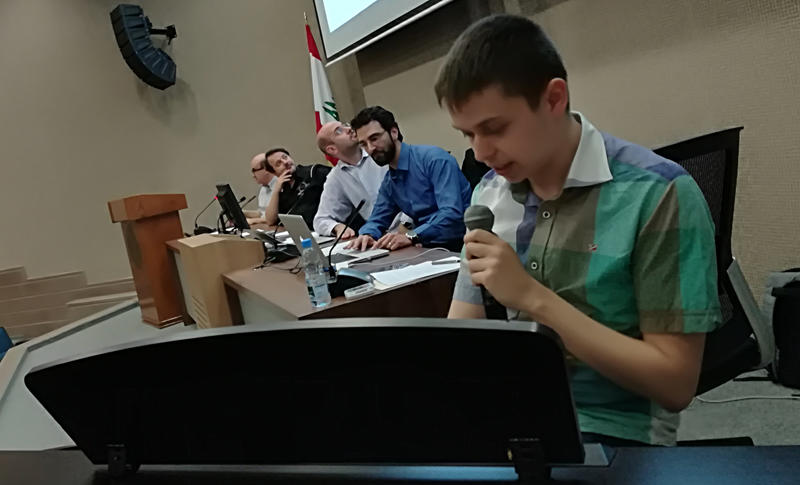 Artificial Intelligence (AI) is no longer science fiction. From autocorrect to self-driving cars, the groundwork for AI has already been laid out, with lots of buzz around what's coming next: intelligent robotic systems that can interact with humans and among themselves.
But before people can start talking to robots, LAU alumni, students and faculty decided to put AI to the test at an event called AI Rivals Human Music Composers, held Tuesday 10 at the Gilbert and Rose-Marie Chagoury Health Sciences Auditorium on LAU Byblos campus. The event was co-organized by the School of Engineering and the AI Club, and sponsored by ACM SIGAPP (Special Interest Group on Applied Computing) French Chapter.
Three composers sat at one end of the panel: famed Lebanese musician Jean-Marie Riachi, LAU Music Instructor and composer Joseph Khalife and Anthony Bou Fayad, multimedia computer engineer and musician at Antonine University. On the other end was the AI computer program development team: Ralph Abboud (BE, '17), an LAU computer engineering alumnus and current graduate student in computer science at Oxford University, and LAU Assistant Professor of Engineering Joe Tekli.
"There are two distinct approaches to composing music: the emotionally driven and the brief, or job-driven," Riachi began. He explained his belief that while a computer can compose music based on a specific brief and set of inputs, it most definitely cannot simulate the emotions and passion that go into music composition. "It took me 15 years of trials before I was able to create my first true hit," he added.
"A truly enjoyable musical piece is molded with heartfelt passion and human emotions," said Khalife about the intensity of emotionally driven composition.
Bou Fayad pointed out that "Music follows a certain set of rules, and only evolves when you learn the rules very well and then break them."
Alumnus Ralph Abboud co-created the Music Sentiment-based Expression and Composition (MUSEC) program used at the event. He explained how computers require lots of "teaching" – or input – to reach the level of intelligence to compose music. "Computers can't feel, but they can be taught how to feel, so [human] composers can set the pace," remarked Abboud. He reassured the composers at the other end of the panel that they need not worry about AI "replacing" them. Rather, he said, AI can help them gain valuable time in the process.
When it was time for the audience to guess if a piece was human-composed or AI-created, there were some surprises. Audience members mistook the first piece of music for human-composed when it had actually been created by the MUSEC program. The audience found that the sentiment rating – how much a music elicited love, fear, anger, surprise, joy and sadness – closely correlated with the AI rating, proving that Abboud's MUSEC could simulate the human sentiments that go into music composition.
AI first caught Abboud's attention back when he was a computer science undergrad at LAU and heard about a program that beat the world champion at Go, an extremely complex board game. Since then, he was unable to curb his curiosity and went on to design MUSEC. He plans to make a career in AI following graduate school at Oxford.
Abboud is not the only one. Since he founded the AI Club at LAU, it has grown to include over 30 members this year.
According to the Assistant Dean of the School of Engineering Barbar Akle, who moderated the event, now is a critical time for Artificial Intelligence: "This is where we lay the groundwork for how generations to come will interact with AI in the future."
This is why AI education is important. "There's a lot more to AI than a computation technology that simulates how humans think, feel, behave and make decisions," explained Tekli, who specialized in intelligent data processing, as it allows for "a better understanding of the very nature of the human mind and psyche, unraveling the mysteries of human intelligence."