#NewWaveLAU: Fashion at its Boldest
LAU's second cohort of 14 new designers make a colorful, daring debut into the world of fashion.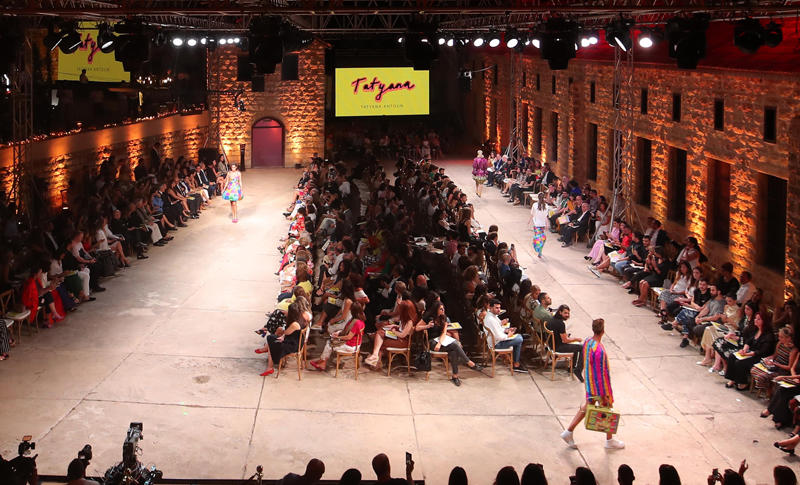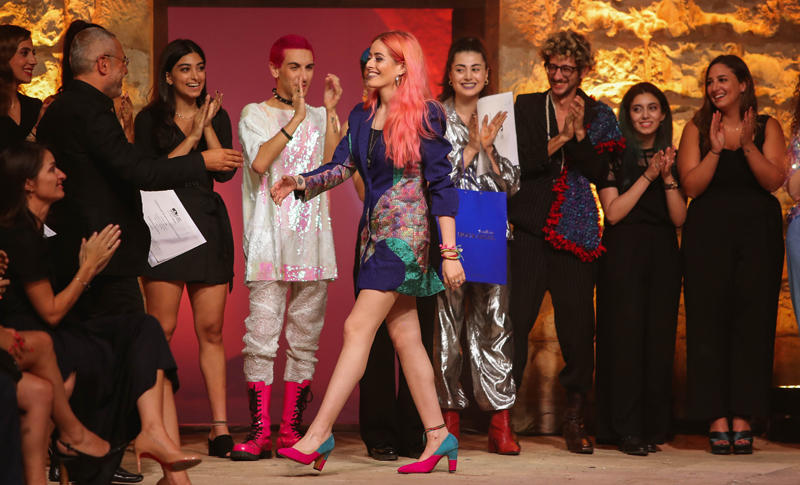 LAU's second cohort of 14 fashion design graduates revived the old and daring with a bold fashion show that showcases their collections, on the evening of Thursday, 21. From the choice of the venue to the theme and down to every small detail, the event celebrated the past while offering a fresh new esthetic for the future.
At La Magnanerie, an 18th-century silk factory turned event venue, students worked tirelessly day and night leading up to the event, putting together 10 runway looks each, which is "double the global submission of five at this level," according to Fashion Design Program Coordinator Jason Steel. This year's event title, New Wave, takes reference "from the music, art and fashion scenes that emerged around the time of punk into the mid to late 1970s and subsequently changed perceptions of design – a theme that was inspired by the collections," explained Steel.
The graduate fashion show has become an annual LAU tradition that acts as a launch pad for emerging designers and marks their successful completion of the Bachelor of Arts in Fashion Design, in collaboration with ELIE SAAB and London College of Fashion. The four-year curriculum is modeled on fashion design programs offered at leading universities in the UK and the US.
From a designer who paid tribute to a grandfather she has never met, to another who worked with mentally-ill patients within a sensitive and controlled framework, students put their heart and soul into their collections and truly owned them.
"I attended art therapy sessions with patients who suffered from mental illnesses, and wanted to show them how even their simplest illustrations can be turned into a bigger creation, like a print or an idea for a garment," said award-winner Genny Haddad, whose collection was eventually shot at an abandoned hospital for the catalogue.
In his welcome note, LAU President Dr. Joseph G. Jabbra said that this second group of fashion designers "have proven that art and beauty are boundless, and that the human mind and passion for advancement represent the energy that we can harness for the benefit of the larger community." Dr. Jabbra further thanked LAU's two partners – Elie Saab, whom he referred to as "the program's godfather," and London College of Fashion.
Honorary Chairman of the Fashion Design Program and world-renowned fashion designer Elie Saab in turn thanked Jabbra, and expressed his admiration for the "students' rigorous work, endless ambition and adamancy to actualize their potential." He further noted his pride in being part of a program that enables and empowers a new generation of fashion designers, as per global education standards.
For the Dean of the School of Architecture and Design, Dr. Elie Haddad, "Lebanese culture has distinguished itself on the world stage of fashion through a line-up of great figures, with our own Elie Saab leading the file, and whose success story is an inspiring model for our aspiring young designers." He went on to remind the graduating class that success is achieved through "diligent work, patience, dedication and above all, teamwork."
Following the speeches, professional models showcased the looks from the different collections to the beats of music carefully selected to reflect the spirit of each line. The show was a culmination of research, design development, toile and sampling, coalescing into complete collections. Notably, the designers worked with artisans and ateliers countrywide in the process – with many looks including fabrics, accessories and shoes created from scratch.
When it came to the awards, three students were recognized for their collections by the jury. Yasmine Hassouna received a Certificate of Excellence in Craftsmanship for Last Train to Nowhere; Genny Haddad, a Certificate of Excellence in Concept Development for De-Code-The Boy; and Tatyana Antoun, the Prix du Jury for Vamata. The winners went home with a valuable prize from Joaillerie Moukarzel, one of the event sponsors.
"Today was incredibly hectic that it feels surreal. I feel that tomorrow I'll wake up and come back here to work again till midnight," said Antoun, who was thankful for the award and proud that she was able to "see her vision come to life after four years of a very unique journey."
In addition to LAU's leadership, faculty and staff, a notable number of A-listers attended the show such as HE Christina Lassen, EU Ambassador to Lebanon, local and international designers, fashion journalists, bloggers and influencers. The event was sponsored by generous supporters of emerging Lebanese designers: La Magnanerie, LBCI, Joaillerie Moukarzel, Kurban Travel and Maximus Hotel.
At the end of the event, attendees were invited to check the designers' portfolios, look-books and videos at an exhibition nearby, as everyone enjoyed a formal reception and met with the New Wave of LAU fashion designers.