Outside Expertise Gives LAU Medical School a Boost
Two Harvard professors deliver interactive lectures on pathology to med students.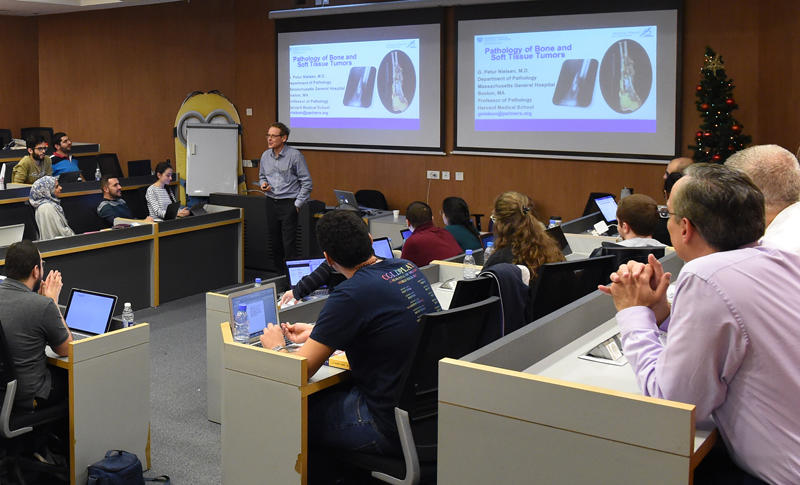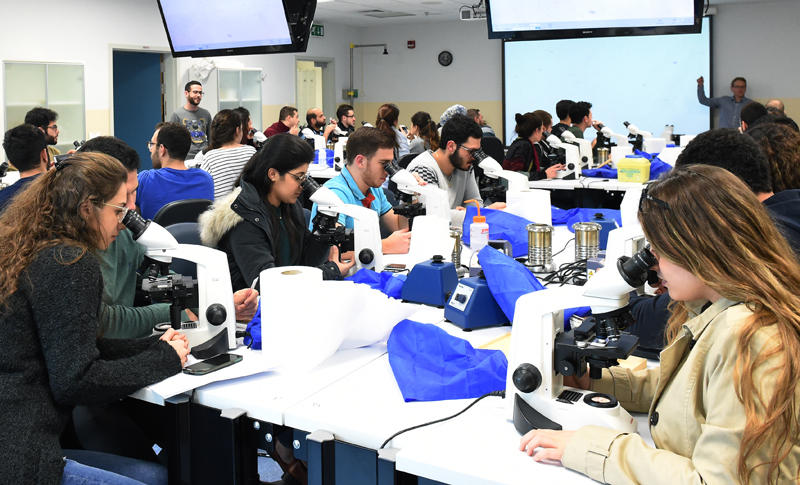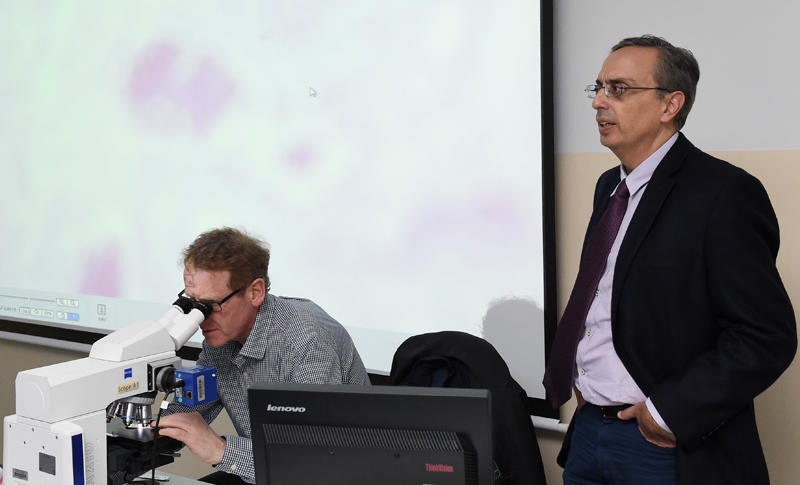 This month, students at the Gilbert and Rose-Marie Chagoury School of Medicine received an education by Harvard Medical School professors.
During several sessions, doctors Petur Nielsen and Robert Hasserjian lectured medical students, pathology residents and orthopedic surgery residents at the LAU Medical Center-Rizk Hospital, Clemenceau Medical Center and LAU Byblos campus, offering their expertise from a combined 40 years at Harvard University and Massachusetts General Hospital in Boston.
This is one of many initiatives by LAU to boost its young medical school, established in 2009, as it develops into a world-class institution.
"I think it's a very good initiative because people have different viewpoints. This exposes them to physicians from other countries," said Hasserjian, associate professor at Harvard Medical School and a pathologist at Massachusetts General Hospital.
"We do a lot of interactive teaching in the US. It's very effective, and makes it a more dynamic and better experience for students."
At Byblos campus, Nielsen lectured second-year medical students on pathology. During the afternoon session, he gave an overview of various types of cancer and bone diseases, showing students x-rays of different diagnoses and asking them to determine what they meant.
"I enjoyed giving the lecture. I'm very impressed with the students' knowledge, considering they're only second year," Nielsen said. "They came prepared for the lecture – they obviously studied," he added, before heading to a lab session.
Hasserjian and Nielsen were invited to LAU by Dr. Selim Nasser, associate professor of pathology at the School of Medicine. All three were together at Massachusetts General Hospital 20 years ago.
"When Selim calls, I say yes. LAU is lucky to have him," Nielsen said, adding wryly, "You tell people you're going to Beirut, and you get comments, like, 'I hope you come back alive.' I've been to Beirut three times. It's a fantastic place. I look forward to it every time."
For his part, Nasser said, "I believe the students and residents benefited from cutting-edge science brought to them by these experts, but I also hope that by interacting with Dr. Nielsen and Dr. Hasserjian, and with the excellent feedback they got from our visitors, they realize that the education they are receiving at LAU is an excellent one that impressed our visitors."
Nasser, who left Boston because he wanted to bring his expertise to students in Lebanon, said that in addition to gaining knowledge from these lectures, he hopes the contact will give students connections for continued medical education in the United States. In the future, he also hopes to develop exchange programs between medical residents in Lebanon and the US.
"The doctors' visit brought additional knowledge in medical science and research at its cutting edge to our students, residents and faculty," said Dr. Zeinat Hijazi, associate dean for Medical Education at the School of Medicine. "It was an opportunity to show the professors the impressive achievements of our young medical school and the standard of our students. This visit and others will hopefully build a bridge for continued medical education in the US for our students and graduates."
"We teach them, but they also teach us," concluded Hasserjian. "If we stay in one place, we think things are always done the same way. We need to understand the diversity of ways to approach things."