Prestigious Grant for Music Ensemble
LAU music faculty member Amr Selim wins Knight Foundation Grant for "Common Sounds."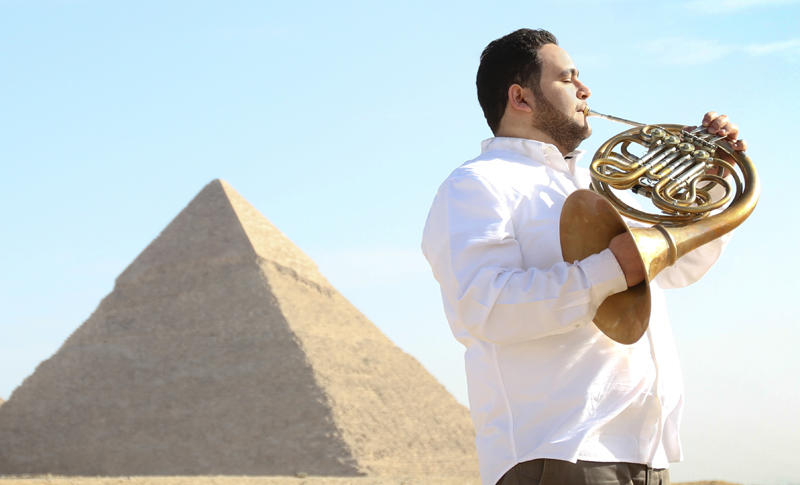 Music remains the uncontested medium for transcending cultural and political divides. The Department of Communication Arts' Assistant Professor of Music Amr Selim knew that very well when he co-founded the ensemble Common Sounds, which has won the prestigious Knight Foundation Grant Award. The US-based foundation funds artists from around the world who display artistic excellence, authenticity and inclusion, and technological innovation.
One-of-a-kind and versatile, Common Sounds is composed of Western classical musicians and traditional global artists. Its main members are renowned artists Ray Furuta, co-founder and flutist; Selim, who plays the French horn; Lebanese qanun player and composer Ghassan Sahhab; American banjo player and composer Taylor Ackley; American percussionist Mike List; and Iranian violinist Farzin Manshadi. The touring group will have 15 members from Lebanon, Egypt, Iran, Iraq and the United States.
Throughout the year, the ensemble will be performing at festivals worldwide, with a 10-day summer residency in San Jose, California, supported by the grant. Common Sounds' first concert is scheduled for June 26, 2018 in San Jose, and Selim hopes to bring it to Lebanon for LAU's NEXT Festival in May 2019.
Selim says he has always found himself in between Arabic and classical Western musical disciplines. "I always see traditional Arabic music ensembles playing by themselves, and classical music ensembles playing by themselves. But I don't know what to call myself. My background is in both."
Selim was trained as a French horn player in Cairo. He grew up listening to his father playing oud and his mother reciting works by traditional Egyptian poets such as Ahmed Fouad Negm and Fouad Haddad. However, it was only when he moved to New York that he found himself stumped when it came to answering questions about his culture. "I realized I did not know enough. I felt a huge responsibility to fill this gap in my knowledge in order to fill the gap in theirs."
His quest to initiate a musical crossover from East to West began then. After completing his doctoral research on music in Islam, Selim produced a method book for horn players "to be able to play the music of my culture." The book – the first of its kind for the French horn – shows players "how to manipulate the purely Western instrument in order to perform Middle Eastern music."
Naturally, the next step was to form an ensemble, he said. "It had to be me bringing people together from different cultures, moving from theory to practice." And so, the search for potential members began. Selim connected with Furuta, and together they began looking for musicians "who were open minded, because this whole process is a learning and performing process," Selim said. "I would be learning about bluegrass music from my banjo player, and he'd be learning about Lebanese and Syrian music from Ghassan Sahhab."
Fully aware that bringing together musicians from different countries would cost money, Selim needed not only financial and organizational support, but credibility as well. "We were looking for grants willing to take a chance on us."
That's why the Knight Foundation Grant Award is so important; it allows the group the financial freedom to experiment and innovate.
Through teaching and performing, Selim's personal message is becoming more and more about social impact. He is determined to shake off the faulty perception that Middle Eastern music is of a lesser quality than Western music.
"I want my students to be able to explain – and not necessarily defend – what our culture is about. To be comfortable talking about Arabic music and their identity," he said.
Communication Arts students at LAU express their pride in the department's mission to #ReinventCommunication
Watch the full video: http://comm.lau.edu.lb