Raising the Bar in Human Resources Management
AKSOB's Department of Management Studies launches a new MSc in response to market needs.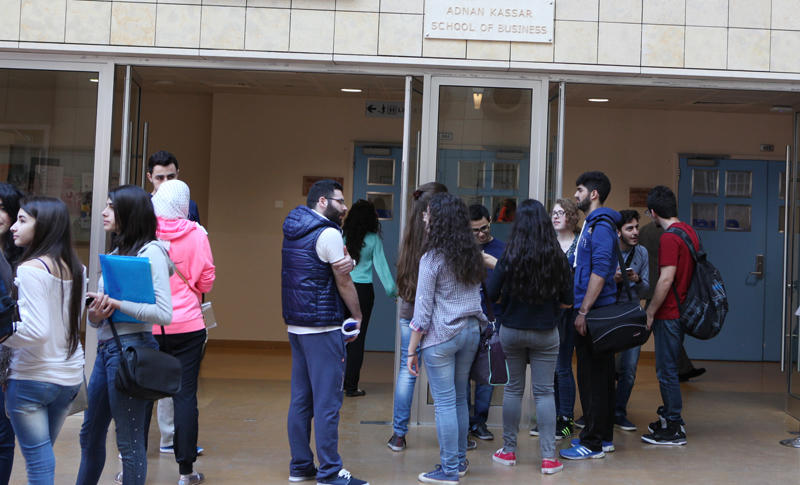 In today's working world, globalization, population growth, shifting demographics, and technology have impacted the state of the workforce, presenting challenges for leaders across nearly all industries. As a result, leadership skills, vision and an ability to maximize employee engagement have become essential traits for companies to harness. Very often, the person to take this role is in Human Resources Management.
This fall, the Department of Management Studies at the Adnan Kassar School of Business (AKSOB) is launching a Master of Science in Human Resources Management, which aims to take HR professionals beyond office work to make a profound impact on the lives of the people in their organizations. The degree will provide graduates with extensive knowledge of HR-management strategies to promote organizational performance in a diversifying landscape.
The program, which was three years in the planning, was registered with the New York State Education Department (NYSED) in 2017. "Although there is a great market need for such a program, few universities offered it," says Assistant Professor of Management Hussein Ismail. "We took time to get it together as we wanted to make it unique."
What distinguishes it from other similar degrees is its fast pace and research component. "The MSc at LAU can be completed within a year on a full-time basis, two years part-time, and involves completing either a research project or a thesis," says Ismail. In content, he adds, the rigorous academic program was benchmarked against top universities in the US, yet was uniquely customized to fit both the local and international student who will also benefit from the expertise of full-time faculty specialized in human resources.
The master's is open to both business and non-business bachelor's graduates who wish to continue their studies in the field, as well as professionals. Students from non-business disciplines would be required to enroll in additional courses. The curriculum will cover broad-ranging subjects, from the value of human capital, labor laws – including Lebanese labor laws – and ethics, to recruitment and compensation.
Speaking of changes in personnel management, Ismail says that "in the past, things were different as HR merely involved paperwork. Today, there's a trend to move toward HR, motivation, and talent management."
"We are in constant contact with the industry," he adds. "So we know that there's a need in companies today to build a productive workforce and that there's a gap in such knowledge in the market."
At the end of the program, graduates will have developed a thorough understanding of challenges and trends in the field, as well as solutions to modern management problems.
As nearly every industry requires HR expertise, there are numerous career paths for those with an MSc in Human Resources Management, including HR executives; office managers; occupational psychologists; and training, talent and development managers. There are also job opportunities in business and career advising, life coaching, recruitment consulting, and compensation, benefits and job analysis.
The knowledge and skills acquired during the course not only benefit those working in human resources, but professionals in general, says Ismail. "For instance, while recruiting, it's the manager/supervisor who conducts the interview and asks questions because he or she is the one who's specialized in that area. Managers, too, need to know how to maximize their employees' performance, and help them reach their potential."