Research Highlight: Conflict and Migration in the Middle East
LAU's Institute for Migration Studies co-organizes conference on forced population movements.
By Hanan Nasser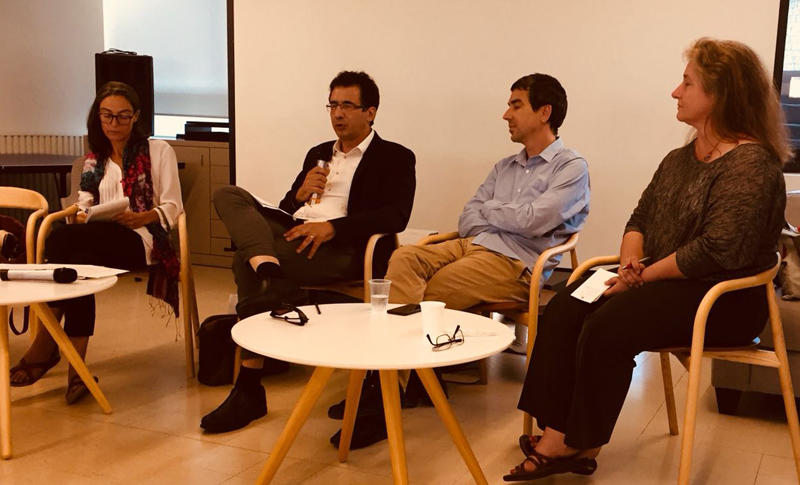 LAU's Institute for Migration Studies (IMS), in collaboration with L'Institut Français du Proche-Orient (IFPO), organized a three-day international conference on Conflict and Migration in the Middle East on the Beirut campus.
The conference is the third and final session tied to the three-year Lajeh Research Project, in which IMS is a main partner. The two prior conferences were held in Turkey and Jordan.
The Lajeh Project, which began in 2016 and was funded by the French National Research Agency, asks researchers and scholars to present their findings on migration and refugee movement patterns in Jordan, Lebanon, Europe and Turkey.
The IMS is the only institute in the Middle East specializing in migration studies, and dedicates time, scholarship and resources to an issue that has a deep impact on Lebanon, according to Dr. Paul Tabar, IMS director and chair of LAU's Department of Humanities.
While there have been a number of studies from agencies across the world on the situation of refugees in the Middle East – particularly those currently displaced by the Syrian civil war – the Lajeh Project wanted to conduct wider and more in-depth research on migration and conflict in the region without focusing solely on forced population movements.
"Part of the institute's research activities is to – of course – focus on refugee studies, but not exclusively. Refugee studies can be part of a bigger research agenda," Tabar said.
"We wanted to try to connect several forms of migration and how they link to conflict in the region," added Kamel Dorai, director of the Department of Contemporary Studies at IFPO.
Although each refugee situation and conflict is different, researchers noticed "trends that have been there for a long time," said Dorai. For example, he cited a number of refugee camps in Lebanon that are more than a 100 years old.
"We developed a historical approach coming mainly from the mandate period to our time, with the aim of studying these trends of human movements from that perspective," Dorai said.
The conference included two roundtables and an exhibition on The Architecture of Displacement, which featured work by architects from Jordan, Syria and France as well as by Dorai, who is a geographer. "It is based on a study that we did over the past three years in Jordan on housing inside and outside the camps," he said.
Keynote speakers at the conference were Professor of Anthropology and Forced Migration Dawn Chatty from the University of Oxford and Professor Cathrine Brun from Oxford Brookes University.
Chatty's presentation explored the contemporary approach to forced mass migration, offering a comparative overview with migration and movement 200 years ago. Brun spoke about revisiting the relationship between people and place in refugee studies.
LAU Migration Studies graduate students Manar Fleifel and Elie Khoury also presented findings based on their fieldwork of perceptions of Syrian refugees in Lebanon in order to bridge the gap in the literature on that topic.
Fleifel, who is a graduate assistant (GA) at the IMS, said the institute has provided her with an opportunity to present alongside PhD students and professors.
"Our program is very diverse and very multi-disciplinary, and provides exposure to international scholars. It is more hands on – as you can see, we do fieldwork," she said.
For Khoury, pursuing an MA in Migration Studies and working as a GA at IMS proved to be a "major leap because it opened many doors for me with other universities and provided opportunities for fieldwork. It is a link between theory, fieldwork and academia."
The MA in Migration Studies relies on an interdisciplinary approach, exposing students to an array of fields such as history, anthropology, political science, international relations and legal studies.
Tabar said that the IMS, in addition to organizing such international conferences, is also a hub for MA students conducting research on refugee issues.
"We should pride ourselves, as a university, for being a pioneer in hosting conferences on migration, in focusing part of our research on migration and in offering an MA in Migration Studies," Tabar said.