Research in Simulation-Based Education
Workshop hosted by LAU aims to establish collaborative simulation-based education projects to promote patient safety and quality in healthcare.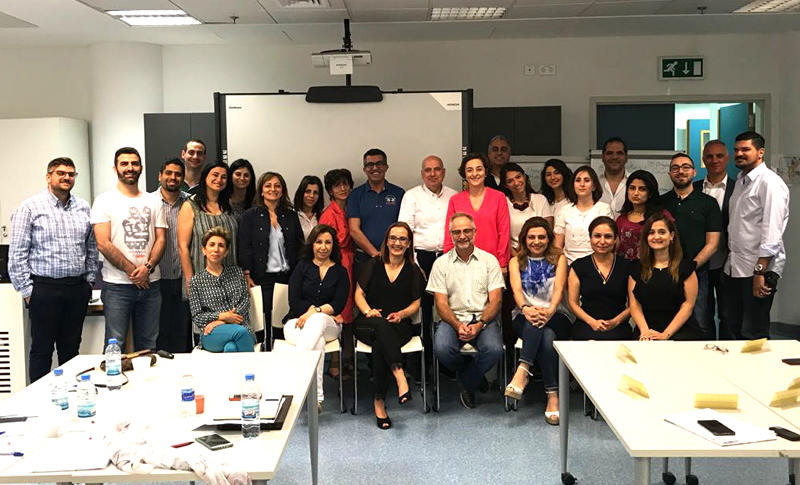 Under the umbrella of the Gilbert and Rose-Marie Chagoury School of Medicine, the Continuing Medical Education Office, the Clinical Research Unit (CRU) and the newly accredited Clinical Simulation Center (CSC) joined forces to bring healthcare professionals the Research in Simulation-Based Education workshop at the CSC on Byblos campus.
The workshop – one of many planned – falls within a CSC project to create a "Simulation Community of Practice," whereby "simulation diploma graduates share their ideas and benefit from the expertise of international experts," says CSC Director Dr. Vanda Abi Raad. Another such seminar, titled Ensuring Success of In Situ Simulation, was held in April by Dr. Guillaume Alinier, professor of Simulation in Healthcare Education at the University of Hertfordshire, UK.
The objective of the workshops, ultimately, is "to establish interprofessional collaborative simulation-based education projects at the level of the nation, in a bid to promote patient safety and quality in healthcare," explains Dr. Abi Raad.
The session was held by Dr. Jack Boulet, vice president of Research and Data Resources for the Educational Commission for Foreign Medical Graduates. During the event, Assistant Dean for Clinical Research at the School of Medicine Dr. Naji Riachi informed the participants about the different services offered by CRU, and Dr. Abi Raad expressed the center's readiness to receive any collaborative research proposals in simulation-based education.
Dr. Boulet has a strong background in development and validation of performance-based credentialing assessments in medicine, those evaluations that measure medical students' and professionals' performance in simulation exercises carried out in clinical settings.
The workshop set out to explore how research is conducted in the field of simulation. Around 35 attendees – mostly healthcare professionals from Lebanese hospitals and universities – delved into of the functions of applied research, such as critiquing research studies related to simulation, generating testable research hypotheses, basic experimental and non-experimental research designs, appropriate data collection strategies, interpreting quantitative and qualitative data, and communicating research results in writing.
As an instructor for the Simulation Diploma for the past three years, Dr. Boulet remarked that "the program is valuable in that it helps physicians, nurses, and other health professionals develop the skills necessary to build simulation-based educational and assessment programs." With these programs, he added, "we can help ensure that providers have adequate skills."
Simulations are used extensively in healthcare training, including educating practitioners and assessing individual or team competencies. They help medical schools ensure their graduates are ready to perform in critical, real-life situations and that practitioners know how to improve educational and assessment activities. LAU's CSC hosts replicas of medical settings, state-of-the-art machinery and human-like medical mannequins for students and professionals to work on.
"Clinical simulations help students develop the skills needed to become practicing clinicians," Dr. Boulet said. "They can develop these skills in a structured environment where patient safety is not an issue. From a quality improvement perspective, clinical simulation can help practicing clinicians improve their skills and, more important, learn new ones."
Hands-on experience in a safe environment has enhanced medical education as a whole in Lebanon and elsewhere, added Boulet. "Health professions education has evolved over the past few decades, moving from didactic lectures to more 'hands-on' problem-based learning," he said. "Knowing that the students are able to communicate with patients, deal with difficult situations, take focused patient histories, perform fundamental procedures and physical examination maneuvers, and act professionally is essential and can give the students more confidence as they interact with real patients."
Attendees were able to receive Continuing Medical Education Credits for the experience.