Scaling the Heights of Accreditation
The LAU community rallies once again for its mid-term review by CIHE-NEASC.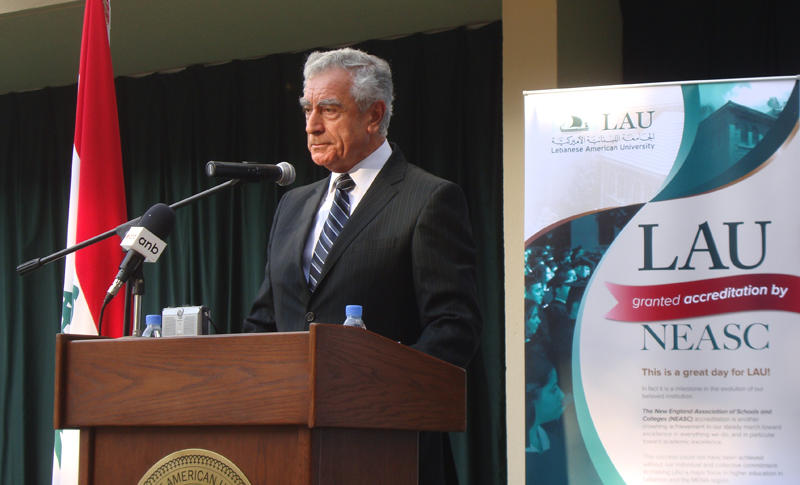 Since 2010, LAU has held a unique position among academic institutions in Lebanon with its accreditation by the Commission on Institutions of Higher Education of the New England Association of Schools and Colleges (CIHE-NEASC). In that year, the university was granted initial accreditation for a five-year period, and was re-accredited in 2014 following a comprehensive evaluation.
Now, mid-way through this certification – which extends to 2024 – the university continues to meet the exacting standards set by the commission that demand constant self-examination and improvement. Originally 11, these standards were reclassified as nine by the commission in 2016.
Achieving this validation from one of the oldest and most prestigious accreditation bodies in the US, in the first place, was no mean feat; one that required the unflagging and concerted efforts of the entire LAU community, from students, faculty and staff to alumni, trustees and stakeholders. Not only did it entail an initial rigorous process to satisfy CIHE-NEASC criteria, but remains subject to ongoing evaluations and periodic visits by the commission to ensure that the institution complies with its revised standards.
"Accreditation is a journey and not just a destination," said LAU Provost George K. Najjar. "In a sense, it is permanently unfinished business, because as soon as you scale a peak, you see a higher peak that beckons you to scale it. We are building a culture of assessment, a culture of constant improvement, of continuity, demonstrating time and time again our commitment to moving forward based on international best practices."
By placing LAU on a par with international institutions, a CIHE-NEASC accreditation is an affirmation that students are receiving a first-rate education. For employers and universities, this status represents a weighty vote of confidence in the university's standards, thereby paving the way for students in their transition to the workplace or further learning worldwide.
More specifically, standard five of CIHE-NEASC, for instance, stipulates that the institution must demonstrate diversity, foster a safe climate for student development and provide the services and resources required to optimize its students' success. The eight other standards focus on mission and purposes; planning and evaluation; the academic program; teaching, learning and scholarship; institutional resources; and integrity, transparency and public disclosure – all of which go to providing students with a solid all-encompassing foundation.
Continual self-evaluation calls for the LAU community to rally once again in order to produce the interim fifth-year report, and stay ahead of the curve in its relentless pursuit of excellence.