SOE Lecturer Makes Strides for Women in Sciences
Dr. Maya Atieh was awarded the 20th Annual L'Oreal-UNESCO Fellowship for Women in Science.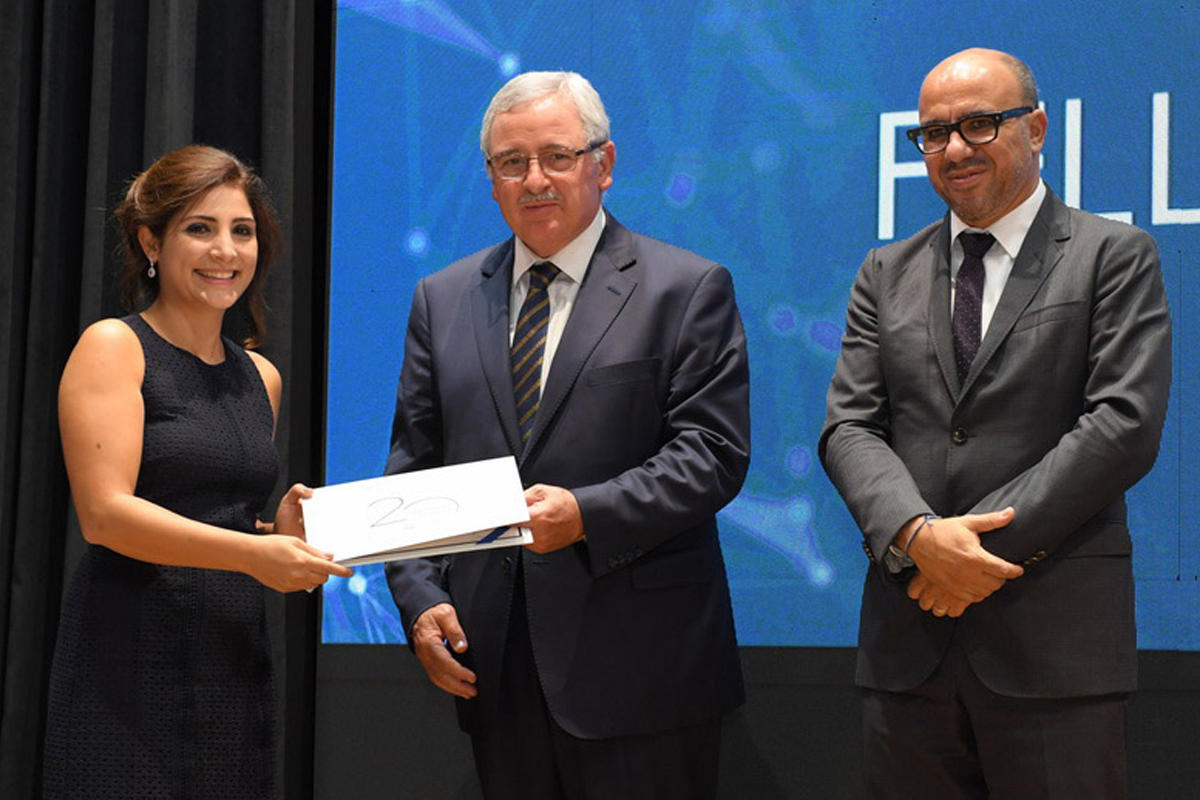 This month, School of Engineering lecturer Dr. Maya Atieh was honored at the L'Oreal UNESCO For Women in Science (FWIS) Levant Regional Ceremony for her work in water resources engineering. Dr. Atieh was one of only six women in the region who earned this honor, which included a €10,000 ($11,482) grant to continue her research.
Dr. Atieh's research revolves around creating flow-prediction models for rivers. Measuring water flow, and further being able to predict that flow, is essential in irrigation, dam-building and hydropower generation.
Her research began in Ontario, Canada, where her work was recognized by the Ministry of Natural Resources and applied to rivers in Canada. After relocating to Lebanon in 2017, Dr. Atieh identified the need for her model to be applied to Lebanon's rivers, as there is a demand for both irrigation and alternative power sources.
Atieh is proud to be recognized as a woman making strides in science. "The L'Oreal-UNESCO Fellowship is propelling women's research in the Arab countries; by giving our work significance and visibility, it is also serving to break the typical stereotypes of women in the region," she said. "I am excited to be part of the movement that defines women as 'beauty plus brains.'"
Dr. Atieh is currently working under Dr. Mahmoud Wazne, associate professor at LAU's School of Engineering. Dr. Wazne is a recent recipient of the PEER Research grant, which was awarded based on his proposal to continue his research on industrial wastewater treatment in Lebanon's Litani River Basin.
Dr. Wazne recognizes the significance of Dr. Atieh's work, and notes that her desire to improve the current situation in Lebanon has led to her work's noteworthiness.
"Predicting the water flow in Lebanon's rivers is all [Dr. Atieh's] initiative; currently there is very little existing instrumentation in Lebanon's rivers, and so the application of her model will help to design for infrastructure that will help our community."
L'Oreal-UNESCO FWIS program's commitment to promoting the work of women in science is significant: The program has supported 3,124 women in 117 countries, leading to enhanced career opportunities, increased visibility of research projects, and credibility in the scientific community.
"L'Oreal-UNESCO For Women in Science program has made great strides in helping women to gain recognition within the scientific community, but empowering women scientists is not uniquely a challenge for like-minded women and progressive organizations," noted Dr. Philippe Patsalides, managing director of L'Oreal Levant. "It is in the interest of everyone to change mindsets and transform systems if we are to create an inclusive and sustainable world for all of us."
Dr. Atieh hopes that her work and that of other women in science will continue to pave the way for young girls interested in pursuing careers in fields where women are currently in the minority.